NASHVILLE, Tenn. – The Titans kicked off organized team activities on Tuesday at Saint Thomas Sports Park.
Three quick hits after today's session:
A year ago, running back DeMarco Murray was still getting familiar with his new teammates at the start of OTAs.
The Titans traded for Murray in March, and the offseason program started the following month.
This year, Murray has a 1,287-yard, nine-touchdown season under his belt with the Titans. And the feeling is totally different, he said after practice on Tuesday.
"Knowing the personalities, knowing the system, and knowing what it takes to get to what we want to accomplish,'' Murray said. "It is great to get back out there and play some football.
"The mood has been great. The attendance rate has been high, and everyone came in here with a great attitude, competing, from workouts to today. Everyone has the right mindset."
Murray finished third in the NFL in rushing during a Pro Bowl season in 2016.
The addition of receivers Corey Davis and Taywan Taylor should open things up for the offense even more.
"Corey is one of the guys you hear a lot about, and watching him a little bit on air, he looks good," Murray said. "Watching him some plays today I thought he looked really well."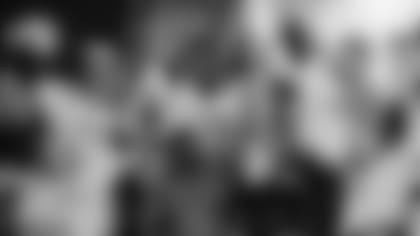 Titans offensive lineman Quinton Spain has proven he's not afraid to take his shirt off while having a good time in public.
Now, it's expected, teammates said with smiles.
The 6-foot-4, 330-pound Spain has been captured on the video board at Bridgestone Arena – and on national television -- at two recent Predators games without a shirt while celebrating. During the team's trip to Fort Campbell last week, he took his shirt off while posing for pictures with fellow offensive linemen atop a tank.
"That's his trademark now,'' linebacker Brian Orakpo said of Spain. "He has to carry that on. Any Preds game he goes to, that's his trademark. Everywhere we go now, even if we're in suits, he needs to just have slacks on, that's it. Put a little gold chain on him and keep it rolling. We call him Huggy Bear."
Titans quarterback Marcus Mariota has shared a suite with Spain and the linemen at two hockey games. He likes their enthusiasm.
"However he can show his support,'' Mariota said of Spain. "By all means."
The Titans will be careful with some of their players recovering from injuries, coach Mike Mularkey said.
Linebacker Kevin Dodd (foot), defensive lineman Karl Klug (Achilles) and defensive lineman Sylvester Williams (ankle) did not work in drills Tuesday and they're expected to be held out until training camp.
"I don't anticipate him doing anything in the OTAs right now," Mularkey said of Dodd.  "We've waited this long, we are going to make sure when he does come back he is full-go and there are no more issues. So I don't foresee him working, Klug (is) not working, and Sly Williams we'll see how it goes."
Titans veterans and rookies take the field for Day 1 of the 2017 OTAs at Saint Thomas Sports Park. (Photos: Gary Glenn, Al Wagner, AP)