GAMEDAY INFORMATION
For all the most up-to-date information regarding the Titans gameday experience.
WEEK 17
• THU 12/29
• FINAL
Cowboys Dallas Cowboys 12-4
Titans Tennessee Titans 7-9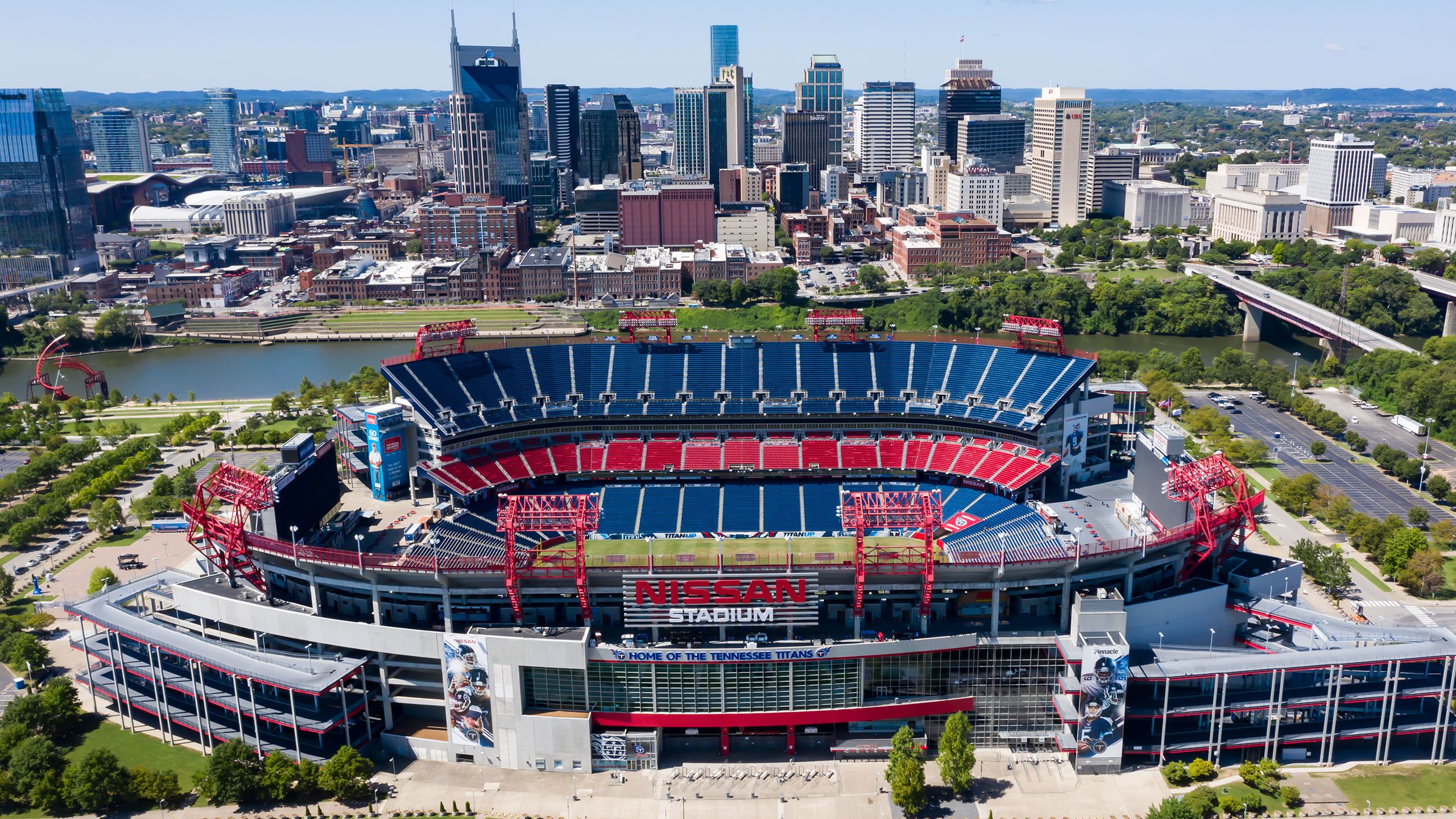 TIMES OF INTEREST
Week 17 vs. Texans | Dec. 29, 2022
Gate 1 Ticket Office Opens: 10 AM
Parking Lots Open: 3 PM
Pinnacle TitanUp Tailgate: 5 PM
Stadium Gates Open: 5 PM
Kickoff: 7:15 PM CT
Alcohol Sales End: After 3rd quarter
Parking Lots Close: 2 hours after game
*all times central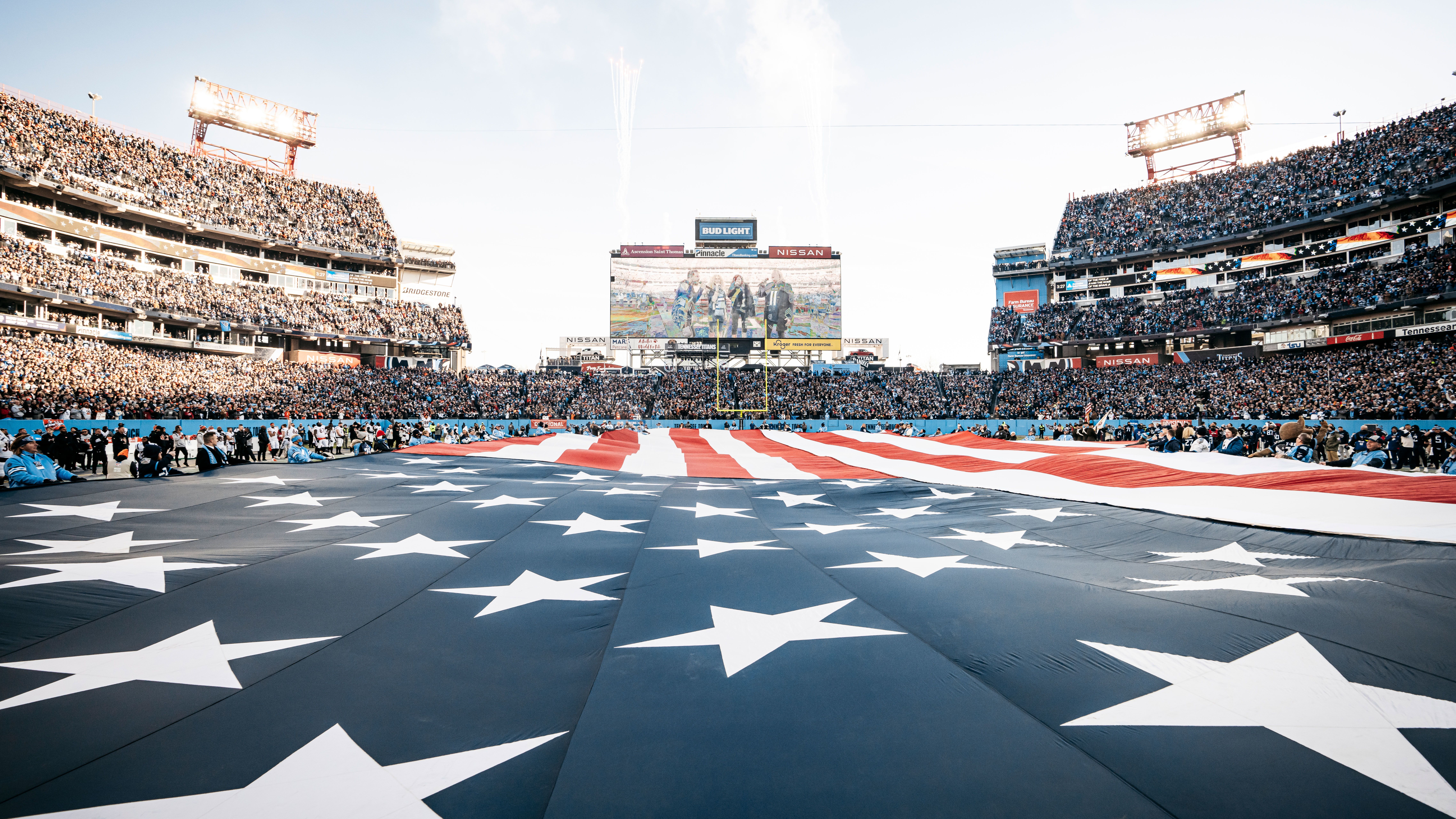 GAMEDAY ENTERTAINMENT
Honorary 12th Titan
Fan of the Year
Pinnacle TitanUp Tailgate Performer
Haley Mae Campbell - Battle of the Bands Winner
National Anthem
Frank Ray
Halftime Performance
Light Show
Community Drive
Cash (Fill the Boot)
*subject to change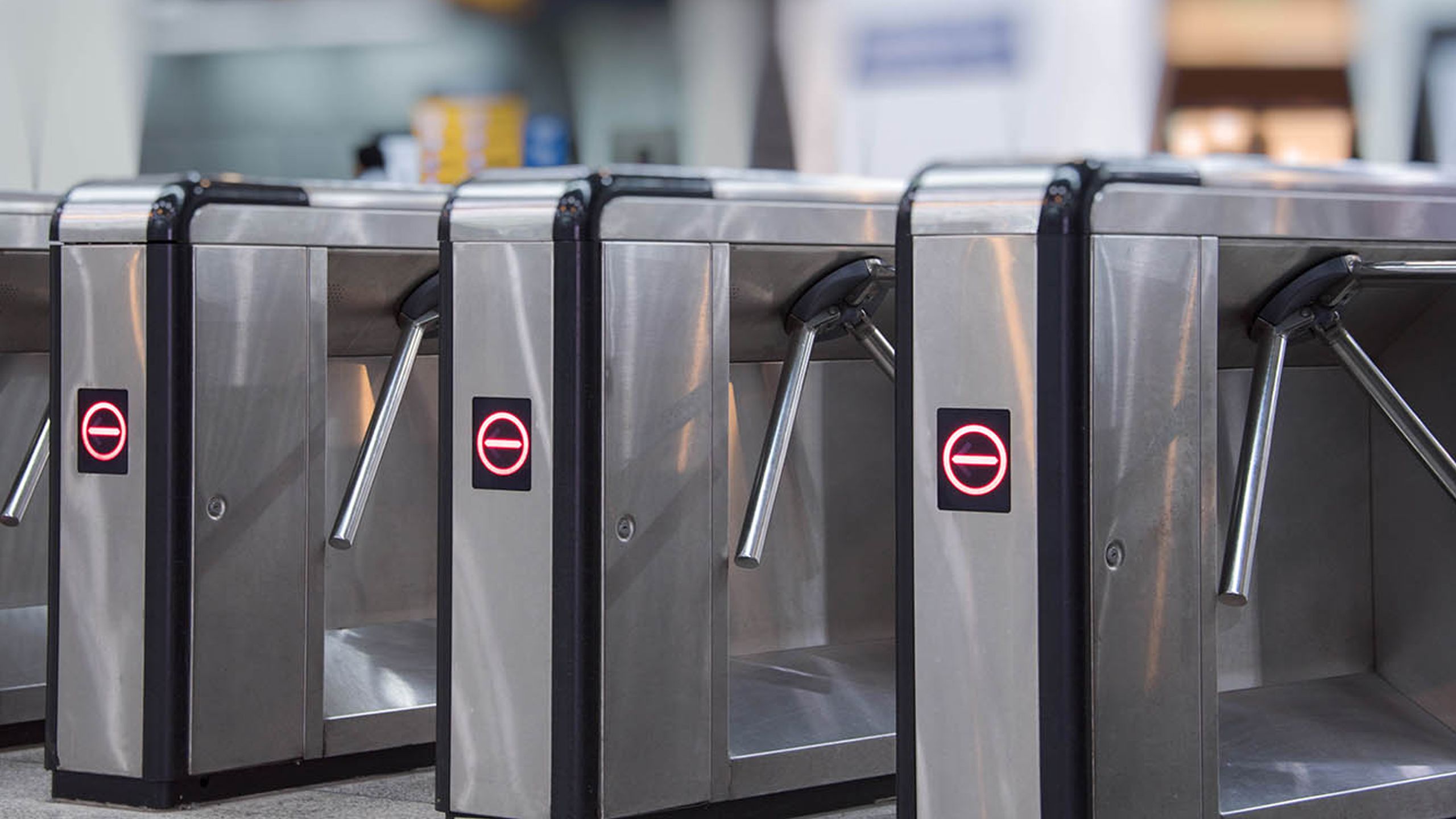 MOBILE TICKETING
Mobile ticketing is the most secure, convenient and flexible way to receive and manage tickets! Learn more with step-by-step instructions on how to access and manage your mobile tickets and mobile parking pass. Please note, tickets are not eligible to transfer until 48 hours prior to the scheduled game time.
CLEAR BAG POLICY
Be prepared at the gate. Learn more about the Nissan Stadium clear bag policy.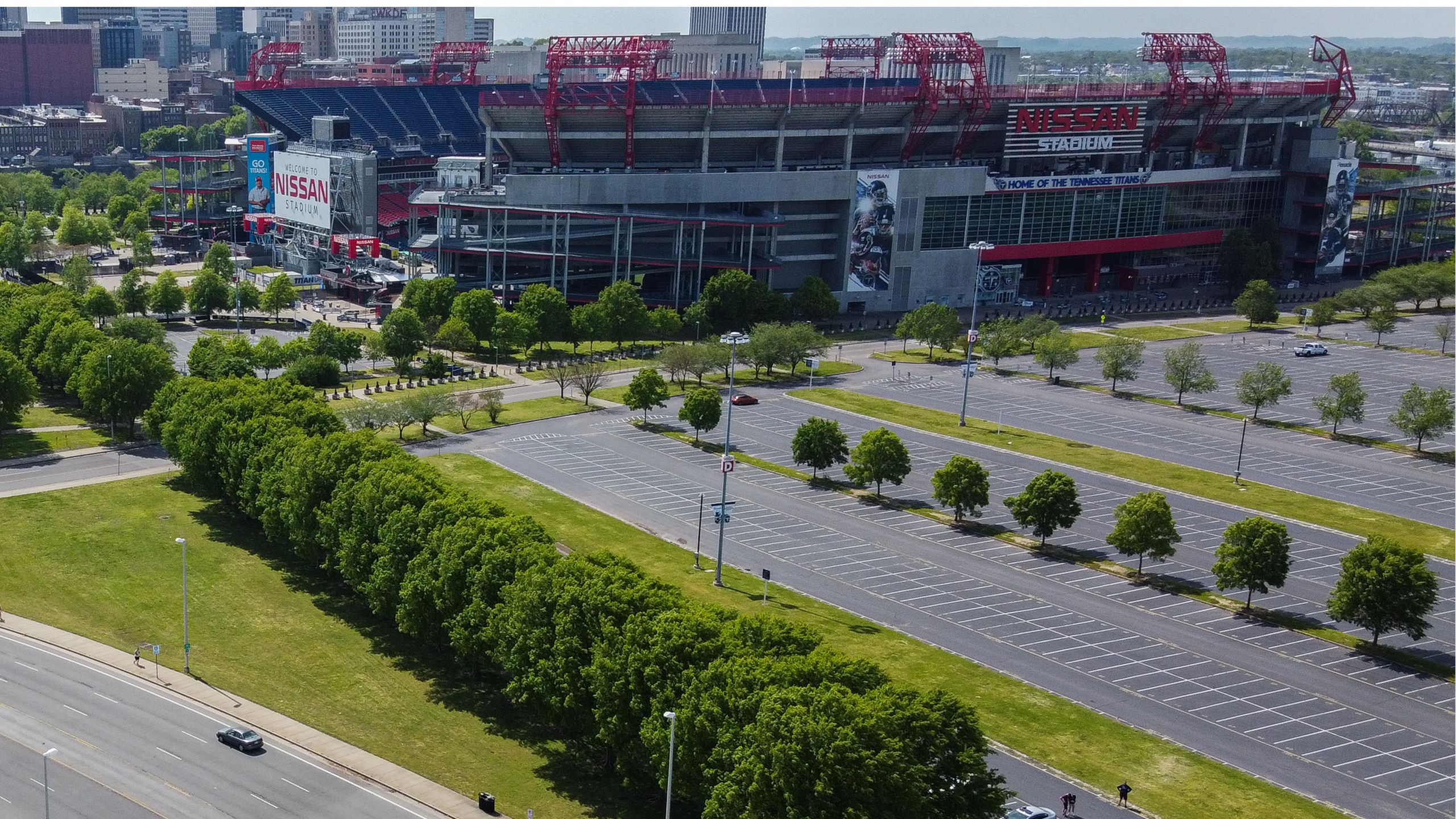 PARKING & DIRECTIONS
PARKING IS SOLD OUT IN ALL LOTS
For Tennessee Titans home games, ALL Nissan Stadium Parking Lots require a Titans-issued mobile parking pass.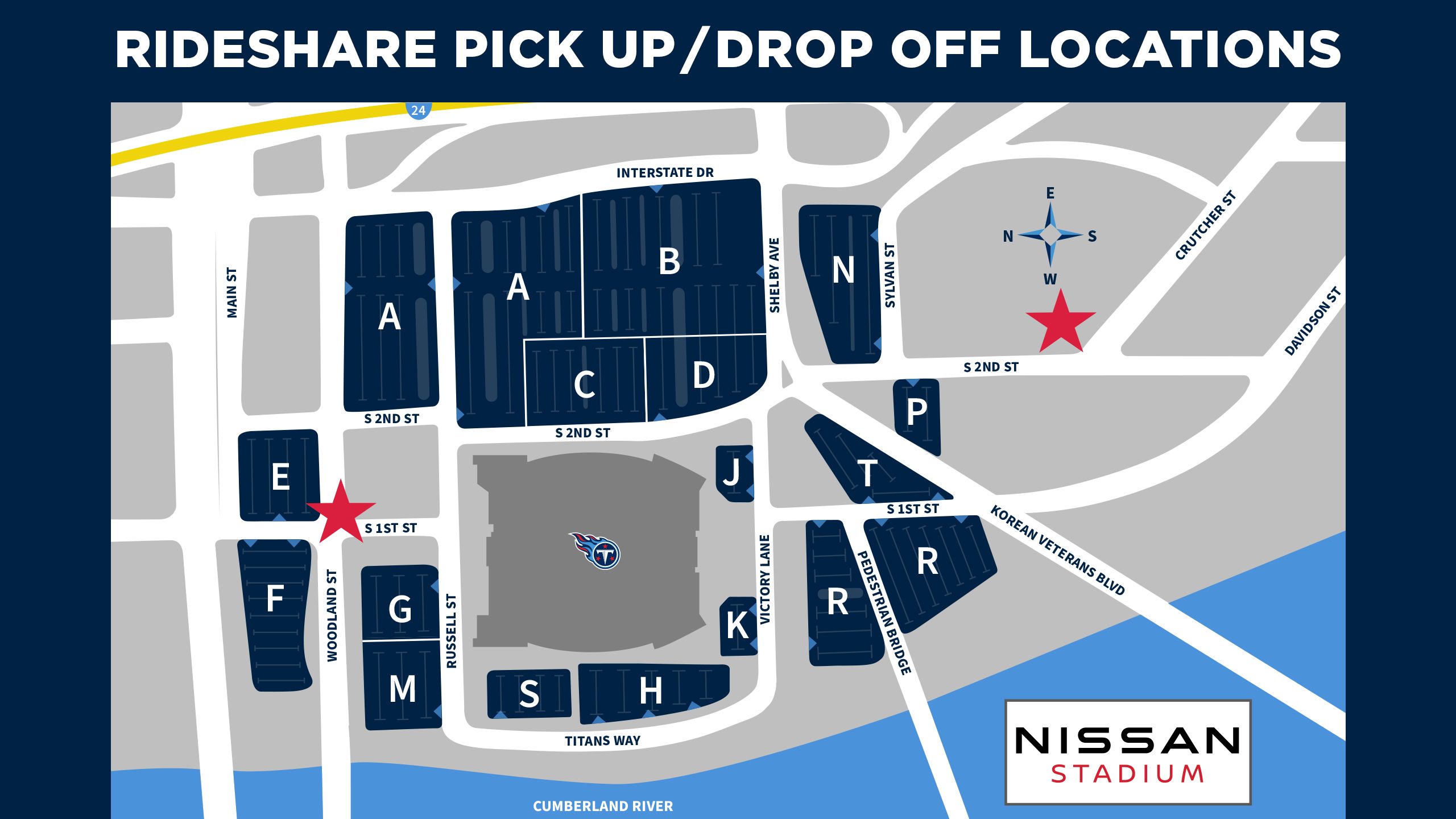 RIDESHARE
Rideshare drop-off and pickup locations are at South 2nd St. and Crutcher Street, and at the intersection of Woodland and South 1st St.
GATE LOCATIONS & CONCESSIONS MAP
Use the map to locate the nearest gate location, and to find concessions near you.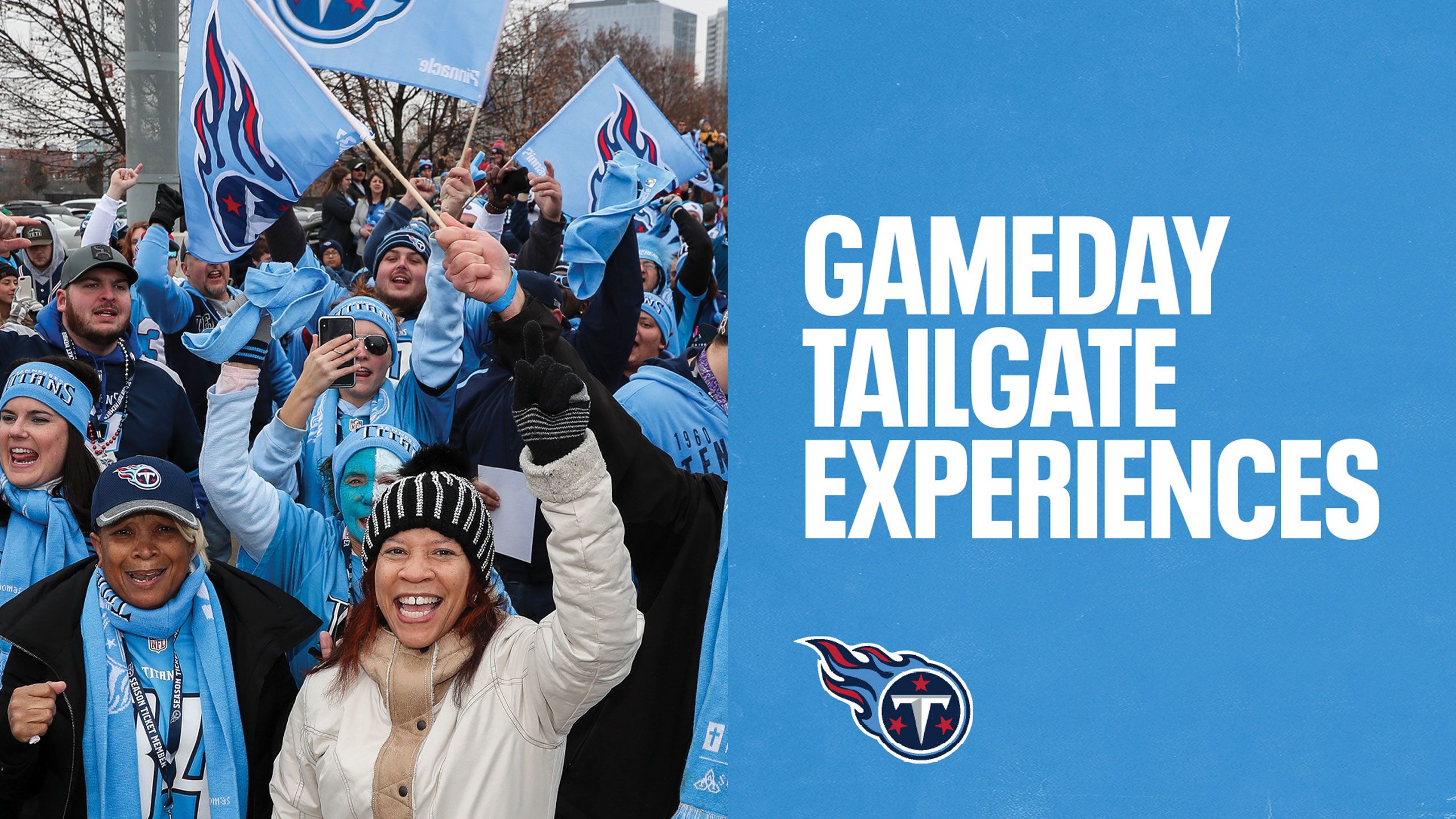 FIND YOUR TAILGATE
Are you looking to upgrade your tailgate experience? Check out the Tailgreeter and Bullseye Tailgates options available at Nissan Stadium!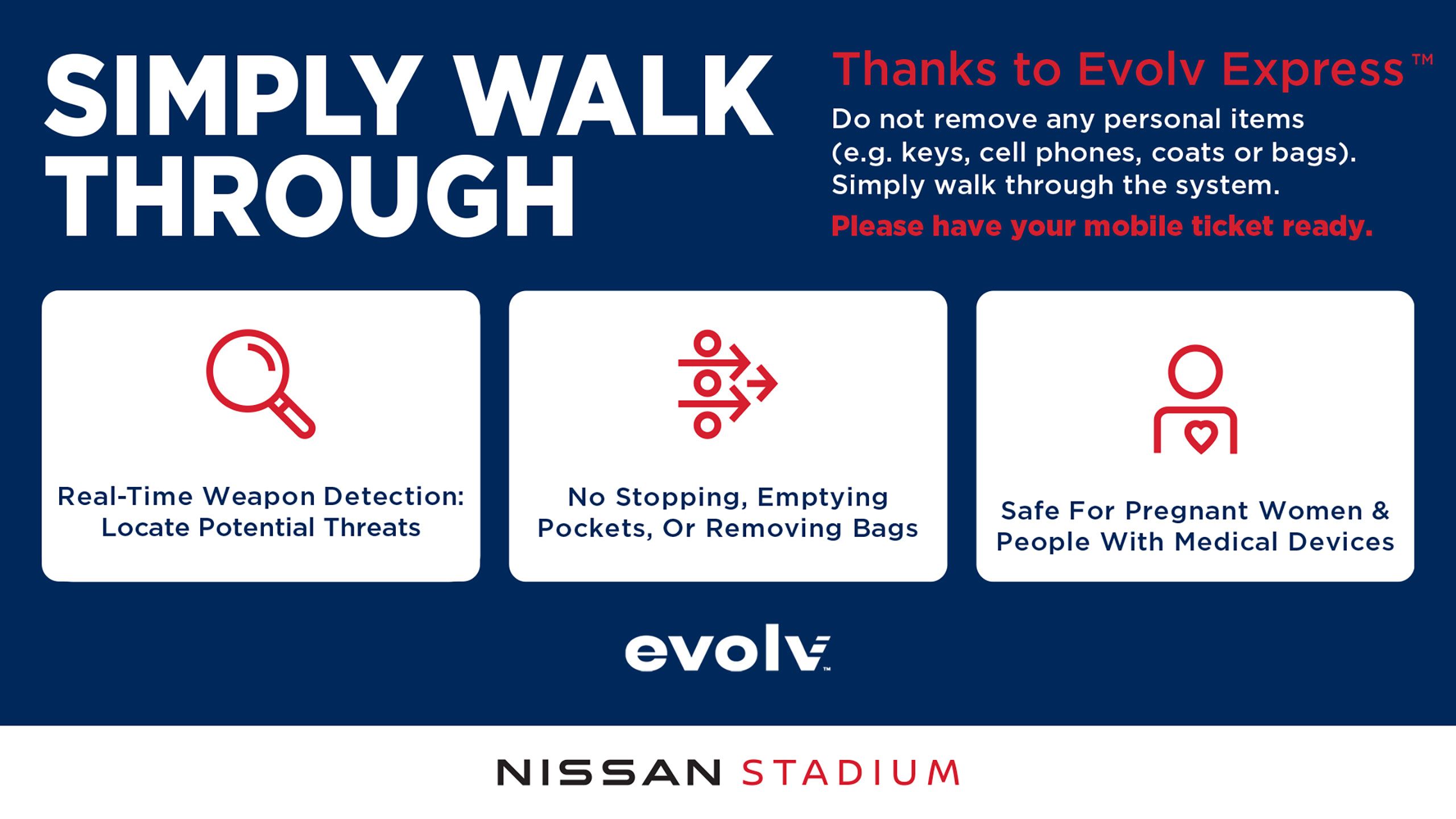 SIMPLY WALK THROUGH
Nissan Stadium is now partnered with Evolv, a technology-driven, next generation security system.
Upon approaching the gates, do not remove any items from your clear bag or pockets. Walk through the Evolv Express system holding your clear bag and follow the instructions of gate officials.
Please have your mobile ticket visible and ready to scan.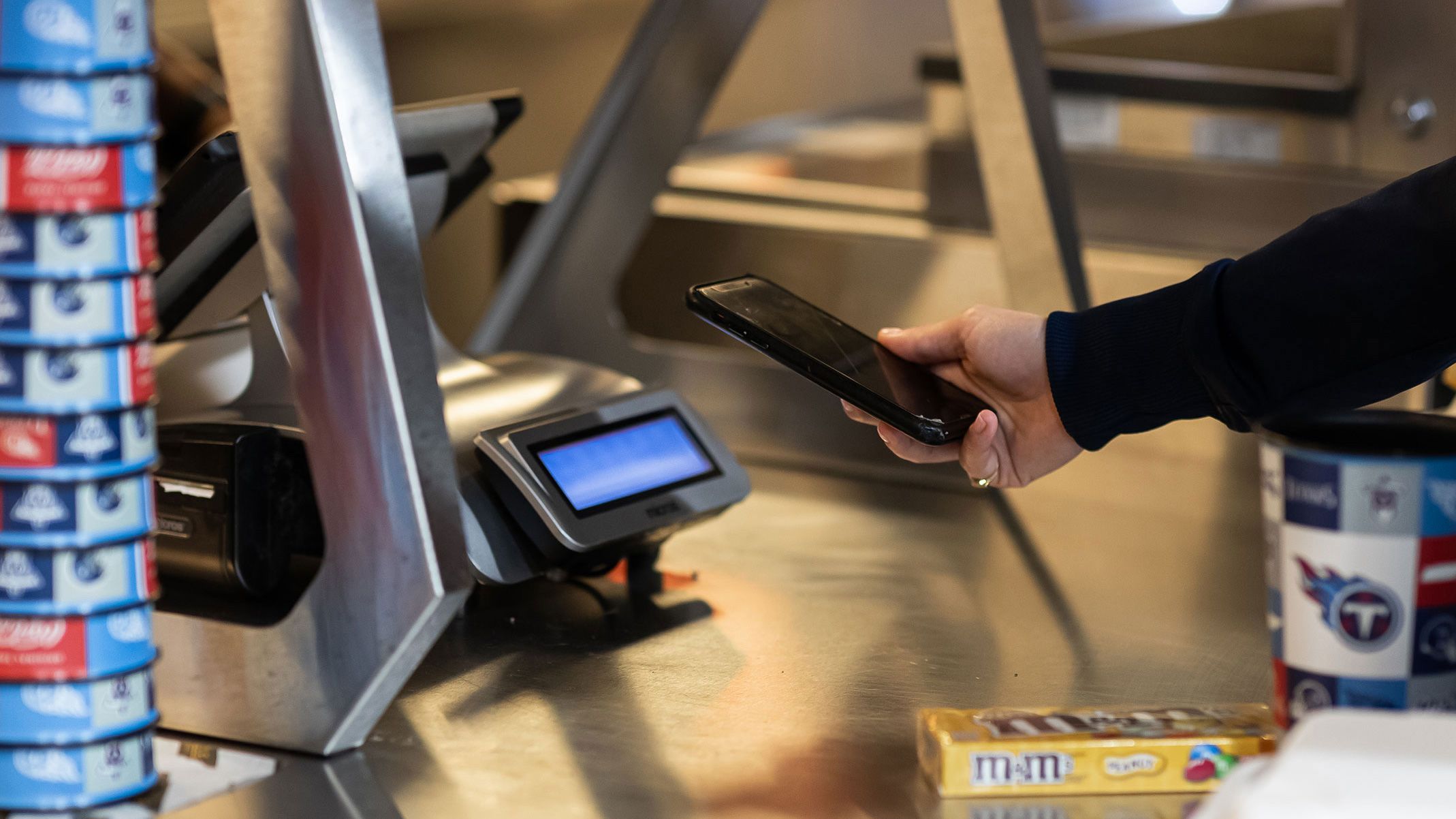 CASHLESS STADIUM
All points of sale are cashless. Gift cards are available for purchase with cash near Sections 108, 124, 309 and 338.
VIDEOBOARD PROGRAM
The Titans are happy to welcome special guests celebrating birthdays, anniversaries, or other occasions at Nissan Stadium. Custom videoboard messages are available for a $250 donation to the Tennessee Titans Foundation.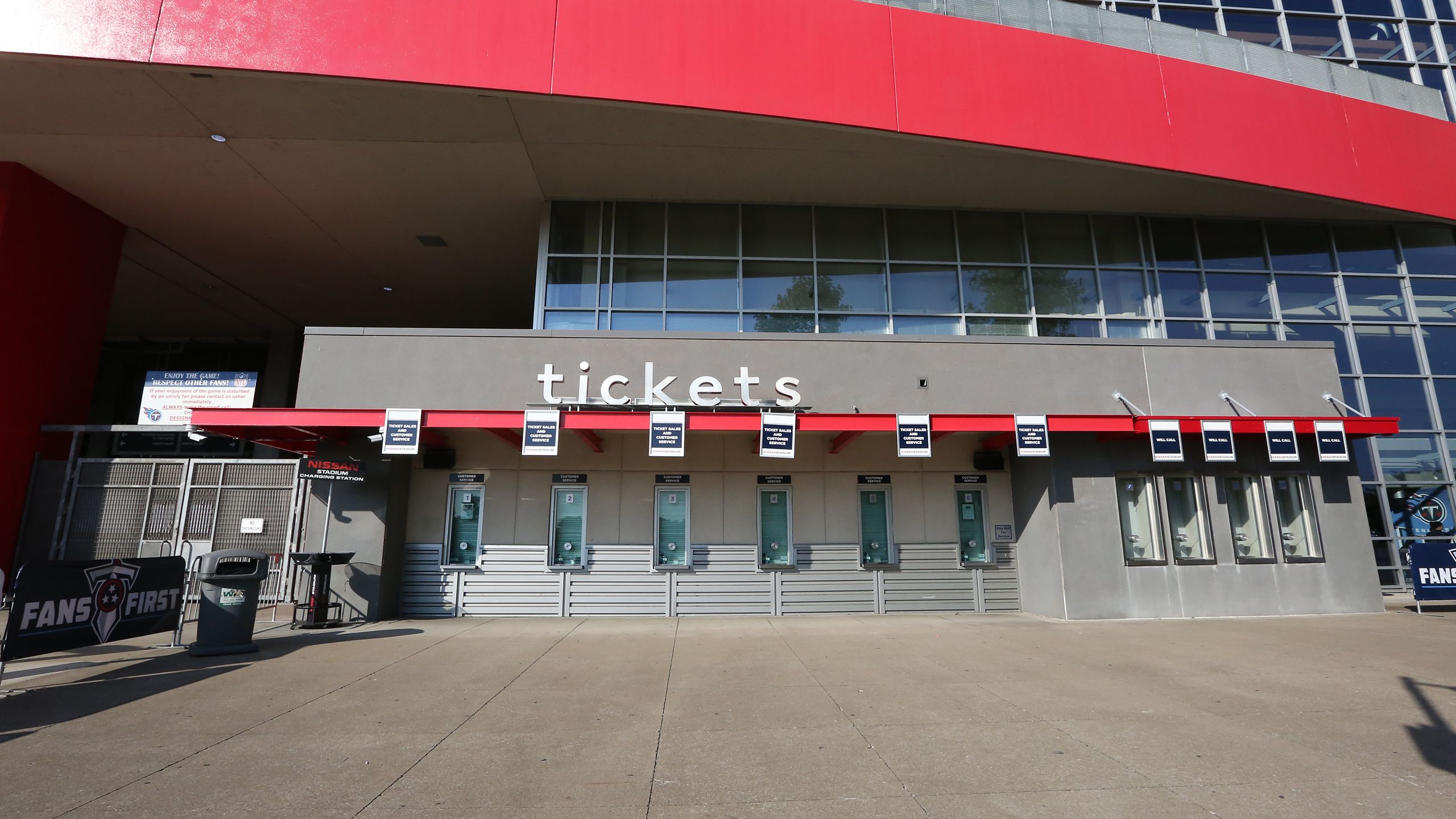 TICKET INFORMATION
Single game tickets and packages are on sale now! Nissan Stadium box office windows open three hours prior to kickoff on gamedays for fan assistance.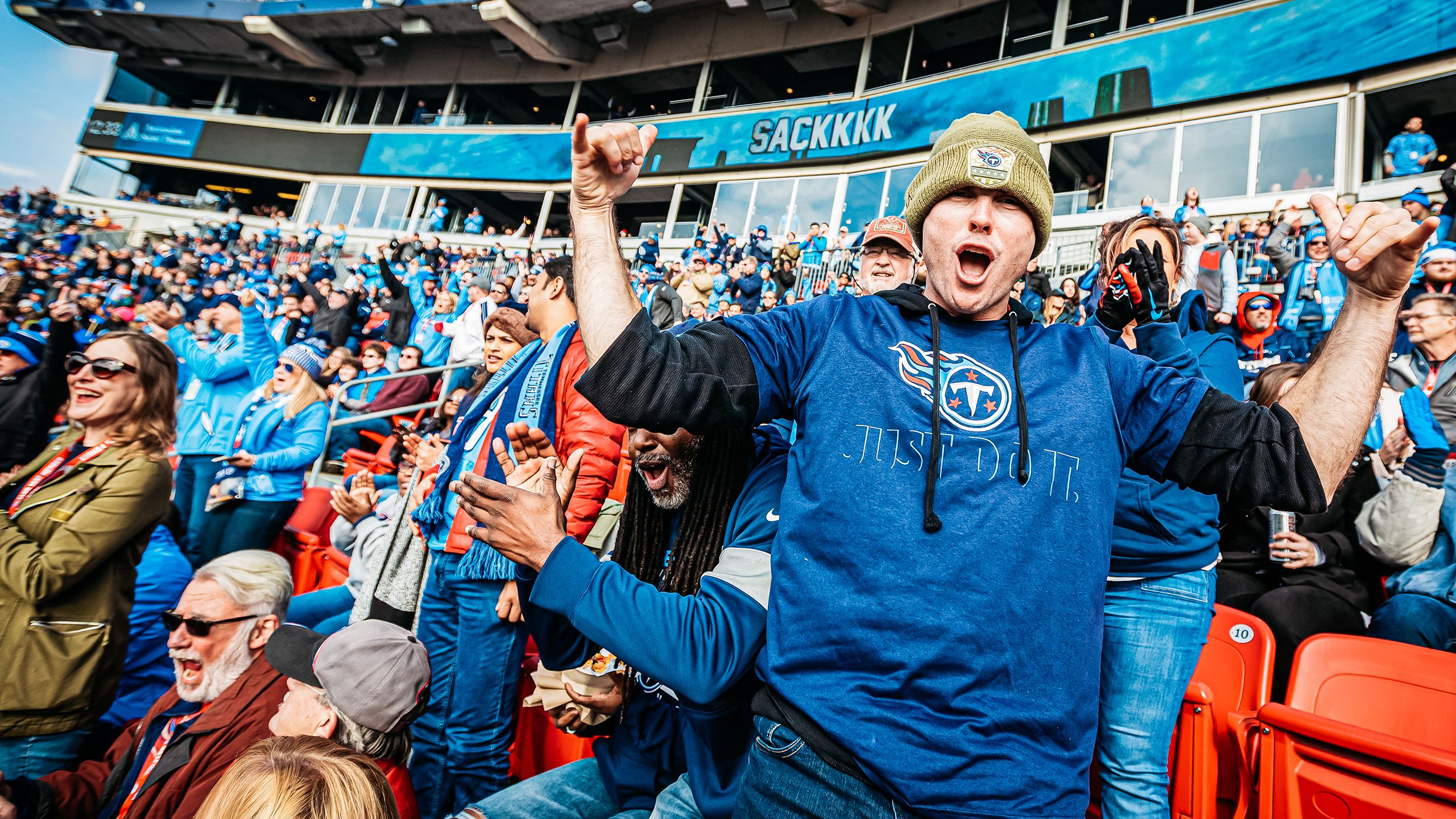 FAN CONDUCT POLICY
Enjoy The Game. Respect Other Fans. The NFL and Tennessee Titans are committed to creating a safe, comfortable and enjoyable experience for all fans, both in Nissan Stadium and in the parking lot. We want all fans attending our games to enjoy the experience responsibly.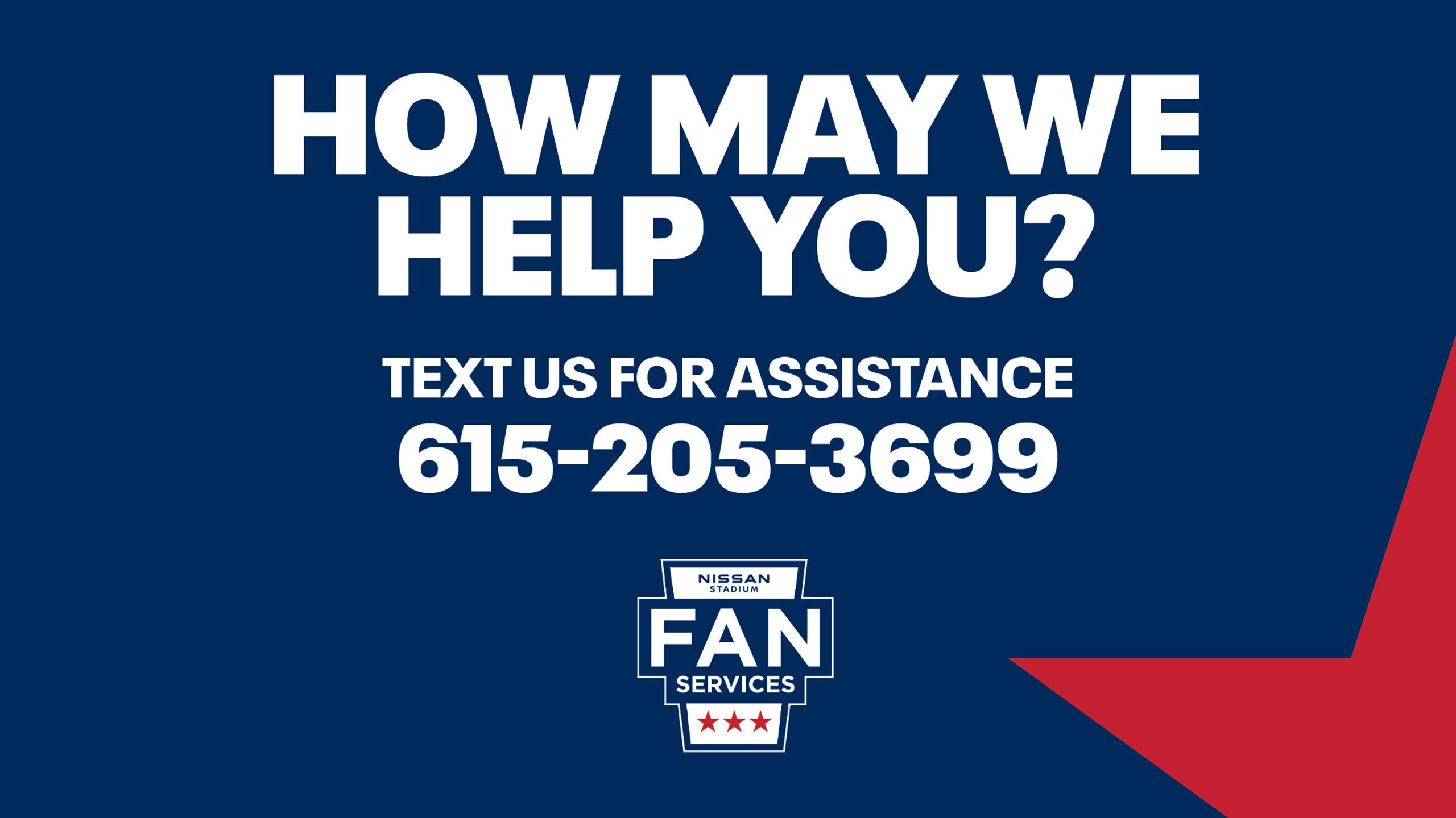 FAN ASSISTANCE
Nissan Stadium staff will promptly intervene to support an environment where patrons, their guests and other fans can enjoy the event free from the above behavior.
If you need assistance during your visit to Nissan Stadium:
Text your issue and seating location to 615-205-3699 and a uniformed event staff person will be deployed to your seating area to assist. The text should be formatted as follows: FANHELP ISSUE AND LOCATION. Standard rates apply.
Call the Fan Assistance Hotline at 615.565.4494
NISSAN STADIUM A - Z GUIDE
Get ready for gameday! View answers to frequently asked questions here.