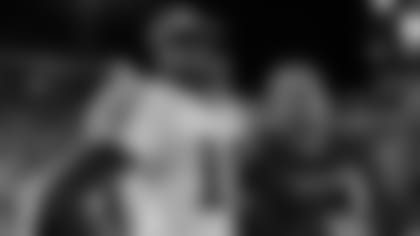 Offensive coordinator Mike Heimerdinger (right) has been pleased with his QB's overall development and commitment to improving.
NASHVILLE, Tenn. --** The internal connection between a quarterback and receivers allows the quarterback's eyes to read the defense, the external factor that determines the best place to go with the football.

Such a connection requires communication and timing and is forged one repetition at a time. It's worth exceeds every drop of sweat equity.

Vince Young has developed such connections with Titans receivers, allowing the fifth-year pro to maximize pass attempts and lift his passer rating to a career high 97.6. Young's previous best passer rating for a season was 82.8 in 12 games (10 starts) in 2009.

Young is on pace for fewer passing attempts and yardage than in any previous season as Tennessee's starting quarterback, but his yards per attempt (7.8), touchdown percentage (7.1) and interception percentage (2.1) have improved.

"It's all in the process of growing up," Young said during a recent interview. "That's basically it. Growing up, more reps, and getting more familiar with the offense, knowing where your guys are at, and then you get to really focus in on the defense."

The Titans are 30-16 in regular season games started by Young, who said he's constantly trying to refine his craft. He said the opportunity to play with former Texas Longhorns teammates tight end Bo Scaife and fullback Ahmard Hall in each of his five pro seasons and safety Michael Griffin in the past four seasons has helped his development and enabled him to build on already strong relationships.

"It's been a nice little journey for him, ups and downs," Scaife said. "I think he's finally coming into his own and reached a comfort level where he's able to just go out there and play and doesn't have to worry about certain things. Each year we've seen improvement. He has high expectations for himself, just like the people in the franchise. He has a lot of pressure on him, but I think he welcomes it and handles it well."

Griffin also said that Young's confidence this season has been high.

"That's one of those things that might not have been there a while back," Griffin said. "He started where he left off last year in the last 10 games of the season. A lot of the younger guys are stepping up. You can see a lot of people are keying in on (running back) Chris Johnson, which is giving (Young) the ability to make plays with his arm and his feet also."

Young has battled through a knee sprain and ankle sprain he suffered Oct. 18 at Jacksonville. The injuries caused him to miss most of the game against the Jaguars and all of the game against Philadelphia. Young aggravated the ankle sprain at San Diego on Oct. 31 and left in the fourth quarter of that game. He returned to play just over half of last week's game at Miami, filling in for an injured Kerry Collins (calf).

Griffin said the team has noticed Young putting in extra work in the training room, weight room and film room this season.

"He's a winner, a leader," Griffin said. "He's trying to get better, staying after practice, watching film. He's doing all the things you need to do to be a better quarterback. On the field, you see his decision-making is a lot better, his accuracy is there. He's trying to be more of a passer than a runner. He's doing everything he has to do to become a better quarterback in this league."

Reading through the full progression requires patience, especially for mobile quarterbacks who have a history of making plays with their feet, as Young did on the game-winning touchdown run in the 2006 Rose Bowl to win a national title at Texas.

The Titans drafted Young with the No. 3 pick three months later. Young was 22 when Tennessee drafted him. He received mentorship from another No. 3 pick, the late Steve McNair, who was a cornerstone of the Oilers/Titans franchise from his drafting in 1995 through the 2005 season.

Young has done multiple outreach programs for underprivileged youth through his foundation, www.thevincentyoungfoundation.com, since 2006. He also started a fundraising campaign to benefit Middle Tennessee flood victims from this past May.

His latest personal venture is Vince Young Steakhouse, an upscale, fine dining restaurant in Austin, Texas. Young said it is important to build solid foundational relationships when investing in a business. The restaurant had its grand opening during the Titans bye weekend.

"The grand opening was a blessing, beautiful," Young said.

Young still values the relationship he shared with McNair, who tragically died on July 4, 2009, at age 36.

The protégé said the following thoughts were some things he learned from McNair and would like to pass it on to younger players.

"Be strong and everything is going to be alright," Young said. "Don't quit. You've got different levels that you've got to take on. It all doesn't happen as fast as you want. I know you want to be in the NFL now. You want that car, that jewelry that you see on TV. In order to have these types of things, you have to be very patient. You have to go to school and take care of your responsibilities. Build that brain, be humble and be patient."