**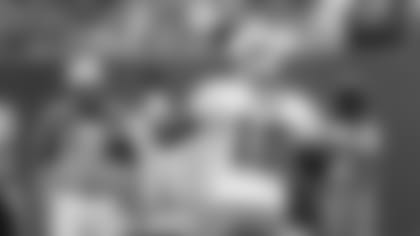 After a tough outing against Pittsburgh, Vince Young responded with a solid game in Sunday's win at New York.
EAST RUTHERFORD, N.J. --** A week after being benched, Vince Young had no trouble bouncing back and getting the Tennessee Titans back on track.
Eli Manning and the New York Giants went the other way for a second straight week, and they face more questions after an error-prone and undisciplined performance in a 29-10 loss on Sunday that left many wondering whether Tom Coughlin's team is on the decline three years after winning the Super Bowl.
"I like the way Vince rebounded," said Chris Johnson, who rushed for 125 yards and two touchdowns as the Titans (2-1) posted their 10th straight win over an NFC opponent. "He didn't come in with his head down, mad at the coaches. He just came in and didn't say a lot of things to a lot of people. He just came in with a business face, working on his game."
While not overly impressive, the Titans did what they had to do. After turning the ball over seven times in a loss to Pittsburgh, Tennessee held on to it against the Giants (1-2) and took advantage while Manning and company made mistakes.
"I wanted to come back and show my teammates," said Young, who was 10 of 16 for 118 yards, including a 13-yard TD pass to Kenny Britt. "It definitely was a rough week. I wanted to show those guys I put that in the past. I just wanted to get myself ready to play because all eyes would be watching."
The aggressive Titans forced three turnovers, including two inside their 6-yard line, and agitated the Giants so much that New York was flagged for five personal fouls.
"This Tennessee defense, we play hard. We play physical," said safety Michael Griffin, who forced a key fumble by Ahmad Bradshaw in the third quarter at the Titans 5. "Look at the stats, they don't look pretty. Look at that score, it looks very nice. We did get in their heads a little bit."
The Giants were their own worst enemy. They also missed two field goals and gave Tennessee a safety with a chop block in the end zone. Even Manning made a bonehead play, trying to make a backhanded, left-handed pass under pressure to tight end Kevin Boss on a first-quarter play that started at the Titans 2. The pass was tipped and Jason McCourty intercepted in the end zone.
"That is one of those things where everything is telling you to try to get him the ball, but you just have to know you can't afford to have a turnover there and especially can't afford to float it in that situation," said Manning, who completed 34 of 48 for 386 yards.
Coughlin was so frustrated after veteran offensive tackle Kareem McKenzie was called for his second personal foul, he benched him.
"The way in which we play in between the lines is my responsibility and I'm taking full responsibility for that," Coughlin said. "This is a game that we should have won and we didn't win."
The Giants, who got a 50-yard field goal from Lawrence Tynes and a 10-yard touchdown run by Ahmad Bradshaw in a 10-10 opening half, outgained the Titans 471-271.
"We beat ourselves," defensive captain Justin Tuck said. "You have to give Tennessee credit for taking advantage of our miscues. I think we outplayed them, but it doesn't matter. They scored 29 points and we scored 10. Turnovers, penalties, missed assignments. You name it and we probably did it today."
The go-ahead score came early in the third quarter. On a third-and-10 from the Giants 1, Manning found Mario Manningham for a 44-yard pass down the sideline. But the play was nullified when Bradshaw was flagged for a chop block in the end zone, which resulted in a safety.
Rookie Matt Dodge sent a line-drive 53-yard punt on the ensuing free kick and Marc Mariani returned it 22 yards to the Titans 49. Six plays later, Young hit Britt for a 19-10 lead.
The Giants had a chance to get back in the game on the next possession, but Bradshaw, who had runs of 22 and 20 yards, fumbled at the Titans 5 and Alterraun Verner recovered. Giants tackle David Diehl was called for a personal foul for ripping the helmet off the head of safety Cortland Finnegan.
New York's last chance to threaten came early in the fourth quarter but Tynes missed on a 44-yard field goal attempt. The errant kick came after New York was called for a delay of game. A miffed McKenzie got his first personal foul after the play.
"You are always taught that they (the officials) never see the first thing, they see the retaliation," McKenzie said. "That's something we are well aware of and for whatever reason sometimes guys just don't get it. Today I didn't."
Rob Bironas added a short field goal after the miss and Johnson, who scored on a 1-yard run in the first half, iced the game with an 8-yard run to the pylon.