**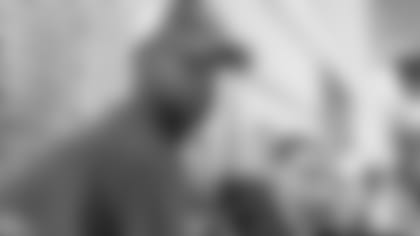 Vince Young speaks with reporters following Thursday's practice at Baptist Sports Park.
NASHVILLE, Tenn. -** Tennessee quarterback Vince Young was paying close attention as backup Kerry Collins worked the Titans through practice on Thursday in preparation for their game against Philadelphia.
A decision on whether Young watches against the Eagles likely won't be made until Sunday.
Young did not practice as the Titans (4-2) went through their first real practice since Monday night's 30-3 win at Jacksonville. That's where Young had his left leg twisted underneath him after recovering a fumbled snap. Young talked to reporters Thursday for the first time since the injury.
He said both his knee and ankle feel about the same. His leg is feeling better every day thanks to constant treatment, but Young doesn't know yet if he will make his 17th straight start.
"It's basically day to day still and making that decision on Sunday,'' Young said. "So right now I mean just continue to keep treating it and pretty much do some things tomorrow to see how it feels.''
Coach Jeff Fisher said they will see how Young is Friday before deciding if he practices then or not.
"Again, it's been a day-to-day thing. We want him to play, he wants to play, but he is unable to practice right now because of his injuries,'' Fisher said. "So we'll see how he is tomorrow. Tomorrow is Friday.''
Young said he thanks God his injuries weren't as bad as it looked.
"To walk away from it with nothing torn, that's a real good thing. All respect to God on that,'' he said.
Collins, who banged the middle finger of his right, throwing hand, did practice.
Young is 30-15 overall as a starter and 12-2 against the NFC as a starter, and he has three touchdown passes with a 100.8 passer rating in two games against the NFC this season. He has been accurate this season, completing 61.4 percent of his passes with seven TDs, two interceptions and a career-best 98.8 passer rating.
He said he's paying close attention to what Collins sees in practice and the game plan. But Young said he still needs the physical practice as well. How much he can run will be a key Sunday when he tells Fisher how's his leg feels, and the Titans decide whether he starts or to go with Collins against the Eagles (4-2) who have a sack in 25 straight games.
"I've been delivering the ball in the pocket pretty good,'' Young said. "... Knowing the type of aggressiveness the Eagles have, sometimes you're going to have to take the ball and make some moves downfield in order to keep the chains moving.''
NOTES: Young was one of four Titans who did not practice Thursday as they work to recover in a short week. DT Tony Brown (right knee) and Jason Jones (shoulder) and TE Bo Scaife (groin) also watched. Fisher said Brown, Jones and Scaife should be able to practice Friday.