**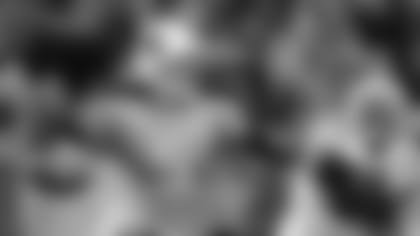 Kerry Collins is 331 yards shy of becoming the 12th player in NFL history to throw for 40,000 yards.
NASHVILLE, Tenn. --** As time expired on the Titans' comeback against the Colts last week, quarterback Kerry Collins reached a passing milestone.
Collins, a 16-year NFL veteran in his fifth season with the Titans, threw his 200th career touchdown, hitting tight end Bo Scaife for a 2-yard score on the final snap of the game. Collins is the 31st player in league history to throw 200 touchdown passes, but said he hasn't been paying attention to the milestone.
"It's one of those things where I'm so focused on what we're doing," Collins said. "When I'm able to look back, I'll probably be able to enjoy getting there a little bit more. It means I was able to play a long time, which I guess, is a good thing."
Collins could also become the 12th player in NFL history to throw for 40,000 yards. He is 331 from that mark with three games left.
Tennessee (5-8) hosts Houston (5-8) at noon Sunday at LP Field in its final home game this season. The Titans will try to snap a six-game losing streak and three-game home skid.
Tennessee's slim playoff hopes require it winning its final three games, Jacksonville losing its remaining games and Indianapolis beating Jacksonville this Sunday then losing its final two games. Titans coach Jeff Fisher said earlier this week that younger players might see more game action in the final three games, but it appears Collins will be the starter to finish the season.
"It's better than being completely out of it," Collins said. "We're going to have a good week of practice and try to get a win. I want to be in there, and he hasn't given me any indication that he's going to play the other guys, so I'm excited about the opportunity to play. I'm not a full-time starter anymore, so I relish these opportunities. I feel like, offensively, we're getting better. I want to be part of this team turning this thing around."
Collins began this season in the backup role of fifth-year pro Vince Young. Collins replaced Young in a loss to Pittsburgh in the second game of the season and relieved Young due to injury at Jacksonville on Oct. 18. Collins injured a tendon on the middle finger of his throwing hand against the Jaguars but stayed in the game and played through the injury against Philadelphia in the last game the Titans won.
Young returned to the lineup Oct. 31 but aggravated an ankle sprain and was relieved by Collins, who started Nov. 14 at Miami but injured his calf and was relieved by Young in the second half. Young suffered a season-ending injury against Washington on Nov. 21 and was relieved by rookie Rusty Smith, who started the following week at Houston the following week.
Collins returned against Jacksonville on Dec. 5, but the Titans' offense didn't regain rhythm until the second half against the Colts. Collins was a big part of the second half surge, completing 20 of 24 passes for 147 yards and three touchdowns after halftime.
"I think we showed some good rhythm last week," Collins said. "We really need to capitalize on drives. We've got that behind us, so we have to take it one step further. (Houston is) a heck of an offense. You hope that we can just keep up with them because they can really light it up."
Fisher said Tennessee's offense "has to help" the Titans' defense by keeping the ball away from the Texans' offense. Houston outgained Tennessee 346 to 162 and possessed the ball nearly twice as long in the teams' first meeting.