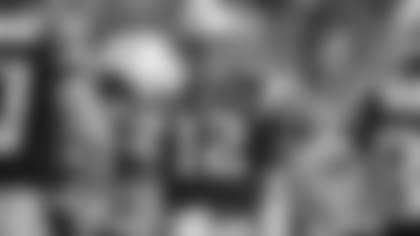 The Titans host Tom Brady and the New England Patriots in the regular season opener Sunday, Sept. 9 at LP Field.
NASHVILLE, Tenn.-- The Tennessee Titans return to the primetime football lineup with games against the New York Jets on Monday Night Football and their long-time rival the Pittsburgh Steelers on NFL Network. The Titans will open the 2012 season against the reigning AFC Champion New England Patriots at LP Field on September 9th.
"It is obviously exciting to open the season at home against a quality opponent in New England," said head coach Mike Munchak. "They have been one of the best teams in the league for a number of years and the game will be a great test for us.
"What stands out to me is the two home primetime games. We didn't have any last year and those are fun for our fans and an opportunity to showcase our team.
"The bye falls really late, but hopefully the Thursday night game in October will give us a long weekend and extra days to get players some rest. The final six games feature four division games and five AFC games, so it gives us a chance to control our own destiny down the stretch."
The Titans schedule features home games against New England, New York Jets, Chicago, Detroit, Pittsburgh, Houston, Indianapolis and Jacksonville. Tennessee will travel to Buffalo, Miami, Green Bay, Minnesota, San Diego, Houston, Indianapolis and Jacksonville.
Again this year, the NFL will feature "flexible scheduling" for the Sunday night game in Weeks 11-17. Teams will be given two weeks notice if a game is moving from an afternoon game to a night contest.
The Titans 2012 schedule contains several interesting stories:
• The schedule features six games against 2011 playoff teams: Houston (twice), New England, Pittsburgh, Green Bay and Detroit. The Titans will face three of these six opponents in the first four games of the schedule.
• Former Titans defensive coordinator Jim Schwartz will return to Nashville for the first time as the head coach of the Detroit Lions.
• The Titans will make their first regular season trips to Green Bay and Minnesota since 2004.
• This is the first year without a three-game home stand or three-game road trip since 2008.
• This will mark the 7th Monday Night Football game played at LP Field and first since 2008 (Indianapolis).
• Since byes were introduced into the NFL in 1990, this is the latest bye in franchise history.
• This will be the first time the Titans have finished the regular season at home since 2006.