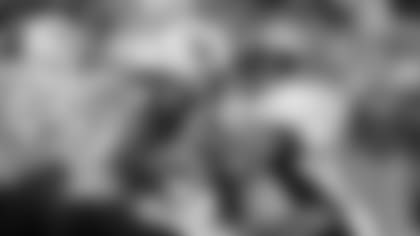 Titans players said they'll work on "little things" to help open up the team's running game.
NASHVILLE, Tenn. -- **Fullback Ahmard Hall said Monday that the team sees little things during film breakdowns that have limited the number of times the Titans have had a run worthy of highlight reels through four games this season.

Running back Chris Johnson leads the NFL in attempts (94) and attempts per game (23.5) but is sixth with 354 yards (3.8 per carry). Johnson has had the attention of every defense as he tries to become the first player in NFL history to rush for more than 2,000 yards in consecutive seasons. When he has rushed for more than 100 yards, the Titans are 2-0. When he hasn't, Tennessee is 0-2.

Hall said opposing defenses' focus on Johnson hasn't been a surprise. He said "Everybody has to do the little things, stay on their blocks a little bit longer, do the extra things to make this work" when Tennessee visits Dallas (1-2) this Sunday.

"If you would break the film down the way we break it down, you would see the intricacies of the things that have to happen for the running game to thrive, and we're just not getting that done now," Hall said. "We had a lot of stuff we left on the field (in Sunday's 26-20 loss to Denver). It's just going to take patience, and eventually he's going to get it done."

Johnson carried 19 times for 53 yards (2.8 per carry) and his longest gain against the Broncos was 8 yards. Reserve Javon Ringer broke a 54-yard run on his first carry to set up the Titans' only offensive touchdown against the Broncos but lost 4 yards on his only other touch.

Titans coach Jeff Fisher said he has "higher expectations for our running game than what we're getting" and the lack of success results from "a combination of things."

"It's a breakdown here or there, penetration, defenses are doing a real good job edging right now," Fisher said. "It's hard to give CJ an opportunity to bounce outside."

Johnson has already been credited with two fumbles this season (one in each loss). He had three fumbles in all of 2009. Fisher thought Johnson's knee was down before the ball came out against Denver, but said officials did not have "indisputable video evidence" to overturn the call because they did not have a visual on where the ball was when Johnson's knee was on the ground.

League Leaders in Sacks, Off-Sides Calls

Tennessee sacked Broncos quarterback Kyle Orton six times Sunday and is tied for the league lead in the category, but also leads in number of off-sides penalties.

"If we were leading the league in sacks by 10 or 15, I'd say 'OK,' but we're not. Some of these off-sides penalties didn't result in a negative drive," Fisher said, citing Cortland Finnegan jumping off-sides during a field goal attempt on fourth-and-9 that resulted in a successful kick from 5 yards closer.

Tennessee was penalized 15 yards for what officials ruled was roughing the passer by delivering a low hit on Orton from Sen'Derrick Marks during Denver's first touchdown drive and was penalized 49 yards on a pass interference call that moved the Broncos to the Titans' 1-yard-line and set up Denver's go-ahead score with less than three minutes to play.

"I don't think that was a foul," Fisher said of the hit that Marks delivered to Orton. "The contact was initiated in the upper part of the thigh."

Marks said after the game that "The quarterback needs to start wearing red or pink jerseys."

Orton called Tennessee's defense "cheap" after the game."We were under siege maybe a little bit in the backfield, but I think for the most part we were the tougher team (Sunday). You always hear about how tough they are and all of that stuff. I don't think they are tough. I think they are cheap and it was one of the cheapest games that I've ever seen out of some of those players."

Fisher said he disagrees.

"We play aggressive. We don't play cheap," Fisher said. "If there's things after the whistle or during the play, players are fined for them. We're not a cheap football team. I don't know what he's referring to. We did have six sacks and hit the quarterback numerous other times. They did have some difficulty with protection and blocking our defensive line, maybe he's referring to that."

Tennessee has been flagged 32 times (tied for sixth in the NFL) for 272 yards (eighth). Denver has been flagged 26 times (tied for 12th) for 249 yards (10th most).

When asked if he was bothered that other teams are called tough while his is called cheap, Fisher said perception doesn't matter.

"I'm concerned about our penalties," Fisher said. "I'm not concerned with how we're perceived. We're an aggressive football team and we're going to play hard. We're going to play right until the whistle."

Rookie defensive end Derrick Morgan tore his ACL Sunday and will miss the rest of the season, Fisher said.

Morgan, the Titans' No. 1 draft pick and 16th selection overall out of Georgia Tech, recorded 1.5 sacks in the first four games.

"He was running through traffic and his leg landed awkwardly and twisted," Fisher said. "For him personally, it's a hard thing. The ACL is a lengthy, grueling process. If there's any positive taken from this, it's that he'll be back in time for the mid- to the end of the offseason program."

Linebacker Gerald McRath rejoined the Titans Monday after completing a four-game suspension for violating the league's substance abuse policy.

McRath started five games and played in all 16 in 2009, his rookie season. He recorded 38 tackles, one interception and one pass deflection.

Fisher said McRath will work out with strength and conditioning coach Steve Watterson Tuesday and return to the practice field Wednesday. The team has until Saturday to make a roster move, Fisher said.

"He's disappointed in the loss, but excited to get back on the field," Fisher said.