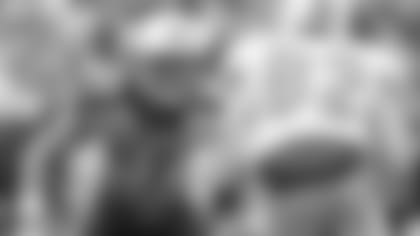 Cortland Finnegan has left training camp amidst a dispute in the middle of contract negotations.
NASHVILLE, Tenn. -Tennessee general manager Mike Reinfeldt says the Titans were totally surprised by cornerback Cortland Finnegan's decision to walk out of training camp considering his agent had just sent them a counteroffer to consider during talks to extend his contract.
Finnegan left camp Friday night, apparently just hours after his agent, Terry Watson, sent the Titans a counter to their offer on an extension to his contract. The Titans learned Finnegan had left when he did not report Saturday morning to a special teams meeting.
"We've tried to call him,'' Reinfeldt said Saturday after a team practice at LP Field. "We've not been able to get in touch with him. It's a tough situation. We have 23 guys in the last year of their contract. I talked to Cortland during the week. Coach (Mike) Munchak did. ... We were totally surprised that he just turned around and left camp.''
Running back Chris Johnson has yet to report for training camp, holding out for a new contract as well. But Johnson has led the NFL in yards rushing since he was drafted No. 24 overall in 2008, and he is scheduled to make $850,000 this season.
Reinfeldt said they had told Finnegan's agent they would review the counteroffer over the weekend and respond Monday. Reinfeldt said the Titans have extended the contracts of several young players, including Finnegan in August 2008. Finnegan became a starter in 2007 and is due to make more than $3.7 million in the final year of that deal.
"That's something we thought we could work out an extension both sides would be OK with. It kind of caught us off guard,'' Reinfeldt said.
Finnegan was a seventh-round draft pick in 2006 out of Samford who became a starting cornerback by his second season and has started every game he has played in since the start of 2007. He was an All Pro and Pro Bowler in 2008.
He has 13 career interceptions but only had two in 2010 when the Titans went 6-10. Finnegan's biggest highlight last season likely came when Houston receiver Andre Johnson swung away at him Nov. 28, drawing both players $25,000 fines.
Terry Watson, Finnegan's agent, did not immediately return a message Saturday.
Finnegan was a key veteran leader during the NFL lockout, helping organize a two-day minicamp in June at a Nashville high school where he and other fellow Titans worked out regularly. Munchak had just praised his leadership after practice Friday.
"Disappointed is probably the easiest word,'' Munchak said of Finnegan leaving. "It's not something we expected. You obviously want your best players here and you want them to be your leaders.''
Reinfeldt said they will notify the NFL that Finnegan left camp. The Titans have options under the collective bargaining agreement to punish Finnegan, which include fines of $30,000 for every day of camp missed. Reinfeldt said he wouldn't discuss those options now.
But the Titans will not discuss Finnegan's contract again until the cornerback returns to training camp.
"He's making $3.8 million in salary, and he'll be a free agent at the end of the year so if you can find a contract extension that makes sense for both sides we should do it,'' Reinfeldt said. "If not, making 3.8's not the worst thing in the world either.''
That's the same stance the Titans have for Johnson. Reinfeldt said the Titans have sent a letter to Johnson, but would not detail what it included. The general manager said the Titans have offered for Johnson to return to camp and take part in meetings, while keeping him from harm by not practicing.
"They're just not sure they want to do that at this point in time,'' Reinfeldt said of Johnson and his agent.
The Titans like their depth right now at cornerback, having just signed veteran Frank Walker, who picked off Matt Hasselbeck on Saturday and would have had a 103-yard return for a touchdown. Alterraun Verner and Jason McCourty have been competing against each other for the starting spot opposite Finnegan.
Finnegan's departure also caught his teammates off guard. McCourty last saw Finnegan in meetings Friday night and said he hadn't spoken to the cornerback since.
"I'm really trying to find out what's going on too,'' McCourty said.