TITANS HEAD COACH MIKE MUNCHAK
Was that exactly what you wanted to see?
I think there are things we know we can do. We don't want to start the game off spotting two points but after that – again I think we start with adversity, and I thought we handled that well. The defense found a way to get that turnover when we gave the short field after the two points. That kind of got us recharged when that play happened there when it was 2-0. After that we played how we hoped we would. We played physical on defense with five sacks. They couldn't run the football on us. They had about 30-35 yards rushing. We started off allowing third downs. I think they were 3-for-3. Then I think they were about 1-for-12 after that. So we started controlling the line of scrimmage and making plays on third-down. Alterraun Verner's interception was huge. We got after the quarterback, and they got uncomfortable in their offense. So that's what you hope you can do when you come to someone else's building. We know how it is to win here. This is a tough place to win a football game any time of the year, especially the opener. I'm very proud of how our team handled what went on today. We ran the ball 40-plus times. There were times when we ran the ball 6-7 times in a row. Yes we were a little sloppy at spots. Yes we wish we scored more points. And we'll fix some of those things. But we did what we had to do to win the football game, and it's a great win for us to start the season.
Re: The defensive turnover to settle the team down:
That's huge. That gave us a chance to catch our breath because that was a play that doesn't happen very often to start a game. After that they made a couple plays on third-down. We got to third-down three times I think on that opening drive, and they found a way to convert. Then they were trying to hurry a play, and it cost them the fumble that we recovered. Then we settled down. The defense settled down after that first drive. Then we started playing our type of game.
What was your message after the Darius Reynaud miscue to start the game?
We talked about adversity when the game started. I think most coaches do that. When you go on the road there's going to be some things that aren't going to go our way as a team or as an individual. We have to hang in there and overcome that. I think we showed that we could do that. Reynaud came back and had a really nice return there in the fourth quarter, which was huge. He came back from making a mistake on that first ball, and the team hung in there. I think you credit the defense. It was almost a shut out by them until the last two minutes of the football game. We had plenty of opportunities to score points. They gave us some short fields on offense. We ran the ball. We had some penalties. We had some drops. We had some sloppy play that hurt us. We could have put a lot more points on the board than we did. If our defense plays like that every Sunday, we'll win a lot of football games. 
Did you know right away that Reynaud made a mistake?
I couldn't tell from where I was at, but once I saw them talking about it, and once we saw the replays, we realized again that the mistake was made. From the sideline, I couldn't tell if he was in the end zone or out when he actually fielded the football. It's a learning experience.
Re: Intent to run the ball often:
I think coming in we were going to run it. We felt we had to. We had to get a lot of touches. It's like a boxing match. It's a lot of two and three-yard runs, but we felt we were wearing them out by doing that. Converting that drive, I think we ran 8-9 in a row and then the one quick screen. Then when we scored the touchdown. Jackie converted the fourth-and-one. We went for it on fourth-and-one and got that. That drive really for the team was kind of a turning point. The defense was getting us great field position because they were doing such a nice job. Then the offense finally took a drive, ran, got physical and took almost the clock out of the second quarter, scored the touchdown and would not be denied. That's kind of what we think we're going to be. We have to do some other things much better than we did but we'll enjoy this one and we'll fix those things.
I thought we weren't protecting. We were a little sloppy with our protection. We were there. We tried doing too much a little bit. We had guys stop and go help someone else and that freed the guy up. We did some silly things early where he was getting pressure as he was throwing the football, which we had some guys open and didn't take advantage of it early because those people were hitting him in the legs and in the back early when the protection should have been much better than it was. That settled down. But again we started to run the ball a lot. We realized what kind of game it was going to be. The way our defense was playing, it was better for us to control the clock like we did for 30-some minutes and take the air out of the game a little bit. That's what we did and it worked.
Re: Being better on first down this year:
That's huge. That was a big difference from last year. We did get in trouble as we hurt ourselves with some silly penalties and some things where we made some mistakes and cut a guy free here and there. Some things happened. There was some confusion at times. In the opener we had some of that. But I think overall like you said, on offense again, we were able to stay out of a lot of long situations other than the ones we hurt ourselves with, with silly penalties that we can't have. The penalty down the field with David Stewart can't happen. We can't have a penalty like that at that time of the game. We can't even give the official the chance to make the call on something like that. Those are things we have to learn from. You'd rather learn with a win, which we had tonight. Again, just a credit to our defense. They've been hearing a lot of stuff for a long time since the season ended about how are we going to do this? How are we going to do that bringing this guy and bringing that guy, and bringing the big guys with Ropati Pitoitua and Sammie Hill stopping the run? We come to Pittsburgh and they rush for less than 40 yards. We get five sacks on their quarterback. We made him uncomfortable. We played great in the secondary. Verner had a nice pick. Verner had some great breakups along with Jason McCourty. Those guys played football, and it's fun to watch. Those guys just go play like they can play. That's something that's a great start for the defense.  
He had nothing serious there. We're just not sure. We'll see how sore he is tomorrow. If anything, it should be short term. We just have to see exactly how much he swells up from that hit to the side of the knee.  
Re: Jackie Battle's play:
Everyone that watched Jackie in preseason saw how well he ran. Some people question, well why do you need three running backs? That's why you need three running backs. If you're going to run the football 40 times a game, it's a pounding on everybody. Jackie fits in with what we're trying to do. Plus, he plays special teams. The guy played a ton of plays today on special teams and running the football. He had the big touchdown run. He had the fourth-and-one conversion after Shonn got hurt. If Shonn doesn't get hurt, then obviously Shonn is in there probably with C.J. Luckily we had him. Then George Wilson makes the great grab at the end to win the game. That could have gotten ugly and scary if we don't get the onside kick. So George did a great job making that play too. 
You have started the past few years 0-1. Will this help you get off to a better start?
It should. We hope it does. We came in here and we know that it is just one win. We talked last night and said the jury starts today. We said it only counts as one win, but it's a sweet win. Obviously to come to Pittsburgh and win one, this organization has not done very often, I have been part of some of the other side of that and know how hard it is to accomplish that here. I'm very proud of the players and the coaching staff. It is a great start for us to start 1-0 in a game that a lot of people thought would be the other way. We will see how this goes, Houston is going to be a huge challenge. This gives us a little momentum. Having success on defense, I think it gave them a lot of confidence, and I hope that carries over against the Texans. 
Just Shonn Greene, everything else was minor. Most of the guys got hurt in the first half and came back into the game.
How much did it look like a Gregg Williams defense out there?
Jerry Gray called the game. That is Jerry's defense. It is not the whole staff's defense. Jerry called the game and called a great game. I thought the staff did a great job preparing on what Pittsburgh was going to try to do to us, and make it hard for them to do it. They had a hand on the game from start to finish. It was tough for our defense to start out down 2-0 and give them the ball at the 40-yard line. Like I said, once we got the turnover I feel like the game changed. Once we started getting pressure, the guys were covering well, so Ben Roethlisberger had to hold the ball every so often. We had guys getting there and hitting him often. I am proud of them that they could rise to the occasion. This is a great challenge for them as individuals and I thought they did well.
Re: Not turning the ball over being a key to winning against a team like Pittsburgh:
](http://www.titansonline.com/media-center/photo-gallery/Week-1-Tennessee-Titans-at-Pittsburgh-Steelers/eb4afd24-18cb-41c6-96f8-db291a09841a)
Jake Locker and the Titans protected the football and possessed it for 34:01 in Tennessee's 16-9 win at Pittsburgh.
Click here for a slideshow from the game.
When you come on the road and play against a good defense in a hostile environment, that's one way to really get their crowd into it and shift momentum in the game. We did a great job taking care of it and not allowing that to be a factor in the game.
Re: Scoring drive that was 12 plays, 11 of which were runs:
It's nice when you score. Any way we can take them, we will. I think that was a point for us in the game where we were able to physically wear them down a little bit. I think you saw the effects of that throughout the rest of the game.
At what point did you feel like you guys were taking over?
Right there [touchdown drive]. I thought that drive was an opportunity for us. We got the ball on a turnover at midfield. It was a defining moment in the game in my opinion. A time where it's like, hey, you can go out with a three-and-out, and it's like it never happened. Or you can go down and score and really shift the momentum. Guys start believing and buying into what's going on. That's exactly what happened.
When the game started, were you like a lot of people asking, "What was he thinking?" about Darius Reynaud?
No, until you've been in that position it's hard to judge a guy in that position. It rolled back to him. I'm sure he thought, "I'm not going to get much on a return. I'm just going to kneel it down." At that point, it's just supporting the guy, letting him know, 'Hey, we believe in you and we know you're going to take the next one and put us in good field position.' Like I said, that's a tough situation and it's easy for all of us that aren't out there to say, 'You should've done this. You should've done that.' But when you're out there it's a little more difficult. 
Re: Jackie Battle's performance:
I think you guys saw what Jackie was capable of in the preseason. When Shonn went down, he's a similar back. He runs with power, he runs with his shoulders downhill and gets tough yards. That's what this game was about today, and he did a great job of stepping in and stepping up. 
Re: Offensive line's performance against the Steelers tough front:
We didn't have a whole lot of negative plays, so we were always gaining yards. I think when you're doing that, whether it's two yards or six yards, it picks you up. I think being able to consistently gain yards on first down, on second down and put us in third-and-manageable positions. It allowed us to continue to move the ball and continue to run the ball.
Re: Making two big throws on third-downs:
We got in some third-and-long situations. We had a penalty and we had a loss on one of the runs. We had to convert on some big third downs, and we made plays when we had to today. It wasn't pretty, it wasn't how you draw it up all the time, but when we had to we made plays to put points on the board. You've got to be happy with that.  
What does it mean to come in here and get a win?
It's how we wanted to start. It puts a lot of confidence in this team. We're still a very young team, so to come in here and win a game like this, I think like some of you were saying, they haven't lost a season opener in 10 years, against a defense like that, for our defense to come in and play like they did in here, it was just a great team win for us.
Re: Elaborate on your defensive performance:
They did a great job. I thought we did a good job on special teams, too, making them work with a lot of long fields. Field position, both sides of the ball, was a huge benefit for offense and defense tonight. So, kudos to our special teams for setting us up in those situations. The defense did a great job, especially forcing them to punt, forcing them to punt when we weren't really able to get going yet. We had some penalties on some third downs that took some away and hurt us. We missed a few throws, so we had some third downs early on that we didn't convert. It allowed us to kind of get going to where we were moving the ball and having more rhythm on offense.  
Were you surprised to see Troy Polamalu flying over the line?
We've seen him do it, and it was a situation where he's a really smart player and instinctual player. It was a great play on his part.
Re: Did you know it was going to be a big running game? Was that part of the game plan coming in?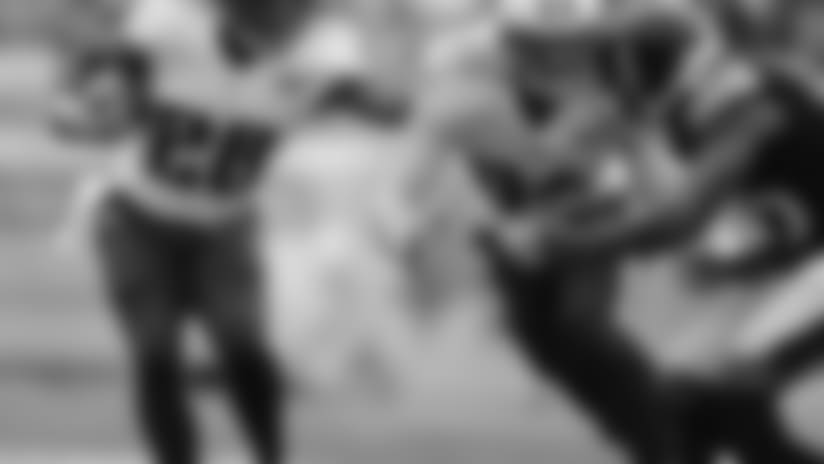 ](http://www.titansonline.com/media-center/photo-gallery/Week-1-Tennessee-Titans-at-Pittsburgh-Steelers/eb4afd24-18cb-41c6-96f8-db291a09841a)
Chris Johnson carried the ball 25 times for a game-high 70 yards, and Tennessee finished with 42 carries for 112 yards. Slideshow.
Coming in we knew we were going to have to run the ball to have success against a team like this. We knew coming in playing the Steelers they always have a nice run defense you have to grind it out for 60 minutes.
Re: How much does this define your identity or is it just one game?
It's just one game, but everyone knows we want to come in and run the ball just going off of preseason and seeing what we are doing - continuing to hand the ball off every time. From preseason coming in here I'm sure they knew that was something we were going to do. That is something we wanted to establish coming in this year. We know teams know we are going to run the ball like how we did a couple years ago. We are just going to continue to try to get better. 
Re: The team ran for a lot of important yards
That is the positive thing of the running game. There were a lot of times where they stopped us for no gain, but when it counted we made the plays and made the yardage. You can just tell we are getting better and better. 
Re: Is Jackie Battle an extra weapon for you guys?
Yes, he's an extra weapon. We actually dressed four running backs. Shonn [Greene] and Jackie [Battle] kind of have the same style. They are guys that can go in there and get the tough yards. He stepped up nice when Shonn went out.
Re: When you got carries you got the yards that were there and didn't risk anything - no turnovers and stayed inbounds.
That is some of the situations that we work on every week. We had a situation knowing what the score was on the scoreboard. There was a thing where we wanted to stay in-bounds and not give up any turnovers. I think we did a good job of that today. 
Re: You have been in the huddle with Jake [Locker] the past couple years. What was the feel going into the second half? Was he gaining a little bit of confidence?
Yes, I think he was getting into a little rhythm. From just being in the huddle, you could tell he was comfortable and just getting better throughout the game. I think each week he will get better and better.
Re: You guys have started 0-1 the last couple years. A win out of the gate -- how much does that help you moving forward?
It helps us a lot, but at the end of the day we wanted to start fast but it's only one game. Hopefully it gives us momentum and we will continue to get win after win.
Re: The Steelers could have really taken control of the game and put you guys in a hole prior to Redman's fumble but instead you guys turned it around and really took control of the game. Your vantage point on what that play did for you guys:
It just shows you what kind of defense we have. They drove the ball down, but our defense didn't give up. I think it kind of helped us out. I think that would have put us down 9-0, so that helped us out. Then we got the opportunity to drive it back down there and get some points on the board.  
What did you say to Darius Reynaud about the safety? Can you joke about it with him now?
You can joke about it with him now. During the game I just told him to forget about it. That play is over, and there's nothing we can do to change it now. And after the game I told him he should have brought it out of there.
Was he touchy about the subject?
He wasn't really touchy. He was upset about it, but in a game like this you have to be able to forget. If a quarterback throws an interception, you have to come and be able to still play. If you're a running back and fumble, you still have to be able to come out there and play. This is a game that, if you don't know how to forget, you're going to be in a lot of trouble.
What did you think when you looked up and saw the scoreboard that said 2-0 three seconds into the game?
It was crazy. We were standing out there on the field getting ready to run the play. Then it was one or two officials and then we saw the whole crew over there. We really didn't know what was going on. And when they replayed it up there, I knew it was a safety.
Can you talk about the 34 minutes time of possession in a game like this?
Anytime you can run the ball up and down the field you are going to have a lot of possessions. I think that is what we are trying to do this year. We are trying to be able to run the ball, and when those guys come up in the box you have to kill them with play action.
TITANS CB BLIDI WREH-WILSON
Re: Making debut two hours from home:
The best feeling was that my debut was two hours from home. That made it easy for people to come out and see me. It was especially a great feeling for me because we got the win.
Re: Dad's nerves before the game:
He texted me inspirational quotes last night, just trying to help me get ready for this game today. I was trying to relax and help calm him down a little bit. I told him to get some sleep.
What were your emotions today?
My family told me to not get too wild. When they introduced Troy Polamalu and the place erupted, it was pretty wild. Even though I grew up close to Pittsburgh, I was never at a Steeler game, so to be here and see that was a very humbling experience for me.
Re: Dream game for an offensive lineman:
It was. We started out slow. Some of the stuff we were doing was not working. We went back to try to get back to Titans football. I think we ran 13 straight run plays on that drive. It just makes you feel good.
Re: Getting back to Titan's football:
We were working toward running the ball in the preseason.  It is something we wanted to do to take steps in the right direction. To come out here and do the real thing in the season opener in a hostile environment, that speaks to the work these guys do and the coaches themselves.
Re: Talk about Jackie Battle and how he played today:
We saw him in preseason. There was no way he was not going to get a spot on this team. He runs hard, and especially the way we were trying to get our offense to go. He's been good for us.  It's great to have him in there. It gives everybody confidence knowing that a guy like that can come in there and make a play.
TITANS KR/RB DARIUS REYNAUD
Re: The safety to start the game:
That was sitting in my head for a little bit. Then when we went into the second quarter and the score was still 2-0, and I was still very upset.  The guys kept telling me they were going to bail me out. After that our defense made some big plays, the fumble on their goal line for example. Things started to go our way after that.
Did you know it was a safety?
I know I was in the end zone. I did not know where the ball was. That's something I need to work on. I need to keep my head up next time something like that happens.
Re: Resiliency this year from last season:
Quite a big difference from last year, because we know we have learned a lot from last year. We bounced back.
STEELERS HEAD COACH MIKE TOMLIN
Obviously a disappointing opener. Enough misery to go around in all three phases. Unacceptable performance. I won't accept it. This team better not accept it. We've got some work to do. We sustained some injuries in the game but really not an excuse. The guys that played had opportunities, and we didn't play well enough. We didn't coach well enough. On the injury front, Shaun Suisham injured his hamstring in the pregame. He was able to get through today. We'll see what that holds. Maurkice Pouncey injured his MCL and his ACL. Obviously, he'll be facing a surgery. [LaRod] Stephens-Howling had a knee injury. He's being evaluated via the MRI. Cortez Allen had a right ankle sprain and Larry Foote ruptured his bicep. Of course, that will require surgery as well. Those that played, not good enough. We won't accept it. We turned the ball over, particularly in the red area. That's a significant swing. They were able to run the ball at times on us, particularly in that red area. Just not acceptable. Obviously, some errors in the kicking game. We've got a lot of work to do. Nobody cares about our problems. They're glad we've got them. We need to understand that. We need to stick together and persevere.
Re: It looked like on the play where Isaac Redman fumbled there was some confusion:
There was. We had a miscommunication in terms of the personnel group. Once we got an understanding of what the issue was, we realized it was irrelevant in regards to the play. But, obviously, we didn't execute the play well. So, not good.
Should there have been a timeout called there? The huddle clock looked like it was down next to nothing.
No, we were close there. We felt comfortable with what we were looking at. Obviously, in hindsight, we would look a taking one there based on the result of the play. But, again based on the discussions that we had with an understanding of what was going on, we felt comfortable. Obviously, we didn't get the play executed.
Can you comment specifically on the performance you got from your running backs and maybe why you didn't see the need for Felix Jones?
We just didn't get enough going with any of the running backs. The game circumstances dictated that we do some things, no-huddle and so forth. He's been here for a short period of time. That maybe had an effect on our utilization of him, particularly down the stretch. But just largely not good enough.
What would have kept the offense from going down field more? That seemed to be the only thing working.
Our quarterback was getting hit some. It wasn't a clean pocket. Obviously, we had Kelvin Beachum in there at center. We needed to be able to run the ball and stay on schedule. We weren't able to do that.
Just to clarify, the injuries that require surgery, are those season-ending?
I would assume so, but that's an assumption at this point.
Was Will Johnson available? Why didn't he play at all?
He was available to us. By the time we determined he was available, it was the latter part of the week. We had a plan kind of in place. He was there if we needed him. Obviously, due to game circumstances we didn't get a chance to utilize him much. He did participate on special teams.
It looked like David DeCastro got Pouncey's knee. Why would that happen?
I have to look at the play. I just caught a glimpse of it on the replay. It's an unfortunate incident. Obviously, it's not something that David is intentionally trying to do. It really is one of the casualties of the game. We'll take a look at it, and maybe have a better understanding of the reasons why after we do.
You called this performance unacceptable. What kind of consequences does that mean for the team moving forward?
We've just got to understand what the standard is, and that's not up to the standard. We better work to play to it. We're capable. We're good enough to win football games. We're good enough to win that game today, not taking anything away from the Tennessee Titans. They did a great job. We did not.
Why wasn't the running game there when Pouncey went out?
We didn't execute. They did. They had a nice plan. Our plan could've been better under the circumstances. Obviously, we had intended on using Kelvin Beachum some at tight end. When he had to go in at center, that changed. We didn't adjust well enough. I take responsibility for that.
What was the biggest letdown today?
I really haven't taken time to ponder that. I paint with a broad brush when I say that the performance is unacceptable. We'll have better clarity and I'll be able to provide those better answers for you after having watched the tape.
Is the injury to Stephens-Howling less serious?
He's being evaluated as we speak. So, I don't have a definitive explanation of what his injury is at this point.
Are you comfortable with Beachum at center moving forward?
I'd have to look at the tape. Obviously, he did an admirable job under the circumstances, but tomorrow is a new day. It's the top of the week. We'll make the best decisions for us, globally speaking.
STEELERS QB BEN ROETHLISBERGER
Not good enough, point blank. No excuses. I don't make excuses. It just wasn't good enough. I didn't play good enough. 
Re: On moving the ball late:
That was the problem, we did it late and we couldn't do it early enough. It was just little things here and little things there, just never quite got it going.
Re: On the fumble near the end zone and the interception they turned into a touchdown:
Sometimes that is all that it takes in this game, a play or two. Turnovers kill you. That is why we can't have it. They were my fault. 
How emotionally deflating was seeing Maurkice Pouncey injured?
It's tough. He is our captain and our leader, obviously a very good friend. You never like to see a guy get hurt regardless of who it is. It is tough. 
On the fumble play, should you have called a timeout before the play since the clock was running low?
I thought about calling a timeout because we had the wrong personnel in. The thing was the play was going to Isaac Redman the whole time. He was in and he knew the play, so I didn't feel it was necessary to burn a timeout when we had the guys in necessary to run that play.
I would have to go back and look at it. We did a lot of little factors here and there. I have to make sure I get him the ball, point blank. I take the heat on that one.
Re: Throwing for 30,000 yards:
It comes in a loss, so it doesn't do anything for me.
Do you feel like you were on your back too much today?
They are a good defense. They did some good things and got after it. We have to get at it tomorrow and make the improvements. 
STEELERS WR JERRICHO COTCHERY
The late touchdown drive just wasn't enough. Can you talk about what they did to take you out of your game offensively until the 2-minute rally?
I think mainly we get in grooves, offensively, just by making plays. Early on, we just missed by a hair on a couple of plays and we just didn't get going. Obviously, that's unacceptable, but we'll go back to work tomorrow and get it fixed.
There was so much hope among the fan base that the 0-4 record in the preseason was an aberration. Is there more to that now?
Generally speaking, like I said, the game today wasn't acceptable by any means. We just have to go to work, look at the film and see exactly what went wrong today, and get those problems fixed. We felt like we progressed a lot throughout the offseason and in training camp. We were looking forward to showing that. Obviously, that didn't happen today. We just have to go and get our problems fixed.
The game got off to such a good start with the free two points on the safety. From that point on, you had the fumble in the end zone and [Maurkice] Pouncey's injury as well. How did those things affect the team?
I don't want to make too much of the injuries. At the end of the day, they happen in this game. You have to keep going. Obviously, he's a great player in this league and it hurts to lose him. But at the end of the day, like I said, those things happen, and we just have to adjust on the line. The next man has to step in there and play at a high level. We had a good thing going early on; [we were] executing on third down. From there, it went downhill.
STEELERS WR ANTONIO BROWN
How much of the performance in the first half was a result of the fumble in the end zone and the injury to Maurkice [Pouncey] and how much was a general lack of execution?
We didn't execute; no excuses. We definitely have to get better.
Did they do anything schematically to throw you off?
I don't think we took advantage of things situationally. We have to be able to convert third downs. We were getting off the field on third downs and the other team was possessing the ball and taking advantage of the clock. When you don't put points on the board, that's the end result.
There seemed to be some opportunities down the field that just missed. What was going on with some of the deep balls you were trying?
We have to hit them. We have to connect. If we connect, we probably wouldn't be in this position. We definitely have to connect down the field.
How much did losing [Maurkice] Pouncey impact the running game?
No excuses. [It's] the next guy up. We were kind of behind the chains, so we started throwing the ball.
What's the effect on the game with that fumble? Could the whole game have turned out differently?
It's big. We got no points out of it. It's unacceptable. It wasn't a guy hitting it or the ball coming out. It was something that we work on every single day in the beginning of practice, the quarterback-running back exchange.
It's one things to lose the game, but to lose some of the guys you lost today make it even worse?
It's going to be tough. Pouncey is the heart of our offensive line. To lose him, we are going to have to have guys step up and we are all going to have to play better.
What did Coach [Tomlin] say to you after the second fumble? And were you surprised that you did not get back in until the end [of the game]?
Coach T said it doesn't change how he has his faith in me when I came to the sideline. [He told me to] just get it together and they were going to still dial my number up some time in the game.
Mike [Tomlin] said there was a lot of confusion on the play that resulted in the fumble into the end zone. Did you sense something was messed up there?
There were supposed to be two tailbacks in the game. I was going to fullback to get the dive. We got to the line of scrimmage and realized that we didn't have the tailback in the game. So I turned to the sideline to see if we could flag Felix [Jones] on. They looked like they were trying to get him on. I looked up at the clock and there were about seven or eight seconds left [on the play clock]. So I told David Johnson to go back to tailback. We snapped it. It was kind of slow coming back from the center – still working with a new center. It's a quick-hitting play and we messed up the quarterback-running back exchange.
Did you ever get the ball?
I never felt like I had it. I never really felt it. It kind of went right through. I was going downhill. I was trying to look at the defense. I never look at the exchange. And I just never felt it.
You know, injuries are a part of this league. I don't know what's going on, but guys have to step in and play. It happens every year [where] we have injuries. But they are crucial components of our team. Someone is going to have an opportunity and someone needs to step up.
Are you surprised how much they stuck to running at you?
No. I think we played it better in the second half. We made some adjustments, but we've got to do a better job.
How disappointed are you?
[It's] very disappointing. You want to win at home anytime you step out there. So it was disappointing, but hopefully this team can bounce back and show some fight.
STEELERS DE LaMARR WOODLEY
As a defense we want to go out there and cause some turnovers and not allow a team to run the ball so we can get after them in the pass rush a little bit. We didn't do that as a defense.
What do you guys do without Larry [Foote]?
The next guy has to ready to step in [and] be ready to play. That's how football goes. Hopefully, Larry recovers. He's a good friend of mine. But we have to get ready for a game next week, so the guy behind him needs to ready to step up next week and play.