**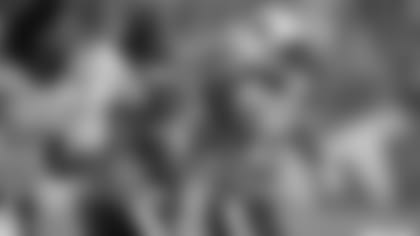 Chris Johnson (left) and LenDale White (middle) congratulate Javon Ringer after the rookie running back scampered 36 yards for a touchdown in the third quarter.
NASHVILLE, Tenn. --** It was a good night to be a Titans rookie at LP Field. While Tennessee's starting offense began the night sluggish, it was a trio of Titans newcomers who accounted for all three of the team's touchdowns in a 27-20 victory over Tampa Bay Saturday night.
In their preseason home opener, the Titans fell behind early, but Vince Young rallied Tennessee in the second half. Trailing 12-6 to start the second half, Young threw a 37-yard touchdown pass to rookie wide receiver Kenny Britt, giving the Titans a one point lead they would never relinquish. Young scrambled around on the play and took advantage of a blown coverage in Tampa's secondary to find a wide open Britt streaking into the end zone.
"I thought there's a bust in this coverage, so I'm just going to keep on going," said Britt, who caught five passes for 89 yards (17.8 avg) and one touchdown in his NFL preseason debut. "About 10 yards after the line of scrimmage, I saw the safety come down and I didn't know where he was going. I saw that Vince was going to scramble, so I just kept on going."
It was a good start for Britt, who figures to be in the mix for considerable playing time at wide receiver for the Titans this season.
"[Britt] made some good plays out there. He got behind the defense and Vince found him and he also ran some other good routes," quarterback Kerry Collins said. "He's doing a real good job, especially considering he hasn't practiced that much."
Another rookie making his mark tonight was running back Javon Ringer, who rushed seven times for 51 yards, including a 36-yard touchdown that extended Tennessee's lead to 20-12 late in the third quarter. On a first down play, the Michigan State product made one tackler miss in the backfield, sliced left through a hole and sprinted towards daylight. The 36-yard touchdown run was scintillating, and showed why he has the 10th most rushing yards in Big Ten history.
"It feels good, it's a real big blessing," said Ringer. "I'm pretty sure I can speak for everybody when I say we're just trying to come out and do everything we can to make the Titans successful."
Tennessee's rookies weren't done just yet. Early in the fourth quarter, cornerback Ryan Mouton stepped in front of a Josh Freeman pass and returned it 29 yards for a touchdown and 27-12 Titans lead.
"My eyes got big when I saw it, and I was just trying to get down the sideline and hoping I wouldn't get caught by anybody," Mouton said.
Almost lost in the mix was tight end Jared Cook, who caught a game-high six passes for 56 yards, including a long catch of 16. His notable effort was another promising sign the rookie from South Carolina can immediately contribute to Tennessee's offense this season.
"Javon, Kenny, Mouton and all of us just are trying to work hard and are trying to get the job done," Cook said. "It was awesome to see the guys you came in with do as well they did."
In addition to the strong play of the rookie class, Young seemed to take another step in the right direction, completing 9-of-14 passes for 131 yards and a touchdown. It marked the second straight week that Young has thrown a touchdown pass.
"I just want to continue to get better," Young said. "It's not all about me. All the offensive linemen, Cook and [wide receiver Lavelle] Hawkins made a lot of plays today. I feel like coach [Mike] Heimerdinger and coach Craig [Johnson] have helped me get comfortable."
Titans owner Bud Adams was in town from Houston and liked what he saw of the former University of Texas quarterback.
"[Young] has a tremendous future in football," Adams said. "I think he will become a very top quarterback for us down the road. Tonight, I was really proud of him because he did a magnificent job."
The Titans will travel to Dallas next week to play the Cowboys in their new stadium. Fisher said his club will continue to work on improving all aspects of the game during the next few days of training camp.
"We have to take our next step in the preseason and we'll have a couple days of training camp," Fisher said. "We're just lining up and playing and going over a number of things we have to get done this week before we start preparing for them."