**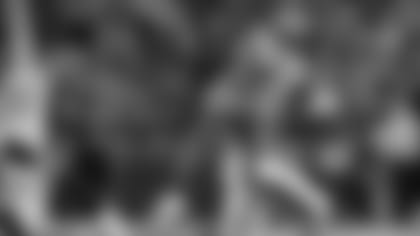 Training Camp CentralNASHVILLE, Tenn. –** Only months ago, rookies on the Titans' roster were on a college campus preparing to live out their dreams of one day playing in the National Football League. Just over one week ago they embarked on their first NFL training camp.
For all of them it is a dream come true.
"It hasn't hit me yet and it probably won't hit me until the regular season, but man, I play football for a living and that's a wonderful feeling to know that you can do something like that," said linebacker Gerald McGrath, the Titans' fourth-round selection (130th overall) out of the University of Southern Mississippi.
Transitioning to life in the NFL can be a big adjustment for the incoming rookies. The day-to-day grind can be much more antagonizing than anticipated. Even though there are no more college classes to go to, the players instead are attending meetings when they are not working out or practicing.
"It's a job, about 7:30 in the morning to about 8:30-9 o'clock at night. That's probably been the biggest difference," said rookie running back Javon Ringer.
Ringer, the Titans' fifth-round (173rd overall) selection out of Michigan State University, has felt comfortable through his first week in training camp. The biggest difference for him has been the speed of the players. "The offensive and defensive lines are both a lot quicker and a lot smarter," said Ringer. "It's been a big difference."
Jason McCourty was the sixth-round (203rd overall) selection out of Rutgers University. The Nyack, N.Y. native noticed in the first week of practices that the main difference between college and the NFL is how technical the coaching is. "In college you can get away with a lot of little mistakes," said McCourty. "Your footwork and everything is scrutinized a lot more at this level in order to make a play."
NFL players are bigger, faster and stronger than the college football players, and some incoming rookies can be intimidated by that factor which can hinder their performance and impact their play on the football field. For the new guys coming in, it helps to have their new teammates be supportive because they were rookies at one point too. "All the vets and rookies are always willing to help and teach you things," said McCourty. "That has been the most surprising thing for me, how much I've been able to learn in this first week out here in Nashville."
This is a dream for each player on the roster. Very few athletes have the physical and mental capabilities to play professional football. To be able to play football as your job is a dream. Sometimes it can be taken for granted, but not for McGrath.
"It's a full-time job. It's the perfect dream. I was in the hotel the other day thinking that I'm going to be in the field house all day long. No class, no homework," said McGrath. "You can't ask for anything more than that. It's a dream come true for everybody in the NFL to come to work and do something that you enjoy doing."
No more late nights staying up late to study for an exam or finish a paper, instead these rookies are studying their playbook to know their routes and assignments. For these rookies, this homework is something they can get use to.