**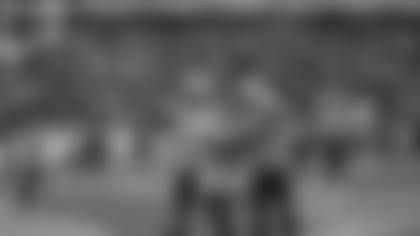 Wide receiver Justin Gage caught two touchdown passes in Tennessee's 27-24 victory.
NASHVILLE, Tenn. --** The Tennessee Titans might fall short of making NFL history by rebounding from an 0-6 start to make the playoffs. It won't be for lack of trying, and they certainly aren't boring.
Rob Bironas kicked a 46-yard field goal in overtime, and the Titans beat the Miami Dolphins 27-24 Sunday after blowing an 18-point lead.
"I was just glad we won," Tennessee tight end Alge Crumpler said. "I was a little peeved at the way it had to go down. But, hey look, we're still breathing baby."
Tennessee kept alive faint playoff hopes for another week as Vince Young threw for a career-high three touchdowns, and Chris Johnson ran for 104 yards. The Titans (7-7) reached .500 for the first time this year, but made it far too interesting by blowing the big lead.
"Everybody got their money's worth today," Titans coach Jeff Fisher said. "It's nice to get a win. That's a good football team."
The Dolphins (7-7) also viewed this as an elimination game for their own playoff hopes. They trailed 24-6 in the third quarter before rallying, tying on Ricky Williams' 2-point conversion run with 1:34 left.
Miami won the toss and got the ball first in overtime. But Michael Griffin picked off Chad Henne's pass, the Titans picked up 15 yards when Miami receiver Greg Camarillo was called for a late hit and Bironas kicked the winner four plays later.
"All respects to Bironas for getting that kick through, and to Griffin as well," Young said.
The loss was Miami's first in December after six straight wins under coach Tony Sparano.
"Hey, look we've got two games left," Sparano said. "We're going to work our tail off and win the two games. We've got to focus on Houston and let the other stuff work out. I really don't know where we are right now."
Dolphins receiver Brian Hartline knows they lost control of their playoff fate.
"Now we are sitting around watching games to see how others do," he said.
The Dolphins tied it as Dan Carpenter kicked three field goals. Then Williams scored their first TD on a 1-yard run as he took a direct snap and outraced a defender to the left side of the goal line midway in the fourth quarter.
Griffin had a chance to seal the victory in regulation but a pass bounced off his chest into the arms of Brian Hartline for a 57-yard reception. Chad Henne finished the drive by finding Anthony Fasano in the end zone for a 2-yard TD pass on fourth-and-1 with 1:34 remaining. Then Pat White handed off to Williams for the 2-point conversion that tied it at 24.
The Dolphins forced a three-and-out as Young was incomplete on his first two passes. Brett Kern pinned Miami at the Dolphins 2 with a 59-yard punt, and Tennessee was content to wait for overtime as Fisher sat on his three timeouts in what he later called a "gut feeling."
It worked out when Griffin got redemption and his first interception this season.
The Dolphins outgained Tennessee 468-364 on offense, driving easily downfield after Tennessee linebacker Keith Bulluck hurt his left knee in the third quarter. He didn't return and will have tests on his knee Monday.
But Miami couldn't overcome four turnovers, including three interceptions by Henne, who finished with a career-high 349 yards passing. The Dolphins also got inside the Tennessee 35 eight times only to settle for the three field goals and turn it over three times.
"Overall, we just hurt ourselves," Henne said.
Johnson turned in his ninth straight 100-yard game, extending his franchise mark and making him the eighth player in NFL history with such a streak. But he couldn't add to his numbers much in the second half as the Dolphins focused on stopping him in his chase to become only the sixth player to reach 2,000 yards this season. Johnson now has 1,730 yards.
"The running's gotten tougher every week. It opens up stuff for Vince downfield," Johnson said.
The finish overshadowed Young's performance after he came into the game questionable with a mildly strained right hamstring and achy right knee. He now has a TD pass in six straight games and seven of his eight starts, even though his first pass was tipped by four players before Vontae Davis intercepted it on the opening drive.
Young tossed two TD passes to Justin Gage, and a 32-yarder to Nate Washington in the third quarter for the 24-6 lead that didn't stand up to Miami's furious rally.
"The way he played against this defense, I think that kind of shows what he's doing at the position," Fisher said. "I'm very proud of him from that standpoint."
NOTES: Williams finished with 80 yards on 19 carries, giving him 1,055 yards rushing this season. He set an NFL record for longest span between such seasons at six. ... It was the Titans' fifth straight win at home. ... Johnson now is second in franchise history with 1,730 yards rushing and trails only Hall of Famer Earl Campbell. ... Bulluck has started 127 straight games.