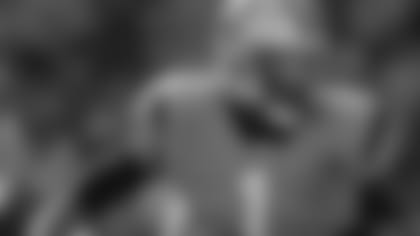 Rookie sensation Cam Newton leads Carolina at home against Tennessee on Sunday.
CHARLOTTE, N.C. -- The Carolina Panthers have just a pair of wins through eight games, but with rookie quarterback Cam Newton keeping them competitive, they're confident there will be better second-half results.
The Tennessee Titans have the same hopes as they sit at .500 at the season's midpoint.
Coming off a bye, the Panthers close out a three-game stretch at home Sunday when they face a Titans team opening a road-heavy portion of its schedule.
With Olindo Mare missing a 31-yard field goal with 26 seconds left in a 24-21 loss to Minnesota on Oct. 30, the Panthers limped into the bye week at 2-6 -- far off the 10-win pace first-year coach Ron Rivera said his team was capable of in training camp.
"To be 2-6 is not acceptable by any means, and it's disappointing," Rivera said. "But what we can do, and what we have the ability to do, is more important to our guys right now."
Through eight games, Newton's poise and athletic ability have provided plenty of optimism for a franchise that finished last in the league in points (196) and total offense (258.4 yards per game) last season in going 2-14.
The No. 1 overall pick and Heisman Trophy winner is sixth in the NFL with 2,393 passing yards and he's thrown for 11 TDs -- four apiece to Steve Smith and tight end Greg Olsen -- after setting a career high with three against the Vikings.
Newton has also run for 319 yards and seven scores, helping Carolina rank fifth in the league in offense with 415.1 yards per contest.
"The biggest thing is Cam has changed our expectations," Rivera said. "We've gotten more than we expected from him at an earlier time. And that's great. That has helped us to develop the offense a lot faster. As he continues to progress, this system will continue to grow."
While some Panthers feel the team has the talent to win out -- tackle Jordan Gross said the goal should be to finish with a winning record -- one of Carolina's primary concerns should be closing out games. They've blown second half leads in five of their six losses.
"It's been like (the movie) Groundhog Day around here," Olsen said.
As Carolina looks to get back on track before playing three straight and five of seven outside Charlotte, the Titans (4-4) are trying to rebound from a 1-2 homestand with the first of five second-half road games.
Tennessee missed a great opportunity to keep pace with AFC South-leading Houston (6-3) by getting outscored 17-0 in the second half of Sunday's 24-17 loss to Cincinnati. The Titans, though, are still in the playoff hunt as every team in the conference has at least two losses.
"Nobody is out of reach," right guard Jake Scott said. "There's nobody running away with it. On the other side, there's not that many teams out of it completely. It's going to be very interesting in the AFC going down the next two months."
It the Titans are going to make a second-half run, the offense will likely have to step up. Tennessee, which managed just 95 yards in the final 30 minutes against the Bengals, is 23rd in the league in scoring (19.5 points per game) and 27th in total offense, averaging 310.3 yards.
The biggest disappointment for coach Mike Munchak's team has been its NFL-worst running attack, which is averaging 70.0 yards. Three-time Pro Bowler Chris Johnson is on pace to rush for 732 yards after going for a league-best 4,598 in his first three seasons.
The Panthers are yielding 133.3 yards per game on the ground -- sixth-most in the league -- and are tied for the most rushing TDs allowed with 11.
Carolina's pass defense has also struggled, with opposing quarterbacks averaging 8.35 yards per attempt -- the second-highest ratio allowed in the NFL.
Titans quarterback Matt Hasselbeck is averaging 5.63 yards per attempt during the 1-3 skid, yet his 2,014 yards are the second-most he's passed for through eight games in his career.
Hasselbeck was 3-1 as a starter against Carolina while with Seattle, including a 34-14 victory in the 2006 NFC championship game.
This is the fourth meeting between these franchises, and first since the Titans' 20-7 home win Nov. 4, 2007.
The Titans posted a 37-17 victory in Carolina on Oct. 19, 2003, in the first matchup between these teams since the Houston Oilers relocated to Tennessee in 1997.