McGinnis Moved to Senior Assistant Coach
**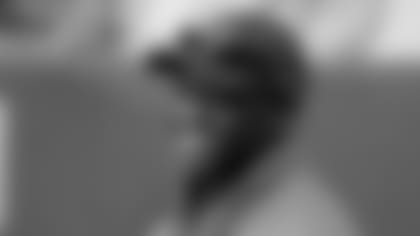 Frank Bush has been named the new linebackers coach for the Tennessee Titans.
NASHVILLE, Tenn. -** The Tennessee Titans named Frank Bush linebackers coach.
Bush joins the Titans after spending four seasons with the Houston Texans, including the last two as defensive coordinator. He has a total of 19 seasons working in the NFL with the majority of his experience coaching linebackers.
"We have faced Frank's units over the years and I was always impressed with how hard his players played and their physical style," said Titans head coach Mike Munchak. "He has done it all in this league – coordinated, linebackers, special teams, defensive line – so he will bring a lot to our staff. He should be a resource to Jerry (Gray) as well, in terms of understanding the offenses in the division. Frank is a high-energy guy that I think guys will respond well to."
Before joining the Texans, Bush spent three seasons with the Arizona Cardinals as the linebackers coach and was tabbed as assistant head coach for his final year. While with the Cardinals, he guided Karlos Dansby's development into a top-flight player. The defense as a whole made significant strides during his tenure as they improved from 26th the year before his arrival to 12th in 2004 and 8th in 2005. Bush spent nine seasons coaching on Mike Shanahan's Denver Broncos teams from 1995-03, in a variety of capacities. In his first five years (1995-99) in Denver, he was the linebackers coach. Additionally, he spent one season as secondary coach (2000) and three seasons as the special teams coach (2001-03) with the Broncos. Bush started his coaching career with the Houston Oilers as the linebackers coach from 1992-94.
"This is a great opportunity. I am excited about it and looking forward to working with Mike because he has always been a winner," said Bush. "It will be good getting back with the linebackers and I know I have something to prove. In talking with Jerry, there was a good fit and we see things in a similar way. I want my guys to play aggressively and with passion."
Bush was a three-year starter at linebacker for North Carolina State and was a fifth-round selection of the Houston Oilers in the 1985 NFL Draft. He earned all-rookie honors in his first season before an injury in his second season ended his career as a player. Bush stayed with the Oilers following his retirement, joining the front office as a college scout (1987-92).
Bush replaces Dave McGinnis, who will take on a new role as Senior Assistant Coach for the team. In that role, he will assist head coach Mike Munchak and the defensive staff. Additionally, he will have personnel and administrative duties.
"I have always considered it a privilege to work in the NFL and have been blessed to have accumulated 25 years of experience at all levels in this league," said McGinnis. "I have worked with and for a number of great coaches and organizations through the years. I sincerely appreciate the opportunity Mr. Adams, Steve Underwood, Mike Reinfeldt and Mike Munchak have afforded me to use that experience and help the Titans organization in as many ways as possible. I am looking forward to this opportunity and this new role."
"Dave has a wealth of experience and he is going to be able help us in a bunch of different areas - so now we can make the best use of all his skills. I am grateful that he will be taking on this new role and he will be an important voice for me," said Munchak.