INDIANAPOLIS — The NFL Scouting Combine has called Indianapolis its home since 1987, but the Tennessee Titans came up several times during this year's prospect evaluation event.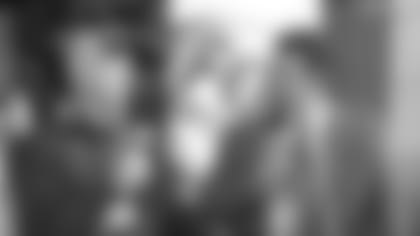 New Titans coach Ken Whisenhunt conducts an interview with Fox Sports 1's Alex Marvez during the 2014 NFL Combine. Whisenhunt explained his vision for the Titans in multiple media interviews.
In addition to coach Ken Whisenhunt and general manager Ruston Webster holding two of the first media sessions of coaches and GMs (click here for Whisenhunt's session and click here for Webster's), several prospects from the Nashville area referenced watching the team during their youth, and others who were not from the area have connections with past or present Titans players.
Texas A&M tackle Jake Matthews has some of the deepest connections to the Titans' franchise. His father, Hall of Fame offensive lineman Bruce Matthews, played a Titans/Oilers franchise record 296 games and made 14 Pro Bowls in 19 seasons. Bruce Matthews is the only player to have his number retired as a Titan and an Oiler. Jake's brother Kevin has been with the Titans for all or part of the past four seasons. 
Jake Matthews, considered a top prospect at tackle by NFL Media analyst Mike Mayock and others, said his father helped him when he began playing offensive line in high school and he's watched some of his dad's game film.
"I think my earliest memory of him playing is when (the Titans) went to the Super Bowl in '99," Jake Matthews said. "But I've gone back and looked at him – just guy who played hard, finished, really impressive to watch. I'm proud to call him my father. … I'm trying to do the same thing he did, and if I could do half the things he did, I think I'd have a great career. It's gonna be hard to get to 19 years and 14 straight Pro Bowls, that could be difficult. … That's a pretty lofty goal to shoot for." 
Michigan tackle Taylor Lewan is also considered a top prospect by analysts. Lewan has drawn information and guidance from other Wolverines players who made it to the pros, including former Titans guard Steve Hutchinson and former Oilers and Titans tackle Jon Runyan.
"I talked to (Rams tackle Jake Long), I talked to Steve Hutchinson, (former Redskins and Lions tackle) Jon Jansen and Jon Runyan," Lewan said. "Those are Michigan guys that are here to help guys who played at Michigan." 
Alabama tackle Cyrus Kouandjio, whom Mayock also ranked in his top five, said he's kept in touch with former Crimson Tide guard Chance Warmack and tackle D.J. Fluker, who were respectively selected 10th by the Titans and 11th by the Chargers overall in the 2013 NFL Draft.
"Chance said to enjoy it. You're never going to do this again in your life, so just enjoy it," Kouandjio said. "I think it would be sweet to play with Chance. I love Fluker, I love all those guys. Chance and I had a lot of fun together sophomore year. We used to slam bodies left and right. That would be sweet. We'd have a lot of fun." 
The Titans came up in at least three other interview sessions with Nashvillians Ryan Carrethers, Wesley Johnson and James Stone.
Carrethers, an Arkansas State defensive tackle who played high school at Brentwood Academy, said his favorite Titans player was Eddie George. 
Johnson played high school at MBA before going on to Vanderbilt.
"I grew up a huge Titans fan, a big SEC fan and became a Vanderbilt fan once they started recruiting me. I love Nashville," he said. 
Stone, who played at Maplewood before becoming one of four University of Tennessee offensive linemen invited to this year's combine, said his favorite Titans player "kind of changed over the years" but one still stands out.
"Michael Roos, I remember when he first came, and I was like, 'That's a really good tackle.' They have some good talent," Stone said. "I like the Titans and still follow them."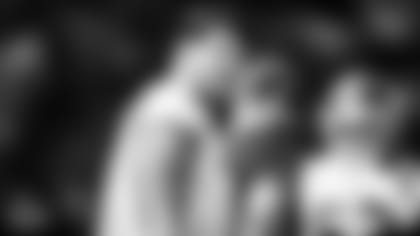 news
Titans LT Taylor Lewan: "I Am Back to My Normal Self, if Not a Little Bit Better"
Lost for the 2020 season with a torn ACL last October against the Texans, Lewan had surgery and began working his way back. On Wednesday, he sounded optimistic about his chances of being ready for Week One of the regular season.