**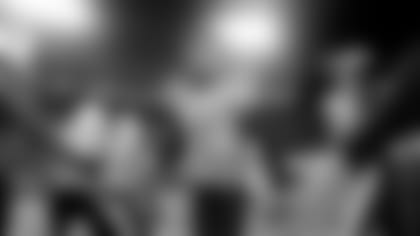 Chris Johnson's teammates will do everything they can to help him make history on Sunday.
SEATTLE -** Even though he was only a grade schooler, Jim Mora remembers O.J. Simpson becoming the first NFL player to rush for 2,000 yards in a season.
Specifically, the now-48-year-old Seahawks coach recalls against whom Simpson romped through for that milestone in 1973.
"The Jets,'' Mora said, before his team hosts rampaging NFL rushing leader Chris Johnson and the Tennessee Titans on Sunday in the season finale.
"We don't want to be on highlight reels for the rest of eternity. (Imagine) you're sitting there watching ESPN with your grandkids in 40 years saying, 'Hey, look at granddad there missing that tackle on Chris Johnson when he went over the 2,000-yard mark!'''
The Titans aren't exactly being coy about want they want Sunday in their first trip to Seattle since 1998, when they were the Houston Oilers. Johnson needs 128 yards rushing to join Eric Dickerson, Jamal Lewis, Barry Sanders, Terrell Davis and O.J. Simpson as the only runners to reach 2,000 yards in a season.
And he needs 234 yards to break Dickerson's NFL record of 2,105 yards rushing in 1984.
Sounds like Johnson could get 40 or more carries in Seattle.
"We want C.J. to get 2,000 and we want him to get Dickerson's record,'' tight end Bo Scaife said. "It's in everybody's head. And I think everybody's taking it seriously and everyone's going to do their part.''
Besides, what else does Tennessee (7-8) have to play for? It lost hope of being the first team to start 0-6 and make the playoffs when San Diego steamrolled it Christmas night.
"Usually, any kind of stats like that the running back gets most of the glory. You get to 2,000 they usually start talking about who's blocking for him,'' Titans left tackle Michael Roos said. "So it's a great source of pride for us.''
Wide receiver Kenny Britt said it's not just Johnson's blockers who feel that way.
"We know when his name goes into the history books our name is there, too,'' Britt said.
But against the woebegone Seahawks (5-10), who have been outscored 106-24 in losing consecutively at Houston, to Tampa Bay and at Green Bay, why stop at just the 2,000-yard milestone?
-Johnson, with 2,176 yards from scrimmage, is on the verge of breaking Marshall Faulk's 1999 record for yards from scrimmage in a season. Johnson needs 75 yards from scrimmage for that against the league's 25th-ranked defense, which is likely to be without injured Aaron Curry, the dynamic linebacker and fourth overall draft pick.
-He needs 63 yards to break Earl Campbell's franchise record of 1,934 yards rushing in 1980.
-Johnson is also trying for his 11th consecutive 100-yard rushing day, which would tie for the second-longest streak in NFL history.
-And then there's the grand prize, Dickerson's all-time mark.
Normally, gaining 234 yards in the finale would be a pipe dream. Yet Johnson has never faced Seattle, which has made many wishes come true for opponents the last two seasons.
The Seahawks are 9-22 since their last playoff appearance in January 2008, so they can't wait for this season to end. Or maybe they can. What awaits them after Sunday is the hiring of a new general manager likely to conduct a long overdue overhaul of an aging and ineffective roster.
This could be the last games in Seattle for fading and expensive veterans such as wide receiver Deion Branch, running back Julius Jones, defensive tackle Cory Redding, center Chris Spencer - and perhaps, gulp, quarterback Matt Hasselbeck.
For the first time since he arrived as then-coach and GM Mike Holmgren's hand-picked starter from Green Bay in 2001, Hasselbeck is having his future in Seattle questioned. That's what being 34 years old, having played through a disk issue in his back, broken ribs, a sore passing shoulder and banged thumb the last two seasons - plus eight interceptions and one lost fumble in the last two games - will do to a quarterback. Even one who played in three Pro Bowls and a Super Bowl.
Hasselbeck's contract ends after the 2010 season. One of the first questions the new GM will tackle is whether this offseason is the time to bring in a new franchise passer.
Mora has been deflecting all other talk about 2010, and assessments of this awful 2009, until after Sunday's game.
But when asked whether Hasselbeck's recent spate of risk-taking and mistakes gives the coach pause whether he is Seattle's quarterback for future seasons, Mora said: "That's something you think about and you talk about at the end of the season. I'm confident in Matt. I know that he's not happy with his performance the last couple of weeks.
"We'll look at his body at work and see where we think he's headed and talk to him, but that will come later.''
As for his own, one-season body of work - completing the worst two-year run of Seahawks football since the eight combined wins of 1992-93 - Mora went back to: "Honestly, I just want to beat the Tennessee Titans.''