NASHVILLE, Tenn. —Tennessee's first four picks of the 2011 NFL Draft are slated to be starters in 2013, and the other five players chosen remain with the team.
The Titans drafted Jake Locker at the eighth overall spot, tabbing an athletic player they want to be the face, arm and sometimes legs of the franchise for years to come. Tennessee then got what it considered a steal when linebacker Akeem Ayers was still available in the second round at the 39th spot.
The Titans selected defensive tackle Jurrell Casey 77th overall in the third round and middle linebacker Colin McCarthy in the fourth at 109 to strengthen the middle of their defense.
Locker appeared in five games as a rookie in relief of veteran Matt Hasselbeck and won the starting job for 2012 during training camp. Locker, however, left the season opener early with a shoulder injury. He returned the next two weeks and recorded his first win as a starter against Detroit on Sept. 23 when he completed 29 of 42 passes for 378 yards and two touchdowns for a passer rating of 113.
Ayers has started 30 of 32 games and shown versatility and durability. He's recorded 198 tackles (145 solo and seven for loss), eight sacks, 15 quarterback pressures, 10 passes defensed, an interception and two forced fumbles. Coaches task Ayers with setting the edge on run defense and have opted to line him up to rush opposing passers. Ayers had 110 tackles and six sacks in 2012.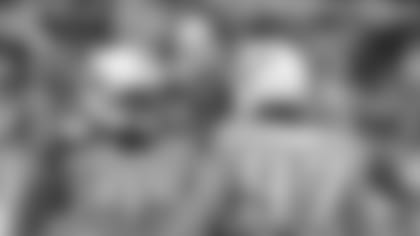 Casey has started 31 of 32 games and showed determination to play through an arm injury last season as well as consistency. He's recorded 154 tackles (79 solo and 11 for loss), 5.5 sacks, 12 quarterback pressures and three forced fumbles.
McCarthy became a starter during his rookie season and emerged as an impact playmaker with strong instincts and leadership abilities. He made 76 tackles (61 solo and eight for loss) in his first year when he started seven of the 13 games he played. McCarthy, however, was limited to seven starts in 2012 because of a high ankle sprain in the season opener and a concussion diagnosed after Tennessee's game at Jacksonville on Nov. 25.
The Titans also added depth in 2011 by drafting running back Jamie Harper in the fourth round with the 130th pick, defensive lineman Karl Klug in the fifth at 142, tackle Byron Stingily in the sixth at 175, and defensive tackle Zach Clayton (212) and Tommie Campbell (251) in the seventh round.
Klug led the Titans with seven sacks as a rookie, and Campbell has shown his speed primarily on special teams, enabling trick plays to result in touchdowns against Tampa Bay in 2011 and Detroit in 2012.
The chart below shows the selections made by the Titans in the 2011 NFL Draft:
4b, 7b-picks awarded as compensatory selections