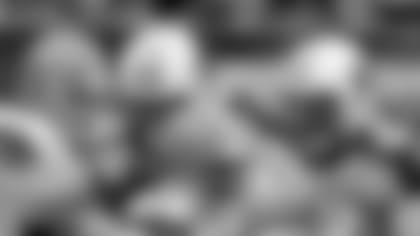 Tennessee's defense is giving up an NFL-low 14 points per game through four games.
NASHVILLE, Tenn. — Jason McCourty said Monday the only thing better than learning what an offense likes to do is preventing opponents from doing it.
The Titans' defense, which ranks as one of the stingiest in the NFL, is minimizing scores of other teams. Tennessee (3-1) is allowing only 14 points per game, and hasn't allowed more than 16 points to an opponent this season.
"We're very proud of that," McCourty said. "At the beginning of the year we came in and that's what we talked about:  Championship teams and the amount of points they've let up."
Tennessee's defense is near the top in other categories as well: seventh in yards allowed (299.8 per game); seventh in passing yards allowed (212) and eighth in rushing yards (87.8).
The Titans and the Cincinnati Bengals are allowing 4.4 yards per play, which is the best average in the league. The longest run allowed by the Titans was a 21-yard touchdown by Jacksonville's Maurice Jones-Drew on the opening drive of the season, and the longest pass allowed so far was a 32-yard completion from Denver's Kyle Orton to Daniel Fells.
"That's what we worked so hard for throughout camp," McCourty said. "You get that game plan and find out what the offense likes to do, you want to go out on Sunday and shut teams down. We know as a secondary, as long as we don't give up the cheap ones over the top, we're going to be able to stop offenses."
The Titans have also been stingy in short-yardage situations. Tennessee has denied conversions on third-and-1 and fourth-and-1 on consecutive weeks.
The first came with a goal-line stand to deny Denver a chance to build its lead in the fourth quarter and allowed the Titans' offense to stage a come-from-behind 17-14 victory.
The second opportunity occurred in the second quarter Sunday against Cleveland. The Browns trailed 14-6 and began a possession at midfield, but Sen'Derrick Marks stuffed Peyton Hillis for no gain on third-and-1, and Michael Griffin stopped Armond Smith shy of the mark one play later with an open-field tackle. Tennessee took a 21-6 lead into the locker room at halftime and never looked back.
"That's all about pride," McCourty said. "Third-and-1, fourth-and-1, you know they're coming downhill or may try to do a little trick play to get you. So that's something we take pride in, especially when a team wants to go for it on fourth-and-1 like Denver tried with the goal-line stand we had. That can be a real momentum shift."
Head Titans coach Mike Munchak credited the defense's performance under new coordinator Jerry Gray.
"Jerry and his group are doing a lot of good stuff," Munchak said. "It seems like on third-and-1 or fourth-and-1, we almost thrive to get in that position because we've found a way to come up big since preseason games."
The Titans kept the Browns out of the end zone until the fourth quarter Sunday. Even though the touchdown pass from Colt McCoy to Ben Watson made it a 31-13 game, Gray discussed the error with players after the score.
"That's the type of coach he is," McCourty said. "He expects perfection, and as a player, you've got to love that a coach is going to stay on you and try to get the best out of you. The fact that we're up a lot of points and he's still coaching, still getting after us, he knows that there's a bigger picture beyond the (current) game."