NASHVILLE, Tenn. –
A barefooted Ben Jones strolled the field at Oakland Alameda Coliseum in pregame warmups on Saturday, seemingly without a care in the world.
When the Titans center put on the pads - and his shoes - and saw someone hit quarterback Marcus Mariota, his mood completely changed.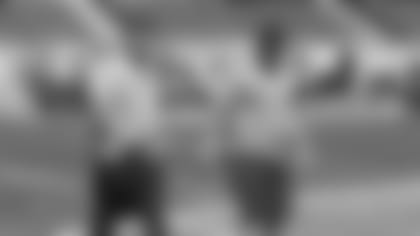 "I don't want anybody hitting my quarterback at any time, and they're definitely not going to celebrate doing it,'' Jones said. "We take pride in keeping our quarterback clean, and that's our job, to help Marcus up and go on to the next play."
In the first quarter of Tennessee's eventual 27-14 win over the Raiders, Mariota was drilled by Raiders linebacker Ben Heeney after delivering the ball to receiver Andre Johnson for a first down. Heeney leveled Mariota in the chest as he threw the football. Jones noticed Heeney remaining on top of Mariota, and staring down at him as he tried to get up.
He didn't like it. Jones rushed to the scene, and gave Heeney a big shove.
"Marcus is a tough guy, and he is one of our leaders in the huddle,'' Jones said. "(Him taking that hit) is just showing everyone has to step their stuff up. If you have a leader like that who is going to lay it on the line for us, we have to protect him at all times."
Titans coach Mike Mularkey said Mariota sent an unintentional message by rising to his feet. The Titans finished that drive with a field goal, and the first team offense scored on its first four possessions. Mariota was not sacked while playing the first half.
"If you pop up like that after a hit like that, to me that takes the air out of the guy that hit him,'' Mularkey said. "He popped back up faster than I probably would have."
Said Mariota: "That's part of it. It's the game that we play. My main focus was to try and get a first down. … It was good to get a hit like that, to get the cobwebs out a little bit. But I was glad we got a first down and kept moving the ball."
Jones, signed this offseason after playing previously with the Texans, has a tough-guy reputation. He's also a country boy from Alabama, who went to Georgia. It's something he takes pride in.
Jones walked the field in warm-ups with his bare feet, something he likes to do before games.
He's one guy who actually liked the dirt from the baseball diamond on the field.
"It was like being on the farm again,'' he said with a grin. "I just wiped (my feet) off on the carpet on the way in."