**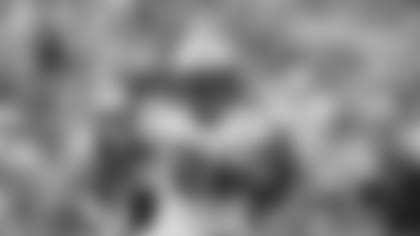 Chris Johnson can close in on 2,000 rushing yards and possibly the NFL's all-time single season rushing mark Sunday at Seattle.
NASHVILLE, Tenn. -** Tennessee running back Chris Johnson sounded like he was shooting for the moon back in the spring with such goals as leading the NFL in rushing and being voted MVP.
He's already accomplished the first by a wide margin.
MVP? That award usually is dominated by quarterbacks.
But Johnson has been very busy dashing toward some lofty NFL records. With Sunday's finale in Seattle, he is 128 yards away from becoming the sixth NFL player to rush for 2,000 yards, and 233 from matching Eric Dickerson's single-season rushing mark of 2,105. Reaching 2,000 - and Dickerson's record - are very important to Johnson.
The second-year back from East Carolina knows few thought he could threaten 2,000. Or Dickerson.
"If I get Dickerson, I get all of them, so I want Dickerson,'' Johnson said.
His 1,872 yards rushing already rank as the 10th best season. He's averaging 5.8 yards per carry, trailing only Barry Sanders (6.1) and O.J. Simpson (6.0) in the seasons they topped 2,000 yards.
As exclusive as that company is, Johnson needs a mere 17 yards receiving to go with 128 yards rushing to become the first NFL player to rush for 2,000 yards and finish with 500 yards receiving in a single season. He is 75 yards from scrimmage from taking that NFL record away from Marshall Faulk, who had 2,429 yards in 1999 while winning a Super Bowl over the Titans.
Faulk, now an analyst with the NFL Network, is impressed with Johnson being so close to his mark and the 2,000 threshold.
"It's a great feat to what he is doing. ... To do it in a losing year, I feel bad for him because this needs to be highlighted. You need to make the playoffs. He needs to go on. Unfortunately, that's not the case for them, but what he is doing is outstanding,'' Faulk said.
Four of the five men to reach 2,000 are members of the Pro Football Hall of Fame.
Simpson was the only player to reach 2,000 in a 14-game season. Dickerson set the standard for a 16-game season with the Rams, and he had 2,007 going into his final game in 1984. Sanders (1997), Terrell Davis (1998) and Jamal Lewis - the last to reach that mark in 2003 - all had to top 100 yards in the 16th game to join that exclusive company.
Dickerson did not return messages from The Associated Press, but he said in December he expected Sanders and Davis to join him in the 2,000 club. He didn't know about Lewis in 2003. He doesn't watch much football anymore, so he didn't know about Johnson earlier this month either.
"It's just tough,'' Dickerson told The Tennessean newspaper. "I can say it. I was on pace to get that record more than once and I didn't get it, probably three times.''
Detroit's Sanders had the biggest final game, running for 184 yards against the Jets to push him to 2,053 yards in his ninth NFL season. Denver's Davis was a close second, running for 178 yards in a win over Cleveland in his fourth season. Baltimore's Lewis, who benefited from 500 yards in two games against Cleveland, tallied 114 against Pittsburgh in coming 39 yards shy of Dickerson with 2,066.
Johnson, who has talked recently with Jim Brown and Marcus Allen, believes he has a shot at Dickerson's standard.
"I need a career day. Anything's possible,'' he said.
His best so far was Nov. 1 with 228 yards against Jacksonville.
Davis told The Tennessean he has been rooting for Johnson to expand the 2,000-yard club.
"In the last couple of years, I don't think we've seen a back like Chris Johnson. He appears to be a small running back, but he's not. He is so fast, and he's also tremendous in between the tackles. Once he breaks free, it's over. You are not going to catch him. He is an electrifying runner,'' Davis said.
Titans coach Jeff Fisher said the numbers Johnson is posting speak for themselves.
Johnson needs 63 yards rushing to break the franchise record Hall of Famer Earl Campbell set in 1980 with the then-Houston Oilers.
With 100 yards rushing Sunday, Johnson would tie Allen (1985-86) with his 11th straight such performance and would trail only Sanders in that category. Sanders had 14 consecutive 1100-yarders in 1997 as he ran for 2,053 yards, third-all time.
LaDainian Tomlinson is the last to come close in his MVP season in 2006 when he ran for 1,815 yards. He watched Johnson run in person on Christmas night.
"He's the best in the game right now,'' Tomlinson said. "His patience. His speed. His quickness. His toughness. And staying on the field like I used to do, catching the ball out of the backfield. He's not a two-down back.''
Johnson currently is 519 yards ahead of the next rusher, a gap of 38.4 percent between first and second. If that margin holds, it would be the greatest between the league's leading rusher and second place since Walter Payton and Simpson in the 1970s.
"He is special,'' Fisher said. "He can really go, and it has been fun to watch him play.''
The coach also knows where the ball goes if Johnson makes history.
"I want to get the football for my fireplace,'' Fisher said.