COLLEGE GROVE, Tenn. –**Tim Shaw and Steve Gleason made a name for themselves on the football field because of their passion for the game, and their relentless approach.
They became special teams standouts in the NFL – Shaw played six seasons, including three with the Tennessee Titans, while Gleason played eight seasons with the New Orleans Saints.
Today, the two men are in the fight of their lives, battling ALS.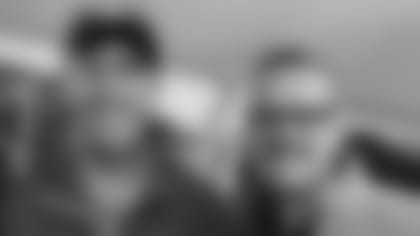 Tim Shaw pictured with Blair Casey, assistant executive director of Team Gleason.
And they're supporting one another -- while trying to help others -- along the way. The most recent example came on Monday during the second annual #TShawStrong Golf Invitational at the Hideway at Arrington Golf Course.
"They are spitting images of each other, the way they articulate, what their passions are," Blair Casey, assistant executive director of Team Gleason, said of Shaw, and Gleason. "Both are very adventurous and they both look at life like there is a lot to offer, but you have to put yourself out there to get it. Steve and Tim, they should be an inspiration to all of us."
A large number of current and former Titans were on hand for the golf tournament on Monday, and the dinner event later in the evening at The Grand Barn at Arrington Vineyards.
The #TShawStrong Golf Invitational was organized to combine Shaw's love for golf with his dedication to aiding the search for a cure for ALS.
Shaw partnered with the Team Gleason Foundation to help raise money and bring awareness to people who wake up every day battling ALS. Over $100,000 was raised, and all of the proceeds from the event will benefit Team Gleason (contributions can still be made at www.tshawgolf.com).
After spending time with Gleason in New Orleans a few years ago, Shaw said he wanted to help Gleason's cause. Team Gleason is the single largest provider of communication devices for ALS patients. In addition to providing individuals with neuromuscular diseases or injuries with leading edge technology, equipment and services, the group also raises public awareness toward ALS by providing and documenting extraordinary life adventures for individuals with muscular diseases or injuries.
"For me, I'd rather just use my platform to impact people the best I can," Shaw said. "I don't want to raise money for myself, but I want to do it to help someone else. I think this is a great partnership."
Shaw said he's been overwhelmed by the support from the Titans, and friends in the community. A good number of current players, including Taylor Lewan, Ben Jones, Josh Kline, Jack Conklin, Brian Schwenke, Phillip Supernaw, Karl Klug and Da'Norris Searcy, were on hand for Monday night's event.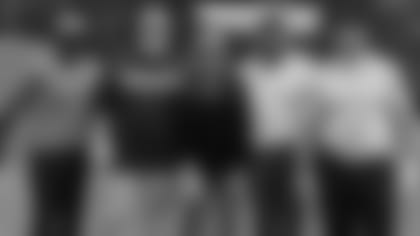 Former Titans teammates Michael Roos, Chris Spencer, Mike Otto and Daniel Loper made up a foursome, and spent time with Shaw.
"Everybody loves to play golf, so to come out here and play to support Tim for what he is going through, it makes it so special," Roos said. "I can't fathom the daily fight he goes through, but he is one of those guys who has a smile on his face and puts a smile on everybody else's face. He is using his platform well to bring awareness."
Spencer said Shaw's fight is inspirational.
"Playing with Tim and seeing how active he was and what a hard worker he was, it is really hard to see him struggling now," Spencer said. "My heart goes out to him and anyone who is really battling ALS. So anything I can do to come out and lend my support and help raise money, and let Tim know he has a lot of people in his corner fighting for him as he fights through his battle. ….I am thankful I can come out here and support him and raise as much money as we can for ALS and everyone who is battling it."
According to the ALS Association, the progressive degeneration of the motor neurons in ALS, also known as Lou Gehrig's disease, eventually leads to death. Patients in the latter stages of the disease may become totally paralyzed.
Shaw has said he's "struggling well" as he tries to set a good example for those around him. Shaw freely admits he struggles with the disease, as daily tasks are difficult. His speech is slurred and he now needs assistance with what had always been simple tasks.
"We want to be out here, to support Tim,'' Otto said. "He is such a great guy, and such a great competitor in everything in life, not just football. To see how strongly he is battling now, just to be able to support him is awesome."
Shaw, named a "Titan for Life" last year during training camp and one of the team's captains this year, said he's been overwhelmed by the support of the Titans.
On Monday night, the current players and coaches on hand presented him with a game ball from Sunday's win over the Browns. For the second year in a row, the Titans served as a title sponsor for the event.
"Just like everything else the Titans have done, they've supported me," Shaw said. "There's probably no better feeling than to have people say they have your back and they actually do have your back. I am overwhelmed with support, as always. It is always very humbling."
Casey said the relationship between Shaw and Gleason is special, along with their support for one another.
The money raised for the event will help others facing the same battle they do in life, which is what the two men want most.
"People in life need perspective, and they need passion," Casey said. "It is unfortunate that this brings them into the limelight, but you need people like Steve and Tim to give you that perspective and passion, whether it is with ALS or without. They make everybody better by being around them."
Titans players, coaches and staff support former Titans LB Tim Shaw at his #TShawStrong Golf Invitational. (Photos: Kristen Sheft, Josh Corey)