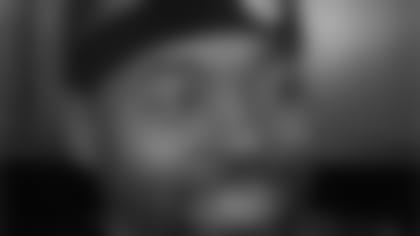 ](http://www.titansonline.com/media-center/videos/LB-David-Thornton/17204ca5-af65-46f9-9f7e-3e5f071dbaac) NASHVILLE, Tenn. --** Titans linebacker David Thornton returned to the practice field Wednesday in the nine-year NFL veteran's attempt to comeback from shoulder and hip injuries.
Thornton, who last played Dec. 13, 2009, said he was thankful that the Titans organization had been patient with him in his recovery.
"I'm at a loss for words," Thornton said of his return to the practice field. "It's a privilege and a blessing to be out there with the guys, because it's definitely been a long road. It wasn't an easy road, but adversity is part of life."
The Titans have three weeks to evaluate Thornton's progress in his return from the physically unable to perform list before making a roster decision.
"He had a good first day (Wednesday)," Fisher said. "Part of this evaluation will be how he responds after going two days in a row. Whatever decision we make, hopefully, it's going to be in the best interest of the club, but, hopefully, it's going to allow David to get back on e field."