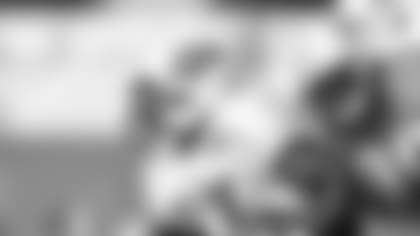 Fourth-year receiver Lavelle Hawkins has been one of the bright spots in Titans camp.
NASHVILLE, Tenn. -- Lavelle Hawkins dove through the air, made the catch and then flapped his wings towards the Titans' sideline.
It was a 20-yard completion from Matt Hasselbeck in the preseason opener against Minnesota, but it may have been the starting point for much more for Hawkins in 2011. The 25-year-old receiver who is entering his fourth season calls the celebration move "The Hawk" and he wants to do it more often at LP Field.
"My rookie year and second year I did it at practice but I never got a chance to do it in the game because I wasn't playing," Hawkins said Thursday. "That's something that I've always done since college. I remember back at Cal the whole stadium would do 'The Hawk.' A lot of people had been asking about it, and I told them I would bring it back (at the first opportunity)."
Hawkins had 72 receptions for 872 yards as a senior at California, playing second fiddle to Eagles Pro Bowler DeSean Jackson,  before he was drafted in the fourth round of the 2008 NFL Draft. Hawkins played in 13 games as a rookie, then 10 in 2009 and six last season, but he's excited about more opportunities under new Titans coach Mike Munchak, new offensive coordinator Chris Palmer and new receivers coach Dave Ragone.
"I've been given a great opportunity (this season)," Hawkins said. "The way that we've prepared for games thus far has been awesome. (Munchak) could have easily labeled me but he didn't. He had more than the film to go by. I'm just appreciative that he didn't label me because I was a jokester, but as the years went by, I matured more. I'm just thankful for him for giving me the opportunity."
The Titans host the Chicago Bears at 7 p.m. Saturday in the third preseason game for both teams.
A year ago this week, Hawkins made a spectacular play in a preseason game. He took the ball on a reverse, hurdled over Arizona Cardinals defensive back Marshay Green, landed smoothly and ran near the end zone.
Hawkins, however, was inactive 10 games last season because of multiple personnel decisions made by coaches last season to fill specific positions on Sundays.
Ragone said the Titans' coaching staff looked at film on Hawkins in their evaluations and liked the limited game footage that they saw.
"He was a guy who didn't play a lot, but when he got a chance to play, he showed the ability to make some plays," Ragone said. "I remember Lavelle from Cal and the dynamic college player that he was."
Ragone said Hawkins' mental approach and willingness to learn have complemented his athleticism.
"He's come in with the right attitude like everyone else has, and he's got some tools specifically for what this offense and receivers do," Ragone said. "I don't know how they used him in the past. I know, specifically, what we need a guy to do in this offense. The important thing is he wants to learn and gives you a good attitude. He comes out and gives you 100 percent."
Hawkins said he has been comfortable and confident this preseason because of the teaching styles and methods used by Munchak, Palmer and Ragone and the patience they've displayed while installing a new offense with new quarterbacks.
"Coach Munch' is really hands-on with that stuff," Hawkins said. "He wants to know what's going on. I like this staff because he wanted some people that were going to teach and they are some great teachers."
Munchak excused Hawkins from camp for two-plus days last week for personal reasons. Hawkins said he appreciated the coach allowing him to take care of "some family stuff" and the support he received from teammates.  When Hawkins returned in the middle of practice last week, other receivers let out a screech, did their versions of "The Hawk" and gave him hugs.
"We have a great group," Hawkins said. "The guys are supportive of each other, especially if it's some personal stuff. They all know me—that I don't want to leave practice and leave them to take extra reps."
They also know that he wants to flap his wings more this season.