**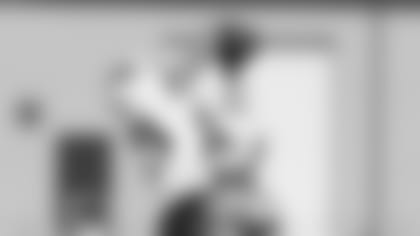 Rookie Wide receiver Marc Mariani is making an early impression with tough catches like this one he made during Sunday's practice.
Quick Hits from Camp**
Rookie wide receiver Marc Mariani shined in practice today. He recorded numerous catches, including a 45-yard bomb down the left sideline from quarterback Chris Simms.
Rookie safety Robert Johnson showed off his athleticism by batting down a pass from Simms at the goal line.
Third-year wide receiver Lavelle Hawkins made a diving goal line catch off a throw from quarterback Kerry Collins.
During the team practice period, Michael Griffin intercepted a Vince Young pass intended for Lavelle Hawkins.
Wide receiver Nate Washington jokingly questioned media about whether or not dragonflies can sting.
Punter Brett Kern awarded dedicated fans with autographed cleats and even his own shirt.
Off the Field Q&A with RB LeGarrette Blount
What's your favorite thing to do in Nashville?
"Go eat at Monell's. It's a little soul food restaurant."
What did you do during the offseason?
What's your favorite hobby off the field?
"Playing video games and bowling. I started bowling in 2008 when I got into Oregon."
Do you have any plans for after football?
"I plan to be a coach. That's what I want to do. I want to coach and be an awesome dad for my little boy. I want to be a coach at my old high school. I'd stay there for a while and then hopefully become a college football coach – a position coach. I don't want the pressure of being a head coach."
What's your favorite food?
Who is the worst dancer in the locker room?
"I don't know. Probably one of our offensive linemen."
What's your biggest pet peeve?
"People who don't know when to stop talking."
(on Derrick Morgan not participating in most of practice)
Derrick has had an ongoing calf issue…he had it before he left the at end of OTAs.  We just backed him down, he's not 100 percent, he felt it a little bit so we just backed him down.  He will eventually get back on the field at full speed, when that is I don't know.  We backed him down so that we wouldn't risk further injury.
(on whether or not he is concerned that Derrick Morgan will fall too far behind)
No, you can't worry about that.  What we're concerned about is getting him back on the field.  The process is a difficult process because the player leaves OTAs and he goes home.  You have a player that is not under contract, it's hard to monitor and they say different things.  You cannot, like I said yesterday, there is no way you can simulate what we're doing out here.  We just backed him down and now he is in our care, our hands and we'll get him back out there as soon as we can.
(on his impressions on day two of training camp)
It was much better today.  Yesterday was a little lethargic, particularly because we did the conditioning test but they got their legs back and we had a much better day today.
(on how Kenny Britt is doing in his second camp)
He is just going, he just needs to consistently produce on the practice field day after day—and that is what he's been doing.  Yes, (he has improved) those who were here yesterday were informed then.
Daily Trivia Question  (answer on Monday, August 2)
Which Titans QB holds the all time passing yardage record at his respective college?
Rusty Smith (Led Florida Atlantic all time with 10,112 yards)
Today's question: Titans linebacker Stanford Keglar is classically trained in which musical instrument?