NASHVILLE, Tenn. – David Shaw heard the doubters piping up about Marcus Mariota before the 2015 NFL Draft, and he just shook his head.
The Stanford head coach knew they didn't know Mariota like he did.
"It is a tough transition from a spread offense to the NFL, no matter what anybody says. And I have been beating this drum as well,'' Shaw said. "But for me, when I watched Marcus, he wasn't a "spread" quarterback. He was a good quarterback. He could play from the pocket, and he could make all the throws from the pocket. I saw him check off from one (receiver) to 2 to 3, and saw him go through progressions.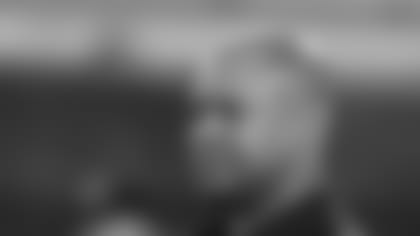 Stanford head coach David Shaw
"So for me, I always thought he had the skill set on top of the arm strength and athletic ability to get out of trouble as a runner, and he could throw the ball on the run as well as anybody. He had everything it took to be successful in the NFL."
The Titans thought so, too, and it's why they took the former Oregon quarterback with the second overall pick in the 2015 NFL Draft. He's been a big hit since.
Shaw, who coached against Mariota in three games in the Pac-12, believes Mariota is on the brink of something really special heading into Year 3.
"I think he is just starting out,'' Shaw said. "He is going to be one of the top-tier quarterbacks in the NFL."
Shaw made his comments to Titans Online in Philadelphia earlier this offseason, when he was on hand as an NFL Network analyst for the NFL Draft. Mariota threw for 715 yards with five touchdowns and two interceptions in three games vs Stanford from 2012-14, while also rushing for 168 yards and two more touchdowns in those games. Stanford won two of the three, but Oregon and Mariota won the last one, in 2014, with a 258-yard passing performance on a day when Mariota accounted for 343 yards of total offense and four touchdowns.
Shaw said he's always admired Mariota for more than just the way he plays the game, however.
"When we beat them and when we lost to him, he played exactly the same. He played as hard as he could from start to finish," Shaw said of Mariota. "And he was the ultimate competitor and the ultimate gentleman. This is the kind of guy you want your daughter to marry, the quarterback you want to have on your team because he is a relentless competitor, he is not selfish. He is not arrogant. He is a team guy all the way and I am glad to see him continue to grow in the NFL."
In his second NFL season, Mariota completed 276-of-451 passes for 3,426 yards, 26 touchdowns, nine interceptions and a 95.6 passer in 2016 before suffering a fractured fibula in a Week 16 contest at Jacksonville. The quarterback added 60 rushing attempts for 349 yards and two touchdowns.
Mariota's 95.6 passer rating ranks third in franchise history for a single season, behind only Warren Moon's 96.8 in 1990, when he was the Associ­ated Press Offensive Player of the Year, and Steve McNair's 100.4 in 2003, when he was the NFL's Co-MVP.
Mariota would've played in the Pro Bowl if he hadn't suffered the injury. From 2015-16, Mariota has thrown for 6,244 yards and 45 touchdowns, while throwing only 19 interceptions. His 93.6 passer rating during that time period ranks sixth in NFL history.
Shaw believes Mariota has already proven plenty to his critics, and he believes he'll prove even more this fall.
"I'm not surprised at all with his success, and he's just going to keep getting better," said Shaw, who spent nine seasons as an NFL assistant with stints for the Eagles, Raiders and Ravens. "Again, you heard him described as a 'spread quarterback.' When I see a spread quarterback that always throws the ball to No.1 and throws a bunch of bubbles, I worry about that guy standing in the pocket and throwing the ball 20 yards down the field and into tight windows with guys breathing down his neck.
"But I saw Marcus do that. I saw him stand in the pocket. I saw him stand in there, and move in the pocket. He only escaped when he needed to, and when he did he ran out he outran everybody. But he's also one of those guys who can slide in the pocket and come off No.1, throw the ball to No.2 and be very accurate. And that is what it is about at this level. I saw him do it in college, and I've seen him do it in the NFL."
TitansOnline.com looks back at Marcus Mariota's second NFL season in 2016. (AP Photos)