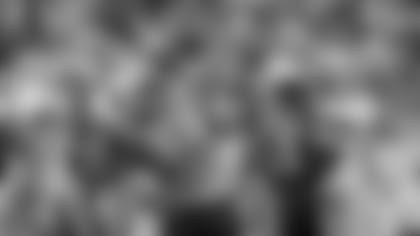 Defensive end Jason Babin hopes to unveil his new sack pose when he goes against his former team Sunday at LP Field.
NASHVILLE, Tenn. --** Quarterbacks have emerged from huddles this season and walked directly into Jason Babin's crosshairs.

Babin has loaded a speed rush or a power rush. When the ball is snapped, he pulls the trigger and shoots past offensive linemen with quickness or strength and an occasional spin move.

"There's nothing too sexy about it," Babin said during a recent interview. "I just do it as hard as I can."

It took Babin just five games with the Titans to set his career high of 5.5 sacks, providing the best start to any of Babin's seven seasons. Babin, who recorded a 1/2 sack at Jacksonville and now ranks fourth in league with 6.0 sacks, has been able to thrive in a deep rotation of defensive linemen that the Titans use to take down quarterbacks and stuff running backs.

He said being able to line up in a wide position as a defensive end, go off the snap as hard as he can and bust it to get to wherever the ball is has enabled him to produce more results.

"It fits my mentality, it fits my abilities," Babin said. "There's no more 'square peg, round hole.' "

Houston traded multiple picks (Ben Troupe, Randy Starks, Bo Schobel and Jacob Bell) with the Titans to draft Babin with the 27th pick overall (and fifth-rounder Sean Bubin) during the 2004 NFL Draft. Babin played three seasons with the Texans, recording 13 sacks in that span, and was traded to Seattle in 2007. Babin played just four games (two in 2007, two in 2008) before Seattle released him in September of 2008. Kansas City signed him that November, and he finished the season with the Chiefs.

Philadelphia signed Babin in April of 2009, and he played in 12 games with the Eagles, recording 2.5 sacks. The Titans saw untapped potential in Babin and signed him to a one-year deal last March.

Titans coach Jeff Fisher said the front office staff looks at multiple aspects of players when it signs free agents.

"We evaluate their play," Fisher said. "We evaluate the athletic ability. We get draft grades on them, and we've got quite a group upstairs that pays attention to people that they think would fit in our system."

Babin said the fast, high-impact aspects of football contrast with his other passion of hunting where "you're silent and waiting for that exact moment when you can take your shot" but the patience developed in the outdoors helped him endure previous tough seasons.

Babin said his wife Sara was especially helpful during the Seattle years and in moving forward.

"She was the one I could lean on and was able to stay strong," Babin said. "There were some tough times in Seattle when I was like, what's going on here. She didn't complain about having to move from city to city. She had to do all the unpacking. She never complained once."

Babin owns Babin Ranch, a 435-acre trophy hunting facility in east Texas. In addition to it being a facility that offers hunting excursions, Babin said it's a relaxing getaway for him and his family. His two sons, ages 5 and 3, ride go-carts and dirt bikes and make little spears. It reminds Babin of his youthful days in Paw Paw, Michigan.

"It's one of those places where you can shut the gate and forget everything else," Babin said. "It's definitely nice to get out in nature and take everything in."

Babin said he's kept in touch with Philadelphia defensive end and off-season hunting buddy Trent Cole and is looking forward to playing the Eagles on Sunday. He said the Titans' defense has been working on a new celebratory pose to follow any sacks recorded Sunday. He said the pose is "very Tennessean."

"Hopefully things will work out well and I'll get a sack against Philly so I can debut that," Babin said.