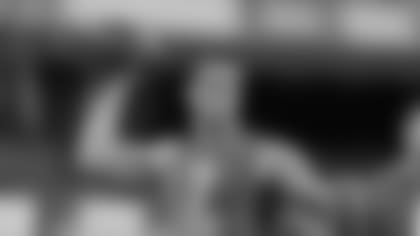 Nevada quarterback Colin Kaepernick throws during the 2011 NFL Scouting Combine in Indianapolis.
The morning after Colin Kaepernick finished one of the most productive careers for any college quarterback by winning a bowl game, he boarded a plane to Atlanta.
This was no vacation. The Nevada quarterback spent seven weeks rigorously training - and we're not talking sit-ups and biceps curls - for the NFL combine, with a side trip to Mobile, Ala., for the Senior Bowl worked in.
In that time, an interesting thing has happened to Kaepernick. He's gone from an intriguing prospect - a spread-option quarterback from an off-the-radar school, 6-foot-5 with a strong arm and good wheels who might be selected in the mid-to-late rounds - to a player who seems to have a legitimate shot to be picked in Round 1.
It's quite a rise for a kid who passed up a chance to give pro baseball a shot out of high school so he could take the one football scholarship he was offered.
Sure, Kaepernick dreamed of playing in the NFL when he was a three-sport star at Pitman High in Turlock, Calif., about a 90-minute drive south of Sacramento. But it was never really much more than that.
"I was definitely a late bloomer,'' he said in a recent interview. "When you look at my recruiting pictures it looks like I was about 12 years old.''
It wasn't until late in his junior season at Nevada when the agents started calling, telling Kaepernick that scouts had their eyes on him. He started thinking he had a real shot to get to the NFL.
"Going through that process makes you realize I'm really that close and it is a possibility if everything works out,'' he said.
Running coach Chris Ault's quirky Pistol offense, Kaepernick became the first college football player with three seasons of 2,000 yards passing and 1,000 yards rushing.
Still, despite all he accomplished at Nevada, including leading the program to a 13-1 record, its best season ever, in 2011, the last three months might have been the most important of Kaepernick's football career.
Here's what he's been doing:
On Jan. 9, Kaepernick played his final college football game, leading Nevada to a 20-13 victory against Boston College in the Fight Hunger Bowl in San Francisco.
Less than 24 hours later, he arrived at Competitive Edge Sports in Atlanta, where along with a few dozen other college players, he trained for the combine, five days a week from 9 a.m. until 5 p.m.
Kaepernick said his typical day started with an hour and a half of film study. Then an hour and a half of passing drills.
After an hour lunch, the hard part began.
From 1 p.m. to 3 p.m., running drills. From 3 p.m. to 5 p.m., lift weights.
But this was a lot more than just wind sprints and bench pressing.
"The workouts are by no means easy at all,'' he said. "There's a few days where you're sitting there going. 'I might throw up, but I got to hold it in.'''
Many of the workouts at CSE involve resistance training.
"We're always bungeed to something,'' he said.
One particular bungee cord contraption stood out: the Black Widow.
"There's a person behind you holding it,'' he said. "It's a single rope that breaks off into four bungees.''
With a bungee cord around each arm and each leg, the players do sprints.
"It's probably the toughest running workout we did,'' he said.
Kaepernick didn't previously know any of the other players he was working out with. He became friends with Virginia Tech quarterback Tyrod Taylor, with whom he shared an apartment, along with a few others.
"You want them to do well, too, but you want to do a little bit better,'' Kaepernick said. "It's just a very competitive atmosphere.
"Everybody is working toward the same goal and having fun with it, so it makes it a little easier.''
At night and on weekends at CSE the players are free to do what they want, though on Saturdays the quarterbacks and receivers can get together for some extra throwing.
But after hours of muscle-searing, near vomit-inducing workouts, the 23-year-old Kaepernick wasn't looking to hit the clubs and bars in Atlanta.
"We went bowling quite a bit,'' he said. "Just because it was something relaxing for us and something that was fun.''
When it was time for the combine, Kaepernick performed well enough to start creeping up the draft boards.
According to his agent, Scott Smith, Kaepernick scored 37 on the Wonderlic IQ test, second best among quarterbacks, flashing smarts that helped him earn a degree in business management.
And his 59-mph fastball was fastest among all the passers at the combine - not so surprising for a guy who threw 90-plus heat as a pitcher in high school.
Last week at Nevada's pro day, Kaepernick threw well enough so that former Dallas Cowboys personnel man Gil Brandt, who now works for NFL.com, wrote on his blog: "The consensus among those present was that Kaepernick, a player whom no school except Nevada recruited coming out of high school, probably will be a second-round draft choice next month.''
Next week, Kaepernick hits the road - he has private workouts scheduled with 12 teams - with a chance to raise his stock even higher.