NASHVILLE, Tenn. –The Titans just wrapped up Day 4 of training camp.
Here's what you need to know …
• Marcus Mariota. In my opinion, this was his best day of camp. The quarterback threw ball well, but I especially liked his movement. On one play he sprinted outside, and just before crossing the line of scrimmage he threw a pass to tight end Delanie Walker. On several plays Mariota left the pocket, and he looked more elusive, and nimble, than he did the first few days of camp. It was an encouraging sign.
• A brief skirmish. Linebacker Avery Williamson got pretty riled up early in team drills. He exchanged words and shoves with tackle Taylor Lewan, and when offensive linemen Ben Jones and Jack Conklin stepped in he didn't back down. The first punches of training camp were thrown in this gathering of big men.
• Some big hits. Safety Johnathan Cyprien lowered has shoulder and leveled rookie tight end Jonnu Smith going across the middle of the field. I give a lot of credit to Smith for holding onto the ball as he tumbled to the ground, because he didn't see it coming. Receiver Jonathan Krause also took a bit hit as he headed to the goal-line from safety Brynden Trawick. Titans coach Mike Mularkey loves contact, but I have a feeling he'll tell the guys to avoid taking the kill-shots on the practice field.
• Rookie Corey Davis had a nice bounce-back day, making a number of plays (including one that made Play of the Day. Keep reading…)
• Running back Derrick Henry got extended work with DeMarco Murray's workload eased back on Tuesday. Henry looked good moving the pile and in space. (I talked to him after practice, and a story coming next on Titans Online).
• Jonnu Smith impressed me in blocking drills early. He held up well in a one-on-one pass rush drill while working against linebackers Kevin Dodd and Aaron Wallace.
• Erik Walden is now making plays for the Titans. The former Colts linebacker, signed before camp, has a nifty spin move and he showed it off on Tuesday. It looked pretty good.
• Receiver Rishard Matthews made a number of nice catches, including one when he went up high to catch a Mariota pass.
• Safety Da'Norris Searcy has put together some nice practices. He picked off Mariota in the end zone on Monday, and he nearly got him again on Tuesday. He would have if not for tight end Delanie Walker breaking it up.
• Rookie linebacker Josh Carraway made a nice play when he batted down a pass at the line of scrimmage.
• Receiver Eric Decker has been a red zone target throughout his career, and he's going to be one in Tennessee. Decker continues to look good in camp. He made some nice gabs on Tuesday, including one for a TD in the red zone. Decker wasn't able to haul in a high pass that went off his fingertips later in practice.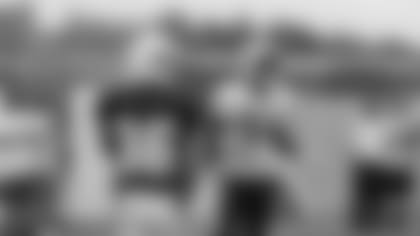 The Titans drafted receiver Corey Davis fifth overall because of his freakish talent.
Davis made an extraordinary play on Tuesday in the end zone.
With cornerback LeShaun Sims on his side, Davis tracked the deep ball in flight. The ball got bounced up into the air as both players went for it, but Davis stayed with it.
While falling to the ground, Davis managed to pull it in while on his back.
The crowd on hand erupted, and Mularkey had already seen the play by the time he addressed reporters after practice.
"I saw the catch after the fact, on video out here," Mularkey said. "I heard the hollering so I knew something big happened. It was a big play. A contested throw, a 50-50 ball. We haven't had a lot of success on those, and we got it from him today."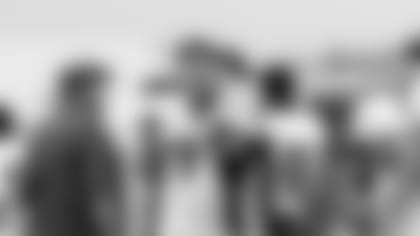 Titans general manager Jon Robinson stood on the field with a WWE-style Championship Belt over his shoulder on Tuesday, and everyone on the field knew what was coming up next.
A battle against the offensive linemen and defensive linemen was upcoming.
The o-linemen won the competition against the d-linemen, with Taylor Lewan (vs. Brian Orakpo), Ben Jones (vs. DaQuan Jones), Josh Kline (vs. Austin Johnson) and Jack Conklin (vs.  Derrick Morgan) winning one-on-one battles. Jurrell Casey won his competition against Quinton Spain, but it wasn't enough.
"We usually keep the belt," Conklin said with a smile. "We want to show them why (the belt) is in our room."
Mularkey said it's a great way to up the intensity. The battle for the belt has been a weekly competition between the position groups.
Jones said it's hardly a competition.
"You can go look in the defensive room and they don't even have a hook to hang it on," Jones said. "I don't think they've won it. We have a hook in our room and it stays in our room. We take pride in that."
• Receiver Tajae Sharpe did not practice for the fourth straight day. He was placed on the team's Physically Unable to Perform list at the start of camp because of the foot injury he suffered earlier in the offseason.
• NFL Network was on hand for Training Camp Live, and Dan Hellie and Heath Evans interviewed several Titans after practice.
• Former Titans receiver Derrick Mason was on hand to watch practice.
• The Titans have their first off day of camp on Wednesday.
Next practice: Thursday, 8:55 a.m. at Saint Thomas Sports Park.
Titans players take the field for Day 4 of the team's 2017 training camp at Saint Thomas Sports Park. (Photos: Donn Jones Photography, Gary Glenn)