NASHVILLE – Ryan Tannehill's sore neck is fine.
Just three days after taking a big hit in the final moments of Sunday's overtime win against the Colts, the Titans quarterback was back on the practice field on Wednesday, and not on the injury report.
"It feels much better," Tannehill said with a smile. "Thank you for asking."
A part of Tannehill was admittedly hurting, however – his teammate, running back Derrick Henry, wasn't at work.
Henry was at home recovering instead, after having surgery Tuesday on the broken foot he suffered against the Colts. Henry is out indefinitely, and now the Titans are preparing to face the Los Angeles Rams on Sunday without him.
"It is hard obviously," Tannehill said. "Losing Derrick, a guy who puts so much into this team and done so much for this team, he works so hard and has been so durable, so it is almost a big shock I think for Derrick and everyone else involved. Kind of shocked by it. I am glad everything seems to be going well with him so far, but you mentioned it, we have to turn the page. Not turn the page, but keep moving. We have to keep moving forward as a team, as an offense, and find a way to continue to play our football and play good."
Tannehill revealed during his media availability on Wednesday at Saint Thomas Sports Park he had the same injury Henry is dealing with, so he can relate to what he's going through.
"I have spoken to Derrick a few times," Tannehill said. "Talked to him after the game on the plane ride home and just really feeling it for him. I have had that injury in the past, before the Combine after my senior season. Before the Combine I had the same type of injury so I kind of know what he is going through/about to go through. Just feel for him. He is a guy, like I mentioned, that put so much into it and cared so much and does so much for us, to be having the season he is having and to go out and play through it for however long he played through it last week, just says a lot about him and his toughness and his will to win.
"You hate to see a guy that puts that much into it be affected by something like this, but he is built different. He has shown that over the course of the past several years that his toughness, physically he is built different, and mentally he is tough. I know coming back from this he is going to be stronger than ever. Been praying for him and thinking about him a lot the last couple of days."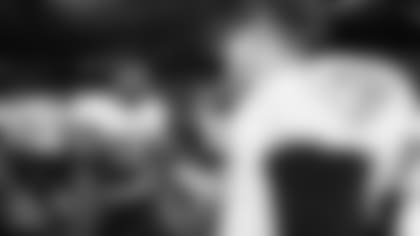 The Titans have no choice but to move on, and one of the players they signed to help them do it is future Hall of Fame running back Adrian Peterson.
Peterson, on the practice field Wednesday in uniform No.8., was signed to the practice squad, and he's eligible to be promoted to the roster for Sunday's game.
Peterson has earned seven Pro Bowl invitations (2007 – 10, 2012, 2013, 2015), four All-Pro seasons (2008, 2009, 2012, 2015) and was named NFL MVP in 2012. He has led the NFL in rushing three time – 2008, 2012 and 2015 – and is one of eight players in NFL history to rush for 2,000 yards in a season.
"It is a huge addition being able add Adrian," Tannehill said of Peterson, who has rushed for 14,820 yards (3,192 carries) and 118 touchdowns over his 14-year NFL career with Minnesota (2007-16), Arizona (2017), New Orleans (2017), Washington (2018-19) and Detroit (2020).
"The career he has had up to this point is unbelievable. I remember watching him back at Oklahoma and then obviously his whole career in the league has been spectacular. A guy who has a ton of experience, who likes to run physical kind of like Derrick (Henry) does, and he is defiantly going to be helpful."
The Titans will have their work cut out for them against the 7-1 Rams.
Tannehill said the Titans plan to keep working to get wins.
How the team goes about doing it will be interesting. In addition to Peterson, the Titans also signed veteran running back D'Onta Foreman to the team's practice squad. Jeremy McNichols, who has performed well for the Titans this season, will also continue to be in the mix.
Some good news on Wednesday: Receiver Julio Jones was back on the practice field, alongside A.J. Brown.
"I just continue to be myself, leading the way I lead," Tannehill said. "We have other guys that will continue to do the same as well. We will definitely miss Derrick (Henry), but as on offense we have to just keep pressing forward.
"The (Rams) have playmakers all over the place. You just mentioned three of the top players in the NFL on defense. A ton of respect for those guys and the rest of their defense as well. They are playing good ball all the way round. You look at how they are playing this whole year really, they have been playing good football. We are going to have to be at our best, no doubt about it."