**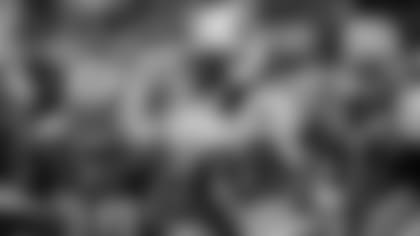 Running back Chris Johnson continues to work out in Orlando while his teammates are taking part in the team's OTA's at Baptist Sports Park.
NASHVILLE, Tenn. -** Chris Johnson has been very vocal about wanting to be paid more after making NFL history, and now he's taking his next step in making sure the Tennessee Titans know how serious he really is.
The Titans wrapped up their second on-field session Thursday, and Johnson wasn't there. The two-time Pro Bowl running back who is staying away from the voluntary team practices as part of his campaign for a very big pay hike since becoming only the sixth player in NFL history to run for at least 2,000 yards.
"CJ's had a phenomenal year,'' Titans fullback Ahmard Hall said Thursday. "He broke some records that no one would expect an eight-, 10-year guy to break. And he broke it in his second year. I mean, he's the best back in the league right now. He wants to get paid as such.''
Johnson has three years left on the $12 million contract he signed in 2008 that featured $7 million guaranteed. But his base salary for 2010 doesn't even put him close to being one of the best paid players on the Titans, let alone the NFL. Johnson is due $550,000 for 2010.
The running back picked No. 24 overall in 2008 started talking of wanting more money as he wrapped up his second season as The Associated Press' 2009 Offensive Press Offensive Player of the Year.
"That's something my agent has got to take care of, my agent and upstairs,'' Johnson said in January, the day after the season ended. "I'm not sure. I need to get Bud Adams number.''
Johnson ran 358 times for 2,006 yards as the NFL's leading rusher by 590 yards more than Steven Jackson of St. Louis. He set the single-season record for yards from scrimmage with 2,509, topping Marshall Faulk's mark of 2,429 set in 1999 with St. Louis. He became the first player in NFL history to rush for 2,000 yards and catch 500 yards in the same season.
He also became the first player in NFL history to rush for three touchdowns of 85 yards or longer in a career, which he did in one season. Through two seasons, Johnson ranks third in NFL history with 3,234 yards to start his career. Only Eric Dickerson (3,318) and Edgerrin James (3,262) ran for more in their first two seasons.
Johnson did not return a text message to his cell from the AP to discuss what he'd like to be paid.
Hall has helped block for Johnson the past two years and said he talks with Johnson three or four times a week. Hall said players understand Johnson staying away is simply business.
"You don't have that long to play so you've got to get it while you can,'' Hall said.
This is the first time Johnson has been absent from the Titans' on-field sessions called organized team activities, though he has worked out on his own during the offseason. Coach Jeff Fisher has no mandatory minicamps, preferring that his Titans voluntarily choose to take part in approximately 14 sessions each offseason.
But the Titans see the final year of the collective bargaining agreement limiting what they can do because of a rule curbing pay hikes in base salaries to 30 percent. The alternative is paying millions up front.
Jackson signed a six-year, $44 million deal in 2008. Johnson tweeted a link Thursday to a story on Philadelphia quarterback Kevin Kolb getting a contract extension Thursday and how that raises the stakes for himself with the Titans.
Coach Jeff Fisher said Johnson is under contract and refused to get into talk about negotiations.
"He eventually will come back,'' Fisher said. "We are concerned about those that are here right now. He knows what it takes to get into shape and to do those things, but it is hard to get it done elsewhere because the group that is working now is in terrific shape.''
For now, Javon Ringer is the only healthy running back for the Titans. He'll be on his own again in May before undrafted free agent rookies LeGarrette Blount and Stafon Johnson take the field with the veterans.
Hall doesn't anticipate Johnson missing the entire offseason or holding out of training camp.
"CJ's a professional. This organization loves CJ. I think something will get done one way or another. ... They don't have any animosity toward CJ. They understand what's going on. It's business. And like I said, it'll get done,'' Hall said.
NOTES: Johnson's not the only holdout right now. Tight end Bo Scaife, who has signed his one-year tender, and linebacker Stephen Tulloch, who hasn't, are staying away. Fisher said Scaife and Tulloch obviously are taking advice from their agent. That would be Drew Rosenhaus. ... Several Titans watched Thursday as they recover from surgeries like defensive tackles Tony Brown and Jason Jones, safety Michael Griffin (shoulder) and cornerback Rod Hood. Receiver Kenny Britt watched because Fisher said he doesn't want to risk Britt pulling something. Britt hasn't been taking regular part in the offseason program. ... Left tackle Michael Roos was excused along with linebacker David Thornton.