NASHVILLE, Tenn. — The Titans/Oilers franchise has picked from the 11th spot two times in the history of the NFL Draft.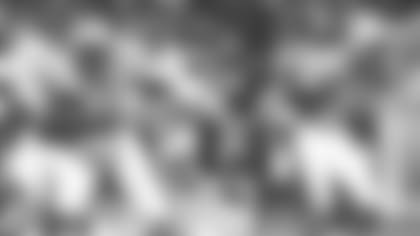 The Houston Oilers selected Morris Towns, left, in 1977 and Richard Johnson in 1985 from the 11th overall spots in those NFL Drafts.
The Houston Oilers picked 11th overall for the first time in 1977 and selected tackle Morris Towns out of Missouri. Houston also selected defensive back Richard Johnson out of Wisconsin at the 11th spot in the first round of the 1985 NFL Draft after acquiring the pick in a trade made Oct. 9, 1984, with New Orleans for Hall of Fame running back Earl Campbell, who had been selected with the first overall pick of the 1978 NFL Draft.
Towns moved up the depth chart after his rookie season and became a starter in 1978. He made 66 starts in 88 games he played with Houston over seven years. Towns became a fixture at right tackle where he helped Campbell lead the NFL in rushing 1978-80 and score 45 rushing touchdowns in those three seasons. Towns helped the Oilers make three straight trips to the playoffs and consecutive appearances in AFC Championship games after the 1979 and 1980 seasons.
Johnson made 37 starts and played in 98 games over the course of eight pro seasons (all with the Oilers). He started all 16 games in 1990 and recorded a team-best eight interceptions that he returned for 100 yards and a touchdown. The eight interceptions ranked second in the NFL that season.
Johnson was a member of six Oilers teams that made the playoffs (1987-92).
The Titans are scheduled to pick from the 10th overall spot on April 25 in this year's NFL Draft and have nine selections overall during the three-day event.Click here to visit Titans Draft Central.
news
Weekend Mailbag: Jim Wyatt Answers Questions From Titans Fans
Senior Writer and Editor Jim Wyatt tackles another batch of questions from Titans fans.