**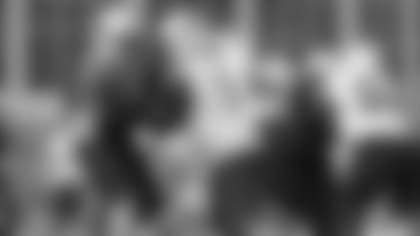 The Titans' offensive line is a cohesive unit that carries experience into the 2010 regular season.
NASHVILLE, Tenn. --** Creating running room for Chris Johnson's gliding strides and protecting quarterback Vince Young in the pocket requires consistency, communication and cohesion among the offensive line.  
Tennessee left tackle Michael Roos, right guard Jake Scott and right tackle David "Big Country" Stewart have started at the same positions for the Titans the past three seasons, providing such consistency. The linemen said the offensive line has the communication and teamwork that will help the unit as Eugene Amano moves from left guard to center, and Leroy Harris moves into a starting role at left guard.
Titans offensive line coach Mike Munchak said Amano and Harris have logged significant time in past seasons.
"The good thing is Leroy's already been in some games," Munchak said. "He's been around since he was a rookie (in 2007), so he's very comfortable, and so are the guys with him.
"Eugene has played quite a bit of center for us," Munchak continued. "We're excited about (the new season). We know we can't afford to come out and not play well early. We've got to play at a high level from day one. We all know what happened last year, and we don't want to do that again. It starts up front with our guys and (defensive line coach Jim) Washburn's guys. We feel that way every year, every game. If we give the backs and Vince a chance to make something happen, they will. That's a challenge that we accept."
Said Harris: "We're one of the closest groups. We work together more than any other group."
The Titans rushed for 2,592 yards last season, good for second-best in the NFL, and allowed just 15 quarterback sacks, which also ranked second in the league. Johnson rushed for 2,006 of those yards on his way to becoming the Offensive Player of the Year and totaling the fifth-highest season accumulation in league history.
The Titans did not re-sign center Kevin Mawae in the offseason, and prepared for the changes.
"We lost (center) Kevin (Mawae), which has a big loss, but we've got Leroy moving in and he's had some experience, started a few games and played well every time he's been in there," Scott said. "We've got five really good players. We needed a little time this offseason to get used to each other, but I think we'll be ready to go."
Amano said it's been a "smooth transition."
"Sunday's going to be our first test. The live balls will be flying," Amano said. "We're definitely excited and not going to miss a beat. There should be no reason why we can't get the job done."
Roos said Munchak has coached all offensive linemen to be ready at any point.
"He does a great job every year of making sure the seven, eight guys that are active on the roster know what they're doing so if anything happens to anybody, we shouldn't miss a beat," Roos said.
Johnson enters Sunday's season opener at home against Oakland with a streak of 11 straight games in which he has rushed for 100 or more yards. He needs one more to tie Marcus Allen's mark of 12 straight that Allen set with the Raiders and four more games to break Barry Sanders' all-time record of 14 straight.
Johnson, who said he has a goal of rushing for 2,500 yards this season, told reporters this week, "Of course that's a disappointment if I don't get over 100 yards. I would feel like I didn't do as good as I can do."
Munchak, an NFL Hall of Famer, said the line concentrates on run blocking and pass protection, and the stats come. The celebration, he said, can come when the season's over.
"I think when it's happening it's not something we tend to know about," Munchak said. "All that matters is getting wins and being undefeated at home. When CJ got the 2,000, it's not something that you thought about last year at this time, but you're thrilled to be part of something great on the offense."
The linemen said they were proud of Johnson's milestone last year, and they want the Titans to rush for at least 150 yards a game this season. While Johnson's streak is elite, he's not the only Titan with a streak. Roos has started 80 consecutive games at tackle, and Scott, who signed with Tennessee as a free agent in 2008, has started 88 consecutive games at guard.
To build cohesion, the offensive linemen bond over food with each week with a dinner around Nashville.
"It's just a way for us to hang out outside the building," Amano said. "We're all pretty good friends, we all get along real well, and just a way to build our camaraderie. We're a real tight-knit group. It's a trust thing with the offensive line. You've got to trust the guy next to you."
Scott said the meal prepares the team for the weekend.
"There's the rest of us, and then there's Mike Otto," Scott said. "Mike Otto is a whole different ball game. Dave's pretty good as far as the best of the rest."
Said Stewart: "We all dominate. (The restaurants are) used to it by know."