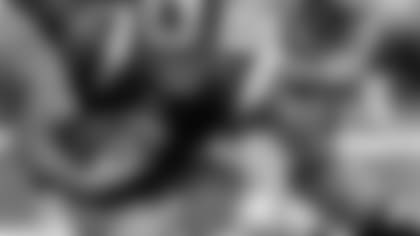 LB Will Witherspoon sacks Rams QB Sam Bradford.
ST. LOUIS—Tennessee's defense bounced back from a gaffe and its offense used bruising backs to score 16 unanswered points Saturday night in St. Louis.
The Titans' first time on the road under new coach Mike Munchak started adversely with an 83-yard touchdown pass from Rams quarterback Sam Bradford to Brandon Gibson. It was the first time the Titans have trailed under Munchak, who was curious to see how his team would respond.
"We put that one in the trash can after it happened. That's it," linebacker Will Witherspoon said. "That was the first play out of the box; now let's focus on what we need to do. I think we did that." 
The Titans' defense recovered during its next opportunity when cornerback Alterraun Verner intercepted a pass that cornerback Cortland Finnegan tipped two times. Verner's 15-yard return of the interception set up the Titans' first touchdown.
The Titans held the Rams to 70 yards and zero points the rest of the half by blitzing Bradford and containing Rams running back Stephen Jackson, who was held to 10 yards on six carries.
Witherspoon and Finnegan each sacked Bradford on blitzes. Witherspoon, in his 10th season in the NFL, dropped the second-year QB for a loss of 10 on third down, and Finnegan, a six-year pro, dropped Bradford for a loss of 6 to force a punt on the Rams' next possession.
"We said we wanted to start with a challenge in the beginning and we got one — a big play by them to get the lead and get the points," Munchak said. "I think we did a nice job after that, defense did a great job. They settled down and adjusted after the blown coverage on the first play and pretty much shut them down the rest of the half; pretty much the rest of the game until the end. I thought the first group did a heck of a job (defensively)."
St. Louis, however, rallied for a 17-16 win on a 42-yard field goal by Josh Brown as time expired.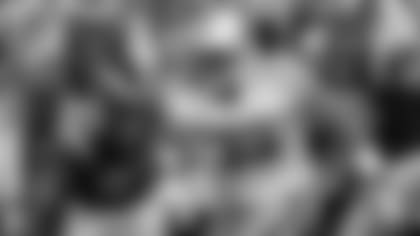 Rookie RB Jamie Harper had 11 carries for 83 yards and one TD.
RUNNING BACKS CARRY LOAD: Tennessee played without its two leading rushers—Chris Johnson (holdout) and Javon Ringer (hip pointer injury)—from 2010 but gained 198 yards on the ground Saturday.
Titans rookie Jamie Harper, a fourth-round selection out of Clemson, started at running back and ran 11 times for 83 yards. Harper ran for tough yards and broke free with a 46-yard rush; he turned a short pass from Matt Hasselbeck into a 24-yard gain and scored a rushing touchdown for the second straight week.
"It felt good to be able to get some bigger runs tonight," left tackle Michael Roos said. "We definitely wanted to improve on that and get more. Jamie ran good all week in practice, and that translated to the field tonight."
Munchak said Harper has been receiving second-team reps since he arrived and it showed this week.
"He improved from last week with his carries and he hit the hole hard, he hit the inside zone and the outside zone," Munchak said. "He ran very well and that was encouraging to see. We asked him to step up earlier in the day and he did exactly that."
Herb Donaldson, a St. Louis native who spent last season on the Titans' practice squad, relieved Harper and had 31 yards on 10 carries and caught four passes for 29 yards. Stafon Johnson, who signed with the Titans in 2010 but suffered a season-ending injury in the preseason last year, had 68 yards on 11 carries.
Harper (5-foot-11, 233 pounds), Donaldson (5-11, 221) and Stafon Johnson (5-11, 222) often delivered as strong of a hit as they received from Rams tacklers. Munchak said he was pleased with the performance of all three running backs.
"Any time a defender was around him, he took it right at him," Roos said of Harper. "It was good to see him running so hard, and I'm happy for him."    
PASSING REPORT: Hasselbeck was 7-of-9 passing for 79 yards with no touchdowns and no interceptions. He led the Titans' first three offensive possessions to the touchdown by Harper and a pair of field goals by Rob Bironas.
Hasselbeck's leadership of the Titans' fifth possession ended prematurely when he landed awkwardly after completing a pass to Damian Williams. Hasselbeck had the wind knocked out of him on the play.
Titans rookie QB Jake Locker entered as the Titans faced third-down-and-three from the Rams' 33, and delivered a perfect pass to tight end Jared Cook (three catches, 54 yards) to set up the Titans at the St. Louis five-yard-line, but the drive stalled and Tennessee settled for another field goal by Bironas and a 16-7 halftime lead.
Locker played into the fourth quarter and finished 8-of-18 passing for 82 yards. He faced multiple blitzes by St. Louis and threw a costly interception that James Butler returned to the Tennessee 21-yard-line. The Rams scored on a touchdown pass from A.J. Feeley to Donnie Avery two plays later.