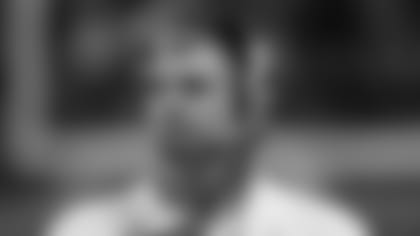 Mike Munchak made his first roster cuts as head coach of the Titans on Monday.
NASHVILLE, Tenn. -- Titans coach Mike Munchak made his first round of cuts as a head coach on Monday.
The former offensive lineman had personal conversations with the released players, thanking them for their work since camp opened and wishing them well in their pursuit of a roster spot with another team or down the road with Tennessee.
The Titans waived nine players and placed holdout Chris Johnson on the "reserve/did not report" list as the team reduced its roster from 90 players to 80 players a day before the mandatory deadline set by the NFL.
Tennessee waived seven-year veteran defensive tackle Jovan Haye, who spent the past two seasons with the Titans, and also parted with linebacker Jonathan Cornell, punter Chad Cunningham, fullback Patrick Hill, linebacker Kevin Malast, quarterback Brett Ratliff, safety Nick Schommer, receiver Owen Spencer and long snapper John Stokes.
Munchak said he wanted to tell those players as soon as he and the coaching staff knew in order to give the players another opportunity elsewhere. All 32 teams must have their roster trimmed to 53 players by Saturday, so more cuts are on the way.
The remaining players will be competing at the position level along with the overall needs of the team. Munchak said he expects great competition this week in practice and in the Titans' fourth and final preseason game Thursday against the New Orleans Saints.
"It's one of those things where they go out there, they feel like they control their own destiny," Munchak said. "I think these guys have pushed each other well, I think they've gotten along well, they've competed. You never know, a week from now, two weeks from now, some of these guys could be back. You just never know in this league how things can change real fast."
Safety Michael Griffin, who is in his fifth season with the team said the Titans must do "whatever we have to do to make this team a better football team and win games" and that each player must command his destiny.
"I think it's man for man," Griffin said. "You play within the team but you've got to cover your own tail. If everybody does their job, then this whole team is a better football team."
BEARS 'D' A GOOD METRIC: Offensive coordinator Chris Palmer said Monday that there were positives and things to improve from the Titans' performance against the Chicago Bears on Saturday.
Tennessee defeated Chicago 14-13, but the Bears outgained the Titans 416 to 220 yards in a game where starters played until the third quarter.
"You've got to be aware of who you're playing," Palmer said. "We didn't play as well as we wanted, but on the 12-play drive we did run the ball in. That was by far the best defense we've played this preseason."
Rookie running back Jamie Harper scored from 9 yards — his longest rush of the night — to cap an 80-yard drive before halftime, finishing with 36 yards on 13 carries. Harper rushed for 83 yards the week before when he started at St. Louis. The Titans rushed for 198 yards in a 17-16 loss to the Rams.
The Titans wanted to test their passing attack against the Bears early, but Harper said they also remained patient with the run.
"It was kind of slowly but surely," Harper said, "just kind of like a regular running back game, 3 yards here, 2 yards there and then one pops. Chicago was definitely a tough opponent as far as rushing defense, but we came out with a victory."
MORGAN EVALUATED: Defensive end Derrick Morgan missed practice Monday because he went for a doctor's evaluation of his knee. Morgan, the Titans' first round pick in 2010, tore his ACL in his fourth game last season and had surgery.
Munchak said the Titans' staff and Morgan's personal doctor who performed the surgery have been in contact with how the injury has made progress this training camp. Morgan and defensive ends Jason Jones and Jacob Ford are likely to miss the final preseason game, but Munchak thinks Jones and Ford will return for the Sept. 11 season opener at Jacksonville. Munchak said Morgan will need further evaluation.
CURTIS DEBUTS: Eight-year veteran wide receiver Kevin Curtis, who joined the team late last week made a one-handed grab at practice Monday. 
Curtis, who's played in 81 career games with St. Louis, Philadelphia and Miami, said he's excited about the opportunity and is trying to catch up with the Titans' system.
"We're going to give him a lot of reps (Thursday) to try to make an evaluation of him as quickly as we can," Palmer said.