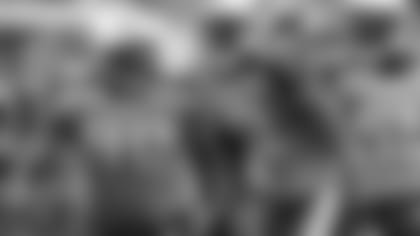 A 3-1 start as the Titans tied for the AFC's best record early on in the 2011 season.
NASHVILLE, Tenn. -The Tennessee Titans have won three straight and are tied for the AFC's best start. With the exception of a stumbling loss to open the season, it's the kind of start new coach Mike Munchak expected.
"We've positioned ourselves back into things,'' Munchak said Monday. "The goal is to win the division. We're back on track for that.''
Few outside of Tennessee's headquarters expected much from this team with the franchise starting over this season with a new coach, new coordinators and two new quarterbacks along with the NFL lockout for good measure.
Now the Titans are 3-1 and tied with Houston atop the AFC South. They are coming off a 31-13 win in Cleveland where Chris Johnson finally got going with his first 100-yard rushing game after his holdout. He ran for 101 yards, with a 25-yard run that is his longest this season. The Titans now visit the ailing Steelers (2-2) trying to polish off a two-game road swing before their bye.
"We knew if we could win this one, which we did, it makes this one bigger,'' Munchak said.
This is the sixth time the Titans have started 3-1 since 1999, and they made the playoffs each of the previous five times they won at least three of their first four games - last in 2008 during a 10-0 start. They used good starts to win the AFC's No. 1 seed twice in 2000 and 2008, but haven't been back to the postseason since 2008.
The Titans are being led by Matt Hasselbeck, who is adding to the best start of his 13-year career, and the NFL's stingiest scoring defense.
Hasselbeck is the AFC's second-rated quarterback behind Tom Brady getting the kind of protection he could only dream about the past couple of seasons in Seattle. He is completing 66.7 percent of his passes with eight touchdowns and only three interceptions with a 104.7 passer rating that ranks fourth in the NFL.
He has been sacked only four times, and the Browns never got to him in Cleveland.
"Just having continuity with the teammates and with the guys, even though I'm new, they are really stable,'' Hasselbeck said of his offensive line after the game. "It's not musical chairs, which has made it a lot easier for me.''
With Kenny Britt out with a torn ACL, Hasselbeck completed passes to six teammates, with each of his three TDs going to a different player. Munchak said they brought him in thinking he would make a difference after seeing the quarterback play well in big games last season.
"He is doing the things for us that we hoped he would,'' Munchak said. "You never know how fast things are going to come together when you bring all different guys together that have never worked together and new coaches, but having a guy like him has made the process a lot easier for us.''
The Titans still rank last in the NFL in yards rushing per game, and Johnson is averaging a mere 2.9 yards per carry. But the man with the $53 million contact extension did rip off a 25-yard run against Cleveland, and he had 3 more yards against the Browns than he totaled through the first three games combined.
That gave Johnson his 25th career 100-yard rushing game in his 51st career game. He tied Terrell Davis in that category, trailing Edgerrin James (40), Earl Campbell (41), Eric Dickerson (42), Jim Brown (47) and Clinton Portis (48).
"Part of the areas that we know as a team that we are not where we want it to be is running the ball,'' Munchak said. "We cleaned it up a little bit yesterday, we got glimpses of what we think we are capable of, but we are still not consistent to where we are happy with where we are at.''
On defense, the Titans behind new coordinator Jerry Gray are allowing the fewest points in the NFL with just 14 per game and 56 through four games. They gave up 332 yards passing, but the Browns' lone TD came in the fourth quarter with Tennessee up 31-6. Munchak credits a decision not to overload players back in training camp.
"So far so good,'' Munchak said.
NOTES: Fullback Ahmard Hall rejoined the Titans on Monday morning after serving a four-game suspension for violating the league's policy on performance-enhancing drugs. Hall said before the season he used a stimulant to keep himself awake for the drive from Nashville to his home in Texas. The Titans will have a roster exemption until Oct. 10 before having to make a move. They swapped a draft pick to Green Bay for Quinn Johnson, who has three catches for 30 yards.