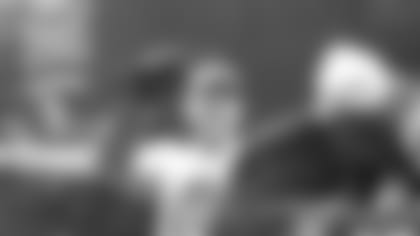 Titans QB Jake Locker places his right hand around the left leg of Sunny, the bald eagle who is in the care of Tennessee State Parks.
HAMPTON, Tenn. — Rain passed and left a light sprinkle of drops and a strand of smoky fog that elevated off the ridge.
Jake Locker stepped off the Titans Caravan bus in his boots and camouflage Titans hat, put on protective gloves and stood next to a bald eagle for the first time.
The Titans quarterback placed his left hand around the left leg of Sunny, the bald eagle who is in the care of Tennessee State Parks. Locker raised his right hand and Sunny peered at Locker.
Even though Locker is an avid and skilled outdoorsman, this encounter was unique.
It brought together Locker, a quarterback with lofty potential on a football field, and Sunny, a national bird who could evenly fly at 50 miles per hour and reach speeds double that when he dove toward the ground.  Sunny, however, broke his wing when he hit a power line. Since his rescue, Sunny has become a star of the educational programs offered by Tenneessee State Parks, which is partnering on the 14th Titans Caravan, sponsored by Grange Insurance.
Sunny was rescued near Reelfoot Lake at Tennessee's western edge and met Locker in the parking lot of Hampton Elementary school near Roan Mountain State Park on Tennessee's eastern edge, nearly 500 miles by vehicle from the spot where he was rescued. 
Locker said he enjoyed the opportunity to stand next to Sunny as part of their trek through East Tennessee on Wednesday.
The list of firsts for an NFL quarterback can be quite long: game, attempt, completion, touchdown, start, victory and comeback win, to name a few.
Locker has experienced a lot of firsts since being drafted by the Tennessee Titans a little more than a year ago. He's crossed off game, attempt, completion and touchdown and wants to work on the rest.
This is his first full offseason with teammates and coaches. The lockout at this time last year kept the first-round and eighth overall pick away from the team's practice facility and workout room at Baptist Sports Park.
He said the workout program, which has structural guidelines that each team must follow per the new collective bargaining agreement, is much better than the waiting and wondering period of a year ago.
Players currently have 90 minutes on the field with coaches, and quarterbacks can work with receivers and tight ends on routes. Defenders aren't allowed to contest those routes yet, but Locker said a lot can be done against the air.
"I think you're able to get on the same page," Locker said. "You get comfortable with how they run routes, how they like to run routes and different variations on certain routes, when they come out of breaks, what they're thinking on certain plays. I think it's a sense of comfort.
"It's obviously different when (defenders) get out there," Locker continued, "but you have the opportunity to get timing and get a familiarity with each guy individually."
Locker said the increased work opportunities will enable quarterbacks and receivers to dictate tempo.
"You get more comfortable calling the play," Locker said. "You're able to get more comfortable hearing the plays and knowing where guys are at and knowing the overall idea behind the plays is something that allows you to play faster when you get on the field."
Locker vowed to remain consistent in his attitude and approach as he enters open competition with friend and veteran QB Matt Hasselbeck, who started all 16 of the Titans' games last season and threw for 3,571 yards.
"My goal is to earn the respect of the guys around me, not to ask for it," Locker said. "How you go out and work and prepare yourself, they can tell it means something to you. You're not telling anybody you're going to be perfect all the time, but knowing that you're going to give it your best shot, and whatever the outcome is, it is, but you're not going to regret what you've done because you went about it the right way."