NASHVILLE, Tenn. — Give the Michigan punter a break.
That's the opinion of Titans left tackle Taylor Lewan and defensive lineman Mike Martin, who starred at the school.
Four days later, the ending to Saturday's Michigan-Michigan State game remains a hot topic across the country.
By now, everyone knows what happened – Michigan punter Blake O'Neill mishandled a snap in the closing seconds, and a Michigan State player picked the ball up and ran it in for a touchdown on the final play of the game.
On Tuesday, O'Neill spoke for the first time about the play, and about the death threats he received following his memorable blunder.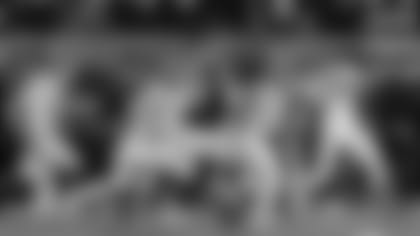 "The punter getting death threats?'' Lewan, a four-year starter at Michigan, said on Monday. "Listen, football players are people too. Just because you have muscles doesn't mean you can't get cyberbullied. That guy, he is a hell of a punter. He has done such a great job…
"One play shouldn't define that guy. My heart goes out to him. You never want to see that."
Martin, an All-Big Ten performer at Michigan, also has O'Neill's back.
"With how things are now with social media and the things that are said toward him… ,'' Martin said. "The kid is a great kid. I've actually met him before at spring practice. He is a great kid, smart kid. Threatening him? You can't take it to that point. He'll be all right. He's a good kid."
That doesn't mean the two Titans were thrilled with the outcome.
Martin lost a bet to a trainer, and was wearing a Michigan State hat at the facility early Monday. He actually left the room on Saturday thinking the game was over, and then "I heard all the ruckus" coming from the television. He ran back in and saw the replay. Again and again.
"I've never seen an ending to a college football game like that before," Martin said. "It was pretty upsetting."
Almost immediately, Martin got a text from Lewan, who was watching live. A chain of messages following with a bunch of expletives, the players said.
"I lost it,'' Lewan said. "I was fired up. Then I was not fired up.
"But lesson learned, and Michigan is going to come back from that."
RECOMMENDED: