**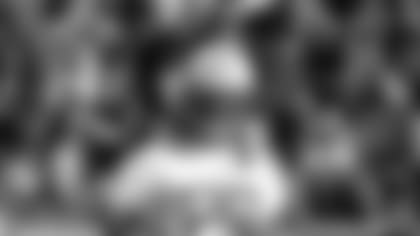 Titans running back Chris Johnson participates in the AFC Pro Bowl practice Wednesday morning in Fort Lauderdale.
FORT LAUDERDALE, Fla. –** Saying he felt like a rookie all over again, Titans running back Chris Johnson made his Pro Bowl practice debut on Wednesday, joining other AFC stars in preparation for Sunday's NFL All-Star Game at Sun Life Stadium in Miami Gardens, Fla.
Johnson was named to the Pro Bowl following his rookie season a year ago, but did not make the trip to Honolulu after suffering an ankle injury in Tennessee's AFC divisional playoff game vs. Baltimore.
"It was crazy because it was like my first year being a Pro Bowler," Johnson said after Wednesday's practice, held at a Fort Lauderdale high school. "It was actually my second Pro Bowl, but I didn't go last year. It was kind of like being a rookie. It was great seeing all of the top athletes in the NFL."
Johnson was joined at practice by Titans teammates Vince Young, Kevin Mawae and Kyle Vanden Bosch.
"It feels good to see those guys in the huddle and to see that I'm not the only one here. There are some other Tennessee Titans," Johnson said. "It feels good to have them on the same team with me."
Sunday's game (6:20 p.m., CT on ESPN) will be played at Sun Life Stadium in Miami Gardens, Fla., the home stadium of the Miami Dolphins and host site of Super Bowl XLIV.
The game has been moved from Honolulu to Miami on Sunday as an experiment, and it's also being played the week before the Super Bowl instead of in its customary slot the week after the NFL's title game.
While several Super Bowl participants from the Colts and Saints had to withdraw from the Pro Bowl, plenty of talent abounds, Johnson said.
"I wouldn't say it's watered down just because the guys in the Super Bowl can't play. There are still a lot of stars out here," Johnson said. "I still feel like it's going to be a good game...basically, I just want to go out there and have fun in the game. Everybody out here is going to have fun."
Johnson, the team's 2008 first-round draft pick, led the NFL with a franchise-record 2,006 rushing yards on 358 carries with 14 touchdowns. Additionally, the two-time Pro Bowler led the team with 50 receptions for 503 receiving yards with two scores, giving him an NFL record 2,509 total yards from scrimmage and breaking the league mark set by Marshall Faulk in 1999.
Johnson became just the sixth player all-time to break the 2,000-yard rushing plateau, joining Eric Dickerson, Jamal Lewis, O.J. Simpson, Terrell Davis and Barry Sanders. He also became the first player in the 2,000-yard group to total 500 yards receiving.
The Associated Press contributed to this report.