**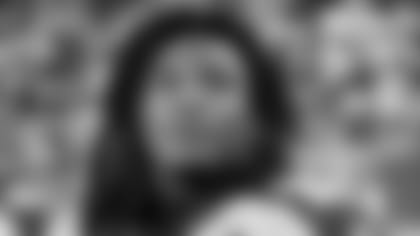 Chris Johnson's quest for back-to-back 2,000-yard rushing seasons begins today vs. Oakland.
NASHVILLE, Tenn. —** Chris Johnson is ready to pick up where he left off in 2009, running wild as he chases Eric Dickerson's NFL rushing record and even a whole new benchmark—2,500 yards on the ground.
Recent history says he couldn't have a much better opponent for starting his quest than the Oakland Raiders, who travel to Tennessee to play the Titans in Sunday's season opener.
Oakland's defense ranked 29th in the NFL last season, giving up an average of 155.5 yards rushing per game. The Raiders gave up a season-worst 241 yards at Denver.
Tennessee running backs have had some big days against the Raiders. Eddie George posted the NFL's third-best opening day Aug. 31, 1997, when he ran for 216 yards against an Oakland defense that withered under the Tennessee sun and his 35 rushes.
The NFL Offensive Player of the Year hadn't heard that number until this week and sees George's mark as something to run toward on opening day.
Still, "my main focus is to go in and get the win," Johnson said.
Starting the season with a victory is important to each NFL team. For the Titans, it's crucial after last year's 0-6 start. They managed to finish 8-8 after winning eight of the final 10, but nobody wants to think about going 0-1 after hosting the opener on their own field.
"All of our attention and focus right now is on a very talented, unpredictable Raider team," Titans coach Jeff Fisher said. "When you start the season, people will hold things back. We do, they did, so you have to adjust. It's a tremendous challenge for us, if you take into considerations their speed, their athleticism, their size and what they've done over the offseason."
Giving Johnson the ball—a lot—will be a big part of the Titans' game plan.
"He's going to see it more than a few times," Fisher said.
Of course, he won't see last year's Raiders. This is a revamped team.
Oakland is coming off a 5-11 record in coach Tom Cable's first full season. The Raiders have a new starting quarterback in Jason Campbell, but put most of their work into the defense—drafting middle linebacker Rolando McClain and defensive end Lamarr Houston, and signing two-time Pro-Bowl tackle John Henderson.
Henderson has played against Johnson while with Jacksonville, and said discipline is key.
"You have to slow him down by keeping the edges and everyone swarming to the ball. Just get after him. He really doesn't like it when big linemen are coming down and hitting on him. That's why he uses his speed to get outside and get away from us. That's a big advantage he has," Henderson said.
Johnson takes a streak of 11 consecutive 100-yard rushing games into this season, and another one puts him in sole possession of second behind only Barry Sanders, who set the NFL mark of 14 straight in 1997.
"All the film we've been watching, it has been one or two guys, and they still haven't brought (Johnson) down. He still broke some tackles," Raiders tackle Tommy Kelly said. "So, we're going to try to get as many guys as we can around him and just try to slow him down."
Fisher played Johnson very little this preseason, even sitting him out of the fourth game while encouraging him to prepare himself for the opener. Johnson ran for 93 yards in an opening win against Jacksonville in 2008 and had only 57 in a road loss to Pittsburgh last year.
Through his first two seasons, Johnson has caught first-time opponents off-guard with his speed. Cable got to see Johnson in person at the 2008 Senior Bowl.
"I don't know how you really get prepared for a guy like Chris Johnson. He's a rare guy. There's some things that you have to be able to do in order to try and contain him. If you don't do that, he can certainly hurt you any play," Cable said.
Johnson also has some added motivation. Oakland is one of the four teams that drafted running backs ahead of him in 2008, choosing to take Darren McFadden at No. 4 overall that year. Johnson had more yards (374) on his five longest carries last season than McFadden had all season (357) and is the NFL's top rusher since 2008 with 3,234 yards.
"They felt four other running backs were better than me," Johnson said. "I always keep that chip on my shoulder."
The Titans have plenty planned for Sunday as well, including a "Code Blue" promotion to color LP Field powder blue. They also will raise a new flag celebrating the fans as their 12th man.
It may not be as hot as that day George ran over the Raiders in 1997, or 2003 when these teams last opened the season against each other. Kelly is from Mississippi and said he expects it to feel close to 100.
"I'm glad we got a lot of bodies for this one," he said.
AP Sports Writer Josh Dubow in Alameda, Calif., contributed to this report.