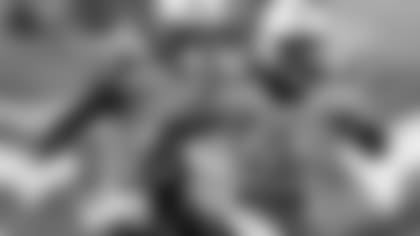 Ahmard Hall (45) has been Chris Johnson's lead blocker since his rookie season in 2008.
NASHVILLE, Tenn. -- Chris Johnson is happy to have fullback Ahmard Hall back, and the former Marine is eager to push the Tennessee running back as much as possible.
That means the Titans are about to find out just how much they missed Hall.
Tennessee (3-1) ranks last in the NFL in yards rushing per game, even after Johnson notched his first 100-yard performance this season. Johnson held out for his new $53 million contract, while Hall worked through the preseason. Johnson signed his extension a day before Hall learned the NFL rejected his appeal, forcing him to leave during practice and sit out the first four games.
"You see he's out there, he's been in shape,'' Johnson said. "He's moving around very quick, very fast. Just excited to see what we can do on Sunday.''
The Titans now must decide whether to keep two fullbacks after swapping a draft pick for a fill-in, but Hall is expecting to play Sunday when they visit Pittsburgh (2-2). That means a roster move must be made because Tennessee has an exemption for Hall until Monday. Coach Mike Munchak said they would make a decision by the end of the week.
Quinn Johnson has filled in nicely with three catches for 30 yards. Hall, a couple inches shorter at 5-foot-11 and 22 pounds lighter at 241, has worked with most of the current offensive linemen the past few seasons. He also gives the Titans more options offensively because he can catch the ball very well and can fill in at running back in a pinch.
Making the decision whether to keep two fullbacks is tough because safety Chris Hope is recovering from surgery to fix his broken left forearm. If the Titans feel they need an extra safety, keeping two fullbacks along with three running backs could be too much at the position. But the Titans invested an undisclosed future draft pick to grab Johnson away from Green Bay the same day Hall's suspension was announced Sept. 3 for violating the NFL's policy on performance-enhancing substances.
Hall is the fullback who went from being undrafted out of Texas to helping block for 1,000-yard rushers like Travis Henry, LenDale White and then Johnson who rushed for more yards than any other back in the NFL over the previous three seasons.
And Hall is ready to push Johnson and challenge the running back.
"I'm not afraid to push him if that's what it'll take to get him to go a little bit harder than he might go, liven him up or give him a boost of confidence,'' Hall said. "If I see where the line's pushing the guys a certain way and he has to cut back and I'll take a cut and he continues to go outside and gets tackled, I'm like, `C, you've got to follow me. You've got to read that.''
Hall said he thinks he's seen Johnson, the best back he's ever played with, being just a bit off in his reads. Johnson just had his longest run this season in last week's 31-13 win over Cleveland on a 25-yarder, and he totaled only 98 yards in the first three games.
"Just my opinion, but like I said, I'm not afraid to challenge him if I see some things that we might've done in the past better that's not getting done now,'' Hall said. "I'm not afraid to challenge him and try to get that straight.''
Hall also has the comfort level with the offense because he was in training camp and played all four preseason games. He said that allowed him to become familiar with Matt Hasselbeck's cadence and the offensive line along with the changes by coordinator Chris Palmer. Hall also feels ready to hit the ground running in Pittsburgh because he worked hard through the past month to stay in shape.
The only exception was a couple weeks ago when his mother-in-law died of an aneurysm in Texas, but Hall said he kept working out while on the road.
The veteran had never watched games from his couch, not since joining the NFL. He said that experience have left him even hungrier to go out and perform.
"You learn how expendable you are in this league,'' Hall said. "Nothing stops.''
NOTES: TE Craig Stevens (ribs) missed a second straight practice Thursday, and S Michael Griffin (illness) did not practice. LB Gerald McRath (left knee) and WR Marc Mariani (hip) practiced fully. ... Munchak said he expects about 100 family and friends in the stands Sunday at Pittsburgh. The native of Scranton, Pa., said those getting tickets through his father and uncle must be Titans' fans for 24 hours. Since they'll be sitting together, anyone not in Titans' blue will be seen.