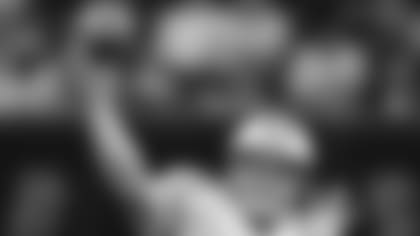 Rookie Jake Locker is patiently learning under veteran Matt Hasselbeck until his number is called.
NASHVILLE, Tenn. - First, Jake Locker watched Andy Dalton, and now he'll get a good look at Cam Newton. All of the highly drafted quarterbacks are starting in the NFL except Locker, the eighth pick overall.
Locker says he's not jealous and is just as busy learning as the others are. He also feels he has a big advantage over the others: He is studying and learning from 13-year veteran Matt Hasselbeck.
"I don't resent them,'' Locker said of his fellow rookie quarterbacks. "I'm thankful for the opportunity I have here to learn from Matt and to play behind him and watch the game kind of through him and understand what he's thinking, why he's thinking it, and I think it'll make me a better player.''
The Titans liked Locker enough coming out of Washington that they made him the second quarterback drafted behind only Newton. Then they signed Hasselbeck to a three-year deal less than 48 hours after the NFL lockout ended, and the veteran won the starting job in the preseason. Now, Hasselbeck has thrown for 2,014 yards through eight games and is on track for the first 4,000-yard passing season of his career.
That has left Locker watching from the sideline as the only quarterback of the top five drafted in April not to start at least one game yet this season.
Both Dalton, the 35th pick overall in the second round, and Newton, the top pick overall, have started every game for their teams. Jacksonville turned to Blaine Gabbert (10th overall), while Christian Ponder (No. 12) is now starting for Minnesota. Locker? The quarterback many thought might have been the top pick overall if he left Washington early for the 2010 draft has gotten into only two blowout losses, completing one of two passes.
The Titans (4-4), who visit Carolina and Newton on Sunday, plan to stick with Hasselbeck as their starter and let Locker keep learning from the sideline. Titans coach Mike Munchak said he thinks it's tough for Locker sitting because he knows it would be for himself.
"This is the situation he got drafted into,'' Munchak said. "If we didn't get Matt, he could be doing what (others) are doing. But he is a professional, and he is handling it and learning from Matt. He'll have plenty of opportunity to prove what he can do, but unfortunately he is going to have to wait for that to happen. He has handled it well, and in the long run hopefully it will be beneficial to him to have waited.''
Letting a rookie quarterback sit and watch rather than throwing him in immediately might be due to this franchise's recent experience. Sure, Vince Young was the NFL Offensive Rookie of the Year in 2006 but the Titans wound up releasing him after five seasons. They eased Steve McNair into the starting job, making him mostly watch for his first two seasons, and he wound up as co-MVP of the NFL in 2003.
The Titans gave Locker most of the work in practice during their bye week, and he gets extra snaps when Hasselbeck is given a day off as he was Wednesday. Locker split the work with Hasselbeck on Thursday as the Titans tried to make sure the veteran has time to heal his sore knee. Offensive coordinator Chris Palmer said Locker is doing an excellent job in drills and when throwing for the scout team against the defense.
"Until he gets in a game, there's nothing like learning in a game itself,'' Palmer said. "Some quarterbacks, it's beneficial for them to start from Day 1 and learn, and it's beneficial for other quarterbacks to sit back and watch and observe. Jake and I talked about it the other day, the fact he's learning from Matt, I think, has been tremendous and invaluable.''
Dalton said last week that he wanted to play immediately. Panthers coach Ron Rivera said the only surprise with Newton has been how quickly he developed.
Hasselbeck tries to teach by being himself and letting Locker decide what works for his own game. Their relationship almost feels like a mutual admiration society at times. Hasselbeck praises Locker as having everything someone wants in a quarterback and a teammate with his loyalty, honesty and athletic talent that might make him the best player on the field.
"He's got all kinds of God-given ability, thing you can't necessarily coach,'' Hasselbeck said in September. "If he had to play, if he was on some other team right now and they asked him to play, I'm sure he would do a fine job.''
Locker said he doesn't know if the other rookie quarterbacks have the same kind of relationship he and Rusty Smith have with Hasselbeck.
"I can just speak from this experience,'' Locker said. "And from the beginning he's been nothing but helpful for me and answered all the questions I've asked of him and some that I haven't and been able to take a lot of information and knowledge that he's gathered over the years and try to work it in as you feel comfortable with your game.''