NASHVILLE, Tenn. - Kenny Britt feels as if he's finally shaking off the rust from being out most of last season and missing chunks of this year with other leg injuries.
The Titans are about to find out how much that helps boost their offense.
"We definitely expect him to make `SportsCenter'-type plays every time he has an opportunity to. He's that good,'' Titans quarterback Matt Hasselbeck said of Britt.
It's been a long time since Britt hit the field feeling as healthy as he does now. He started Sept. 23 against Detroit, his first start since tearing his right ACL in September 2011.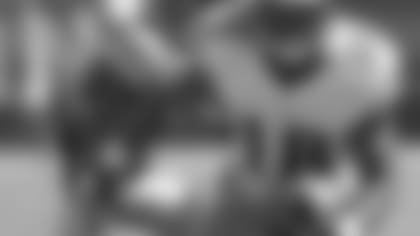 Then the receiver who also had a surgery to clean up each knee between May and the end of June, hurt his left ankle in that game.
This is the first week that Britt really has practiced fully with the Titans, and he's not on the injury report either. That's allowing Britt to become more accustomed both to the speed of the game and how fast a pass reaches him along with defensive backs.
It also gives Tennessee a full group of receivers, and that the offense looking up just when the Titans (2-4) are trying to put together a winning streak.
"Everyone kind of coming together at the right time is pretty much what we need now,'' Titans coach Mike Munchak said Thursday. "We know we have to put a run together here and play well for a while here to get back in this thing.''
The Titans have put together some good targets.
Veteran Nate Washington has a knack for spectacular catches such as the 70-yarder he caught over the back of a Lions defender for a TD in September.
Rookie Kendall Wright, their first-round pick out of Baylor, has a team-leading 33 catches and is tied with Wes Welker and Victor Cruz for an NFL-best 14 receptions on third down.
Jared Cook is second only to Rob Gronkowski among AFC tight ends in yards receiving since 2011 with 1,050, and he's averaging 14.6 yards a catch. He already has a 61-yard catch this season. Tight end Craig Stevens is on pace for a career season catching the ball, while Chris Johnson also has 16 catches.
Britt has 13 catches for 145 yards in limited playing time this season, including his first touchdown catch last week to help the Titans beat the Steelers 26-23.
But it's the 6-foot-3, 215-pound Britt who is the physical, downfield threat who can help open the rest of the field up by drawing double teams.
Buffalo coach Chan Gailey says having Britt back makes a big difference, especially with Washington and Wright available too.
"That is three, I want to say quality receivers but that is probably underrating them,'' Gailey said. "That is three very good receivers, where all of a sudden now they can stretch the field and you have a great runner back there. It makes all the difference in the world.''
The Bills (3-3) tend to press receivers off the line, and that's fine with Britt, even if Buffalo puts two defenders on him.
"If they do, we have got great receivers on the other side that can get the job done ...,'' Britt said. "We go out there, we have a great receiving corps, and we have a great quarterback who can throw the ball. I'm excited about this week.''
Britt was off to the best start of his career in 2011 with 17 catches for 289 yards and three TDs before getting hurt early in his third game. Even with him limited this season, the Titans rank 15th in the NFL averaging 243.8 yards per game.
Eight different Titans caught passes against Pittsburgh. Britt said that kind of balance is what they saw during the offseason program and the game offered a view of what Tennessee can do with everyone nearly 100 percent healthy. Jake Locker is the lone missing piece at quarterback, though he is expected back Oct. 28 against Indianapolis.
"There's definitely enough balls for everyone,'' Britt said.
NOTES: Munchak said Locker did not have any soreness in his left, non-throwing shoulder after his first practice this month, and the quarterback was able to do as much Thursday as he did Wednesday. LB Colin McCarthy (right ankle) and DT Jurrell Casey (shoulder) missed a second straight practice, and Munchak said they hope both can work Friday.