TEMPE, Ariz. – Hall of Fame running back Marcus Allen stopped by Titans practice here on Friday to see his buddy, offensive coordinator Terry Robiskie.
He ended up meeting over a dozen players and other members of the organization, who went out of their way to talk to one of the greatest backs in NFL history.
"I'm a fan," Titans coach Mike Mularkey said of Allen, a six-time Pro Bowler who ran for 12,243 yards while playing for the Raiders and Chiefs from 1982-1997. "Really a great player - still looks like he can play."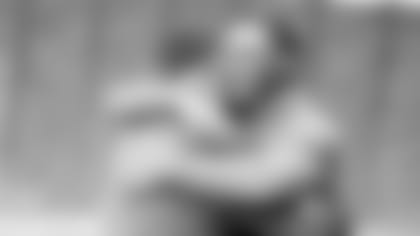 Allen came to practice to see Robiskie, who served as a special teams assistant with the Raiders during his rookie year in 1982. Robiskie went on to become an assistant running backs coach with the Raiders, and eventually offensive coordinator during Allen's days with the team.
The two have remained friends ever since.
"We used to do a lot of talking when I first came into the league," Allen said of Robiskie. "And it goes beyond football. Immediately I felt a connection with Terry. I knew he cared. We had this bond, and from that bond we talked about football and more. … He, along with other coaches, was very instrumental in my development."
Allen said he talks with Robiskie on a regular basis. He's followed his long coaching career in the NFL. Robiskie is in his second year as offensive coordinator with the Titans. Robiskie has 35 years of coaching experience in the NFL.
"I think Terry is a great conveyor of information, a great communicator. He's a great teacher," Allen said of Robiskie. "As much as we love coaches, you have to go play. The best coaches teach you everything you need to know, and then they say, 'Go do what you are born to do.' That's the way Terry coaches, and I know I appreciated it."
Allen, who brought his three-old son to practice with him at Arizona State University, gave Robiskie a big hug when he first saw him. Allen also talked with Mularkey, and met general manager Jon Robinson. Running backs coach Sylvester Croom came over to see him.
Then came the parade of players, including Titans running backs DeMarco Murray and Derrick Henry. Allen had met both of them previously, Henry at Heisman Trophy gatherings.
"I love the backs," Allen said of Murray and Henry.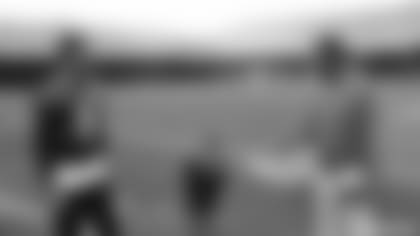 Titans quarterback Marcus Mariota came over to say hello. They'd also met previously, something Allen reminded Mariota of when he pointed at him, and looked to his young son.
"This is the guy who threw the cake in my face" during Heisman House commercial. Mariota laughed as the young boy looked up at him.
"Really a nice guy,'' Allen said of Mariota.
At the end of practice, four former USC Trojans came over to greet Allen, and get a picture made with him. Quarterback Matt Cassel, defensive lineman Jurrell Casey, cornerback Adoree' Jackson and defensive lineman Antwaun Woods all gathered around Allen and his son for the photo.
"At the end of the day it shows you the bloodline of a Trojan, and how deep the family runs," Casey said. Allen won the Heisman Trophy at USC in 1981. "Cool dude. He's a real cool guy. (At USC) you see him in the halls – Heisman Trophy, a Hall of Fame guy."
During an earlier conversation while watching practice, Allen pointed to Casey.
"He's done well for himself," Allen said of Casey, a two-time Pro Bowler. "I really like his game."
At the end of the day, Allen thanked Mularkey for allowing him to come to practice, and watch.
It was a memorable day for many.
Titans players take the field for Friday's practice at Arizona State University. (Photos: Gary Glenn)