NASHVILLE – Josh Evans is in the fight of his life against cancer, and he feels like he's not in it alone.
The former Titans defensive lineman said he's been buoyed by the support of former teammates, coaches and fans in recent weeks, even as he's lost weight and struggled to find optimism on some days.
Several of his former teammates and coaches, in fact, have driven to Atlanta to spend time with him.
"I am overwhelmed with love, man," an emotional Evans said on Wednesday. "They are giving me fight, and they are giving me a lot of motivation. I can't do this by myself -- it is hard. I have been praying so hard to God and I am happy I have so many people on my side – my family, my friends, all my wonderful teammates.
"It is amazing the support I have received. I didn't really think highly of myself because of so many things I did in my life. I never knew how people felt about me. I didn't realize how many people loved me, how many people cared for me and have my back. It is amazing."
A 6-foot-2, 288-pound defensive lineman during his playing days with the Oilers/Titans from 1995-2001, Evans played in 71 career games with the franchise. He racked up 225 tackles and 14.5 sacks before finishing his career with the New York Jets. Evans was a starter in Super Bowl XXXIV for the Titans during the 1999 season, and he was a big contributor during the postseason that year.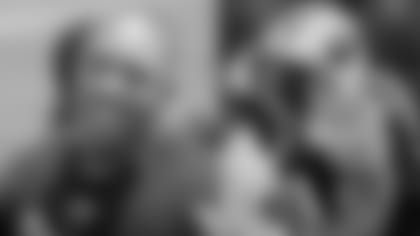 After being diagnosed with cancer in one of his kidneys back in January, Evans had surgery. What was supposed to be a two-hour procedure turned into 13 hours, and doctors removed his right kidney, part of his pancreas and some of his small intestine in the process. Evans described his condition as dire. He spent a month in hospital, but he got out and was doing well -- until pain returned in full force. When Evans checked himself back into the hospital, doctors found cancer in his spine and liver.
Evans returned to the hospital at the Cancer Treatment Center in Newnan, Georgia, just outside of Atlanta, and he just recently went through radiation treatments and chemotherapy. He's scheduled for two more rounds of chemotherapy.
During an interview with TennesseeTitans.com last month, Evans said he was down to 189 pounds.
On Wednesday, Evans said he dropped to 167 pounds.
"The treatments have been rough – chemotherapy and radiation," the 47-year-old Evans said. "I couldn't eat anything for three weeks. I was so malnourished they had to bring me back (to the hospital) to bring me back to life. But God, and all these prayers, it's pulling me through."
Evans had his first meal in three weeks over the weekend: "Sardines, crackers and hot sauce," he said with a smile.
He had a Mediterranean salad on Tuesday and said he's beginning to feel better.
Evans said former Titans teammates Kenny Holmes and Mike Jones drove to Atlanta to spend time with him at the hospital. They've taken him to treatments and spent days at his side in his room.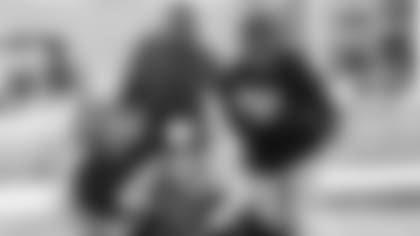 Former Titans coaches Jim Washburn and Steve Watterson also drove to see him, and Evans said his phone has been buzzing non-stop. He said teammates Blaine Bishop, Marcus Robertson, Joe Salave'a and Lemanski Hall have been calling him regularly to check in, along with many others.
The Titans produced a video with players pledging their prayers and support for Evans, featuring former teammates Barron Wortham, Eddie Robinson, Bishop and Robertson. Evans has heard from friends with the Jets, and at his alma mater, the University of Alabama at Birmingham.
"This is the hardest fight I have been in," Evans said. "I just haven't been able to do things for myself. The radiation got me down bad. But when (my former teammates) come and push me in a wheelchair to my treatments, my radiation, that lifts me up so much. And with everybody checking on me and praying for me, it means so much to me. It's made me feel really good, man.
"It is such a blessing, and I want to thank my teammates and everyone out there who is praying for me. I pray to God one day I can give back to the people who have given to me."