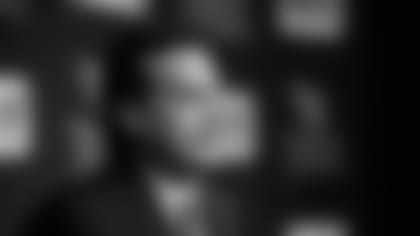 Jeff Fisher addresses reporters during his final press conference Friday at Baptist Sports Park.
NASHVILLE, Tenn. - The atmosphere was so cordial at the Titans' headquarters Friday it was hard to tell Jeff Fisher that was leaving the team.
He stood behind the podium thanking everyone in the building before leaving with a wave. Tennessee's top executives expressed their gratitude for his work over the years, then discussed how they will replace Fisher after mutually agreeing they had reached a point where "it was time to move on'' after 16 full seasons.
"It is just time for a change,'' owner Bud Adams said Friday by telephone from his Houston office.
Fisher declined to address details about the decision, but acknowledged some differences with the team. He also looked much more relaxed Friday morning than in weeks, calling it the best decision after two difficult seasons.
The Titans rebounded from an 0-6 start to finish 8-8 in 2009, then wasted a 5-2 start in 2010 by losing eight of the final 10 games for a 6-10 record.
"I've been coaching for 24 years, and it's time. I need a break,'' Fisher said. "And I think timing-wise this is a perfect opportunity to do this so the organization can move forward with their plan, and I'll move forward with whatever happens in the future.''
The team announced the split Thursday night, shocking players, assistant coaches and the rest of the NFL because Adams announced three weeks ago he'd decided to keep Fisher for the final year of his contract. Adams said teams and coaches unfortunately almost always reach a point where change is the best option.
"I believe both the team and Jeff will benefit in the long run from this move. Now I'm still confident about our future. I think we have good players. I believe in Steve Underwood and (general manager) Mike Reinfeldt to find our next head coach.''
The search to replace Fisher is already under way, and the Titans' general manager Mike Reinfeldt and Underwood, the senior executive vice president, will handle the process whose only timetable is "as long as it takes.'' Underwood said reports of the coach's settlement at $8 million were "erroneous'' while declining to answer questions about the package.
Among the four major U.S. sports, only Jerry Sloan with the NBA's Utah Jazz has been with the same team longer than Fisher had been with the Titans. Andy Reid of Philadelphia now takes over as the NFL's longest-tenured coach having finished up his 12th season with the Eagles.
Fisher, promoted from defensive coordinator to interim coach in 1994, guided the team's relocation from Houston to Tennessee and took the Titans to their lone Super Bowl appearance. He also had losing skids of at least five games in five of the last seven seasons.
He has coached more NFL games for one franchise than all but six Hall of Famers: George Halas, Tom Landry, Don Shula, Chuck Noll, Curly Lambeau and Bud Grant. He ranks third among active coaches in career wins with a record of 147-126, behind only Bill Belichick (176) and Mike Shanahan (160), and he is 20th in career coaching victories.
He could coach again this season. A team executive noted that's up to Fisher, but the coach wouldn't speculate when asked if he might work on television for a season.
"I think I need the rest. Those that coach 10 years that take a year off are three times better coaches ... in year 11. I'm going to take time,'' Fisher said.
Reinfeldt noted Fisher's departure didn't change the Titans' decision to either trade quarterback Vince Young or release him later this offseason. The general manager also noted Fisher just finished his 17th season with this organization and called that unbelievable in a hard job that takes a toll.
"He was the face of the franchise for such a long time,'' Reinfeldt said. "At the same time, I think change is part of the NFL. You look other places where change has happened, change can be a wonderful thing, and we can use that change to get us to where we want to be.''
Fisher eluded to the possibility of a contract extension the day after the season ended, but Adams decided to let his coach work through the final year of his contract. Fisher's last winning record was 13-3 in 2008 when the Titans wasted the No. 1 seed in the AFC by losing in the divisional round, and his last playoff victory came in January 2004.
Underwood said Fisher had coached a season in the final year of a contract at least a couple times before.
Neither Fisher nor the Titans would discuss specifics of why the coach had to leave now despite repeated questions.
Fisher did admit they discussed adding his son, Brandon, to the staff. But Adams doesn't allow nepotism involving employees who are supervisors, which kept Fisher from luring away Gregg Williams from New Orleans to be his defensive coordinator two years ago when Williams wanted to bring his son along.
The coach also had other staff issues. Fisher couldn't keep defensive line assistant Jim Washburn from leaving for the same job with Philadelphia, then lost running backs coach Craig Johnson a day later to Minnesota as the Vikings' new quarterbacks coach. Fisher also fired defensive coordinator Chuck Cecil.
Underwood dismissed speculation that Fisher's job status kept him from attracting quality assistants to fill those jobs. He said the Titans were ready to offer multi-year deals, and 13 assistants are under contract for 2011 with an offer extended to another to stay.
Fisher will be missed in the locker room. Pro Bowl defensive end Jason Babin said from Hawaii that his departure stinks.
"I like the way he coaches and handles the players, especially being a veteran player. He doesn't say anything to me. He knows I'm going to take care of business and do what needs to be done and there was a professional understanding there,'' Babin said. "The new coach could handle things a lot differently.''