**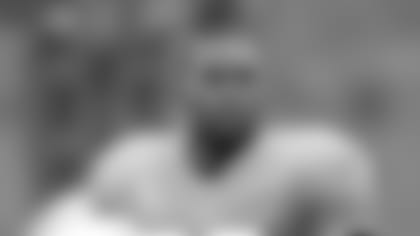 Rookie Alterraun Verner will start at cornerback if second-year pro Jason McCourty can't go on Sunday.
NASHVILLE, Tenn. --** Titans coach Jeff Fisher said Monday that Jason McCourty has not been ruled out for this week's game, but the second-year cornerback may need surgery on his arm.
McCourty recorded his first career interception, corralling an ill-advised left-handed fling by New York Giants quarterback Eli Manning in the end zone but left the game with an arm injury. Rookie Alterraun Verner subbed for McCourty and "played well" in relief, Fisher said.
Doctors were doing tests on McCourty's arm Monday, and a more detailed update will be available Wednesday, Fisher said.
"There's potential to surgically correct it, but at this point we don't know," Fisher said. "He could have come back and was prepared to come back in the game if we had an emergency situation."
Fourth-year safety Michael Griffin said Monday that he approached Verner after McCourty went down and said " 'Get your head focused. They're going to come after you,' which they did, but he managed to come in there and didn't drop a beat."  
Griffin, a starter on defense is normally a reserve on special teams, but he replaced Verner on special teams so the younger player could focus on cornerback responsibilities. Griffin covered a punt early in the third quarter that pinned the Giants at their own 1-yard line and set in motion Tennessee's 29-10 win over New York. The Titans' defense recorded a safety three plays after the punt that broke a tie at 10. Tennessee scored a touchdown on its next possession and never looked back.
As the Titans (2-1) prepare to host the Denver Broncos (1-2) at noon Sunday at LP Field, Fisher said the team will have "no problem whatsoever" with Verner starting in the secondary. Denver is averaging 350 passing yards a game, but has lost on the road to Jacksonville and at home against Indianapolis.
"He had a great camp," Fisher said. "He played well (Sunday). He makes plays. He was really close to two interceptions in the game, so he'll be productive."
Fisher said Verner is ahead of where some NFL rookies would be because of his instincts and understanding of the game.
"He can play either side and can play the nickel at this point," Fisher said. "He's intelligent and very competitive. I haven't ruled (McCourty) out at this point but in the event that he's got to sit a week, we don't have any problem with numbers right now."
Griffin said Verner's demonstrated skills since joining the Titans and has been able to get some important repetitions in games.
"Verner's a great player," Griffin said. "Y'all saw that at (Organized Team Activities), you saw it at training camp, you saw that in preseason games. I guess the positive was when Ryan Mouton and (McCourty) had to come in last year, there wasn't experience there. Verner's been getting a lot of reps at dime. He's been getting a lot of reps on special teams. It's a positive thing that we got him enough reps. We know Verner will tackle, he will make plays on the ball, and he's a great player."
Second-year defensive lineman Sen'Derrick Marks recorded his first career interception Sunday against Manning. Marks turned to pursue the play and snatched the ball from the air after it ricocheted off Giants receiver Hakeem Nicks and Titans cornerback Cortland Finnegan in the first quarter. It was the first interception by a Tennessee defensive lineman since Dave Ball in 2008. Marks' momentum carried him several yards in the opposite direction for what, statistically, was a negative return before Titans linebacker Stephen Tulloch helped Marks to the turf.
Griffin said Marks and the Titans had a laugh about the play.
"The ball flies right into his hands," Griffin said. "He catches the ball. Stephen Tulloch makes a great tackle on (Marks), gets him down on the ground. I want to know what Sen'Derrick's return game would have been but I guess we didn't get to see that. Like he told us on the plane, he has more interceptions than some of us in the secondary."
After the game, Griffin received a pair of cleats from former Titans linebacker Keith Bulluck, who signed with the Giants after 10 years in Tennessee. Griffin said the shoes will be a nice memento of a player he's admired throughout his career.
"I have (Titans running back) Chris Johnson cleats from his rookie year and last year, and I'm going to steal another pair this year," Griffin said. "He always complains that I steal his cleats. I think the ones they have in the Hall of Fame (from last season's 2,006-yard rushing performance), I think I have the actual pair and they got the fake pair.
"(Bulluck's cleats are) something that I'm going to put in my house and cherish," Griffin said. "He's a great guy, just showing respect to a fellow player that's done a lot for this organization."