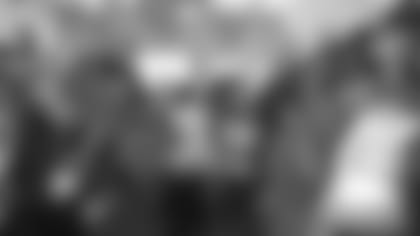 T-Rac interacts with fans shopping at the new Titans Lockerroom store at the Avenue Shopping Center in Murfreesboro Saturday afternoon.
MURFREESBORO, Tenn. –** Titans Fans turned out in great numbers for the grand opening of the new Titans Locker Room store at The Avenue Shopping Center in Murfreesboro Saturday afternoon.

With a line of fans waiting outside in anticipation, the 1,000-square foot facility officially opened for business at 10 a.m. Once inside, they saw a wide selection of Titans gear ranging from Titans apparel, unique Titans novelties and game-worn items.

"We are thrilled with the reaction from the fans today, this being the grand opening," said David Moroknek, President and CEO of MainGate, the online merchandise provider of the Tennessee Titans. "Obviously, there's a great demand out here in Murfreesboro for Titans gear. There were people waiting in line outside when we opened, and they're very thrilled with the selection we have and the store we've put together for them."

While fans shopped, Titans cheerleaders signed autographs and posed for pictures, while T-Rac made every child he came across smile. Outside, the team's younger fans enjoyed Titans inflatables and interactive games, while 104.5 The Zone offered ticket and merchandise giveaways.

"This has been something we have wanted to do for a couple of years – expanding our footprint for merchandise sales," said Titans Executive Vice President Don MacLachlan.  "We are excited about this opportunity to better serve our fans. We have partnered with MainGate, who has a proven track record running team stores and are thrilled to launch this new venture."

A second Titans Locker Room is open as a free-standing kiosk at the Cool Springs Galleria with other locations under consideration.

"We think the potential to have more Titans Locker Room stores all over the Tennessee area is very strong," Moroknek said. "There are a lot of Titans fans all over the state, and to have all of this Titans product in one store is what the Titans fans really deserve and we're happy to bring that to them."