**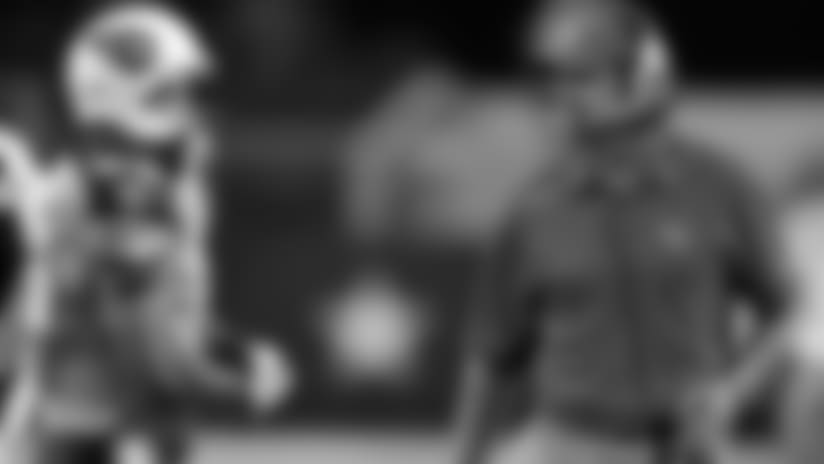 New defensive coordinator Chuck Cecil is using the preseason to gain valuable experience on the job.
NASHVILLE, Tenn. –** Entering his first season as the defensive coordinator for the Tennessee Titans, Chuck Cecil is glad he already has a few games under his belt this preseason. Cecil was named the defensive coordinator in February after being the secondary coach for the two previous seasons. Now in his ninth season with the Titans, Cecil is prepared to lead the entire defensive unit this season.
As a former NFL safety, Cecil played in 95 games and was known for his aggressive style of play and his thunderous tackling. He was drafted out of the University of Arizona by the Green Bay Packers in 1988. At Arizona, Cecil earned consensus All-America and Pac-10 Defensive Player of the Year honors his senior season.
When Cecil was hired to replace Jim Schwartz as defensive coordinator of the Titans, he looked to his coaching peers for advice. Among those he sought out was assistant head coach/linebackers coach Dave McGinnis.
"Dave McGinnis has been there and done that. He is a great source for me to bounce things off of because he's been in the league for so long," said Cecil. "He's been invaluable to me and will be throughout the season."
After three preseason games, Cecil has faced multiple obstacles including a no-huddle offense utilized by the Bills in the preseason opener. In his second game, he faced rookie head coach Raheem Morris and the Tampa Bay Buccaneers and thus had no game tape to compile a game plan.
Most people say the preseason is worthless, but not to a first time defensive coordinator.
"I've learned a lot, that's for sure," said Cecil. "Each game you just get a little more comfortable is what it comes down to. The calls kind of roll off your tongue a little faster and you've got a little better idea about what you're doing."
Cecil said there has not been a lot of game planning for opponents because it is the preseason. During the regular season the calls will already be made depending on the situation. He knows there are changes that will have to be made throughout the year and is preparing for the ups and downs that will take place over the next six months.
"It is kind of simple right now and I know it is going to be more complicated when the regular season rolls around," said Cecil. "I understand that and I'm trying to prepare myself for that."
Along his journey to the NFL, Cecil credits former coaches along the way who paved the path for him to be where he is today. From his high school coach in La Jolla, Calif., to his former secondary coach with the Green Bay Packers, Dick Jauron, Cecil knows he owes a lot to them for teaching him along the way.
Jauron had a big influence on Cecil during his five seasons with the Packers from 1988-92. Cecil respected the way Jauron approached the games and is trying to model himself after his former coach.
One advantage Cecil has is having the longest tenured head coach on the same sideline to provide stability and support when tough situations arise.
"He's done a good job," said Titans head coach Jeff Fisher. "He's keeping things basic and I think in his mind he's getting the players ready each week but still very much looking forward to the opener."
Cecil's first regular season test comes against the defending Super Bowl Champion Pittsburgh Steelers, led by Ben Roethlisberger and Super Bowl MVP Santonio Holmes. The Titans will kick off the regular season at Pittsburgh on Sept. 10.