**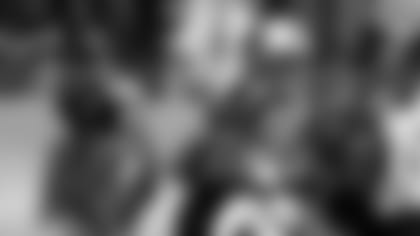 Kenny Britt's return has sparked a Titans offense that is once again scoring touchdowns.
NASHVILLE, Tenn. --** A snap here, a fumble there can make any offense regret missed opportunities, but the Titans' offense may have missed Kenny Britt the most.
Britt caught six passes for 128 yards in Tennessee's 31-17 win over Houston Sunday and made a critical adjustment on a pass that resulted in a 59-yard gain that prefaced the Titans' second of three touchdowns to open the game. It was Britt's second game back from a hamstring injury he suffered Oct. 31 and the Titans' first win since the second-year pro went down.
"He's been very effective," Titans coach Jeff Fisher said Monday. "He had seven touchdowns for us before he went out with the hamstring in the San Diego game. (Sunday) he kept drives alive, made some big plays and he's playing with a great deal of energy and making a lot of plays—tough catches, traffic catches. So yeah, he's becoming a very, very good football player."
While other factors occurred — most notably shuffling at quarterback due to injuries sustained by Vince Young and Kerry Collins — during Britt's absence, the Titans have averaged 28.7 points and 315.4 yards in nine games with Britt and 12.8 points and 276.8 yards in five games without Britt (including the San Diego game that Britt left in the first quarter).
Britt has 33 catches for 601 yards and seven touchdowns this season. He had 42 receptions for 701 yards and three touchdowns as a rookie.
Fisher said signs of the explosive start by the Titans against the only team that has shut them out this season started in the second half the previous week against the Colts when Tennessee outscored Indianapolis 21-9 in the second half but couldn't erase a 21-7 halftime deficit.
"We started scoring points and keeping the ball out of the end zone and we wanted to continue with that," Fisher said. "Fortunately we were able to do that."
Fisher said a successful start by the offense Sunday against Houston helped the Titans' defense play the game on its terms. Tennessee held NFL rushing leader Arian Foster to a season-low 15 yards on 11 carries and the Texans to 1.8 yards per carry. The lead also forced Houston into attempting 54 passes, compared to 17 rush attempts.
Jason Babin sacked Texans QB Matt Schaub twice, Gerald McRath and Jason Jones each dropped Schaub once and Alterraun Verner intercepted Schaub. Babin is tied for third in the NFL with 12 sacks this season.
"I think you can see by the way this game goes how one side (of the football) affects the other," Fisher said. "As it would relate to us, respectively, the points scored and then the defense being able to get some stops—a third-and-one stop here and there, a fourth-and-one stop, get the ball back and then get a lead and then you're basically playing a one-dimensional offense.  As far as they're concerned, they've got the second-best rushing attack in the National Football League and they averaged 1.8 per carry because they got behind."
The Titans started Collins at quarterback for the third straight week, and the continuity helped the offense keep possessions going. It was the first time the same player had made three consecutive starts at quarterback since Young started Oct. 3 against Denver, Oct. 10 at Dallas and Oct. 18 at Jacksonville.
Collins, who relieved Young at Jacksonville, said Sunday that he also thought the offense established better rhythm and tempo in the second half against Indianapolis.
"I think we're executing a lot better," the 16-year NFL veteran said. "I think we're playing faster. That was one of the things that stood out last week and stood out this week is that our tempo and our speed is better. Guys have always been playing hard. It hasn't been a case of that. It's funny sometimes you get out of sync a little bit and you keep playing, keep playing. All of a sudden, you're in rhythm and things are happening. You're capitalizing, you're scoring touchdowns, and it's unfortunate that we went through the drought that we went through but it seems like we're out of it."
The Titans (6-8) still have a shot at winning the AFC South, but need help. They must win their final two games at Kansas City this Sunday and at Indianapolis on Jan. 2. Tennessee also needs to have Jacksonville (8-6) lose its final two (against Washington and at Houston) and Indianapolis (8-6) lose its final two (at Oakland and against Tennessee) to make the playoffs and host a first-round game.
"It's certainly much better to come to work (after a win), but you still do the same things," Fisher said. "You correct the tape, you look at the game, you look at the mistakes, you see where you could have played better. In this particular case we gave the players a 'Victory Monday' which they were certainly entitled to this week, so they're going to come in and get their workout in and watch tape on their own. The coaches are getting a head start on Kansas City."